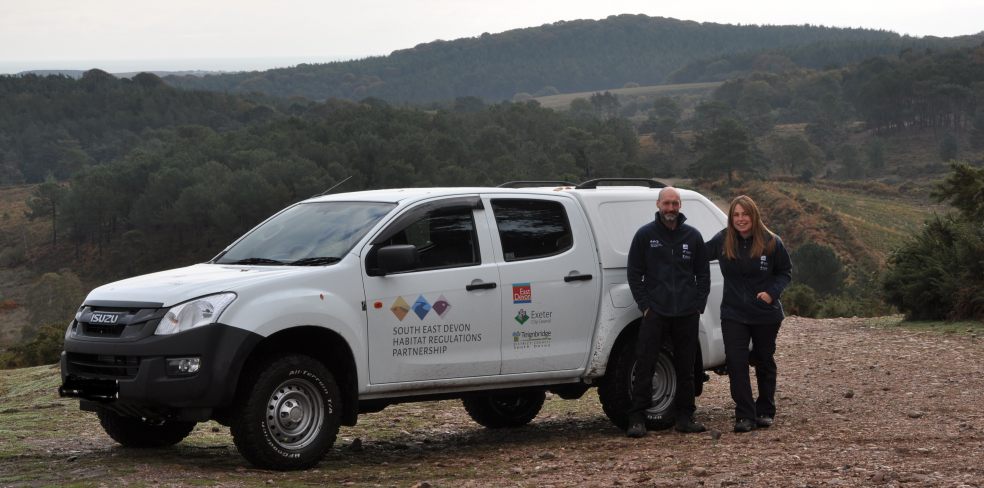 New conservation stewards for Exeter, East Devon and Teignbridge
Two new Habitat Mitigation Officers have been appointed to give information, advice and guidance to the public across the Exe Estuary, Dawlish Warren and East Devon Pebblebed Heaths. Their role will help provide safe areas for people to enjoy and protect the important bird species these areas support.
Justin Hart and Samantha Euridge are employed by East Devon District Council on behalf of the South East Devon Habitat Regulations Partnership (SEDHRP) of Teignbridge, Exeter and East Devon Councils, which was set up earlier this year to off-set the effects of new developments and population growth on protected conservation sites, for future generations to enjoy.
Justin and Sama will spend their time on the three sites meeting and talking to people, encouraging enjoyment and appreciation of the sites, as well as helping to prevent disturbance or damage to maintain the quality of the sites. They will have powers of enforcement to caution any persistent offenders and take legal action, if all else fails.
The officers will provide useful information on the special nature of these internationally important areas and how small changes in behaviour can have huge benefits for our wild birds and habitats. They will be helping to run activities and events for residents, visitors, local schools and businesses. They will also monitor and gather evidence on existing activities, the effects on wildlife and the success of mitigation measures, while working closely with partners including Clinton Devon Estates, the Exe Estuary Management Partnership, Devon Wildlife Trust and RSPB.
The new officers will also be out and about in their boat on the Estuary this winter, meeting users and helping them make the most of the water. Both business and personal watercraft users, such as kitesurfers, windsurfers, and canoeists can learn more about the areas set out for different activities as well as the voluntary codes of conduct, which the Exe Estuary Management Partnership are shortly due to consult on.
Funding for the posts comes from developer contributions on new residential housing across the three areas. Other plans include recruiting a dog project officer, a review of codes of conduct, new and updated visitor information and signage.
Habitat Mitigation Officer, Sama Euridge said: "We can't wait to start meeting people to talk about how we can all get the best from these amazing conservation sites by being considerate of other people and wildlife. "If you want to find out more about what we're doing, or about the sites, the wildlife or to report any issues of disturbance, please email Justin or myself on habitatmitigation@eastdevon.gov.uk"
Chairman of the SEDHRP Executive Committee, East Devon's Deputy Leader and spokesman for strategic partnerships, Councillor Andrew Moulding, said: "We're delighted to announce the appointment of Justin and Sama. Their work will help all the different types of users increase their knowledge and understand how important it is to use these conservation sites responsibly.
"This is a great example of how Councils can work in partnership. It means our three Councils can more effectively protect our beautiful coast and countryside. We can agree on priorities, share resources and jointly allocate funding from developers."
Councillor Humphrey Clemens, Teignbridge District Council's Executive Member for Planning and Housing said: "Teignbridge offers a warm welcome to our new Mitigation Officers. On Dawlish Warren, it's crucial to balance the protection of our natural environment and wildlife with the enjoyment of people using it for leisure, as well as the needs of local businesses.
"Waterside recreation activities and watersports are becoming more and more popular providing an excellent way for people to enjoy open spaces, to appreciate the environment, and to lead a healthy lifestyle. While this is good for our health and the local economy, we also need to ensure the protection of Dawlish Warren for future generations."
Councillor Rachel Sutton, Exeter City Council's Lead Councillor for City Development, said: "I'm pleased to see SEDHRP work making such good progress. These appointments will help engage the public about these important and sensitive areas of our estuary."
Dr Sam Bridgewater, Nature Conservation Manager for Clinton Devon Estates, said: "The East Devon Pebblebed Heaths are enjoyed by thousands of people every day, drawn by the beauty of this stunning landscape and the range of leisure activities it offers.
"At the same time, the heaths help support an amazing variety of more than 3,000 plants and animals, more than 10 per cent of these having high conservation value. "The Estate's Conservation Charity the East Devon Pebblebed Heaths Conservation Trust manages the site for the benefit of wildlife and people, and employs wardens and an education officer who work with the local community and many enthusiastic volunteers to help care for this special place, and maintain the balance between the needs of society and nature.
"We welcome the opportunity to work in closer partnership with local councils and the mitigation officers to protect and enhance the heaths for the benefit of all."
Gavin Bloomfield, RSPB senior conservation officer, said: "We are very pleased these positive steps are being taken to reduce disturbance to these sensitive, internationally important wildlife sites. These new Habitat Mitigation Officers will have a vital role in working with local communities to help protect the rare and vulnerable wildlife that relies on these sites, so that it can continue to thrive into the future and be enjoyed by generations to come."
Harry Barton, Chief Executive of Devon Wildlife Trust, said: "Devon is internationally renowned for the beauty of its landscape and coast, and that's why so many of us choose to live and work here. Even by Devon standards there are few places that can top the stunning Exe estuary for raw beauty and abundant wildlife; but if we want it to stay that way we've got to be prepared to protect it. This is a great project and an inspiring example of different groups working together to make our amazing county even better."
Stephanie Clark, Exe Estuary Officer of the Exe Estuary Management Partnership (EEMP), said: "The South East Devon Habitat Regulations Partnership has a clear role in protecting the special nature of these internationally important areas, whilst allowing activities to continue in a manner that isn't detrimental to the wildlife or habitats.
"The EEMP is delighted that the new Habitat Mitigation Officers are now in post to work with locals in raising awareness about how users of the estuary can continue to enjoy these wonderful places whilst taking into consideration the important wildlife. The EEMP will continue to work with the Habitat Regulations Partnership and new officers to help guide this work."