Sandy Park
Come to Sandy Park for an evening of live music with a range of real ales and ciders to sample. Music will be provided by 'Not The Cowboys', described as the second best boyband in the South West (behind The Wurzels) and a selection of local real ales and ciders will be on offer. Tickets for this...
Full story
Event Date:
14/07/2017 - 6:30pm
Venue: Sandy Park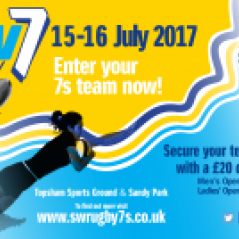 Enter your team into Exeter's annual 7s tournament, taking place for the third time on the 15th and...
The Mitsubishi Motors Exeter 7s returns to Sandy Park for the third time on July 15-16 2017....
Walk 10 miles in aid of the Exeter Foundation before enjoying not one, but two Exeter Chiefs pre-...
Published by
Exeter Foundati...