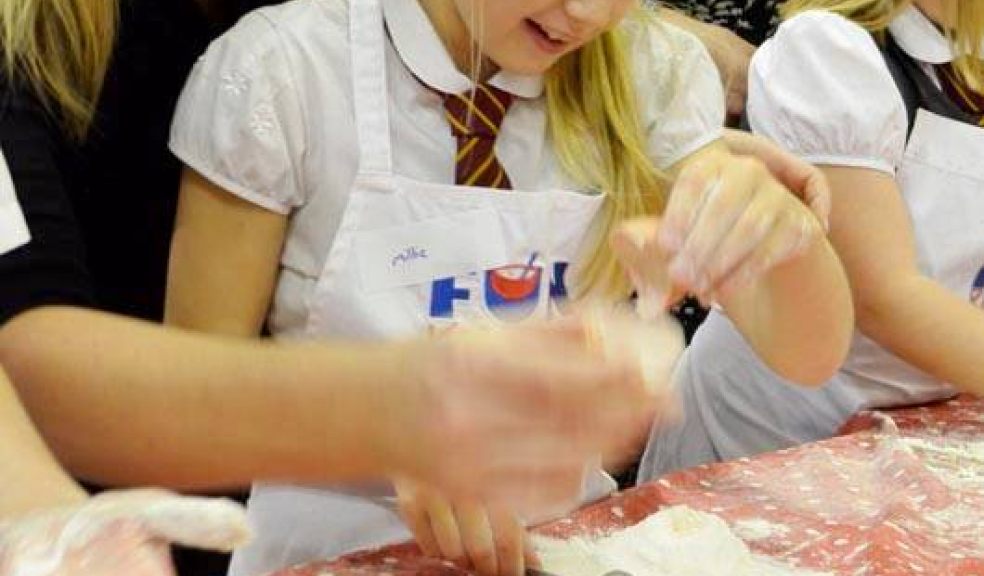 New school food plan for Exeter launches
Award winning local cookery school and school catering company, Fun Kitchen and Fresha, today announced the launch of a new joint healthy eating venture for schoolchildren in and around Exeter.
The new 'Teach and Eat' programme has been set up to help primary schools deliver healthy eating through fun hands-on classroom cookery teaching and fresh locally sourced school meals to eat.
An evening launch of the 'Teach and Eat' initiative is to be held on Tuesday, February 24 at Fresha HQ in Sowton, Exeter featuring a programme of talks designed to help primary head teachers deliver healthy school food. In addition Fresha will be serving up sample school meals from its existing menu range and Fun Kitchen will be showcasing their new mobile teaching cookery kitchen.
From September 2014 primary schools, for the first time, have been required by law to regularly teach practical cookery to every child aged 5 to 14 as part of the Government's £150m 'School Food Plan' to promote all-round healthier eating to children.
Furthermore new guidelines came into effect this term which set out new minimum legal requirements for all food and drink served in schools to ensure children eat healthier food. This now includes banning all sweets, chocolate and all drinks with more than 5% sugar from all schools.
However 72% of primary schools said their school needed support to plan and deliver such progressive skill-based cooking initiatives. The 'Teach and Eat' initiative is designed to address these concerns by providing a whole school approach to the 'School Food Plan', forging important links between food lessons and the quality of the food served for school lunch.
"As a food teacher this is a very exciting time, and at Fun Kitchen we're ready to support schools to deliver fun and effective cooking lessons. This is all about trying to engage children with their food. Cooking is a life skill and it is important that every child has the opportunity to learn to cook, try new flavours and learn about what they are eating and where it comes from", said Joe Mann founder of Fun Kitchen cookery school.
Paul Banks founder of the Fresha catering services added, "Delivering healthy school lunches is hugely important in supporting a pupil's ability to learn. We know that healthy school meals improve nutrition and health among pupils, which helps improve attainment of our children both in and out of school and establishes healthy eating habits for life."
Britain has the highest obesity rate in Europe, with one in three children overweight by the age of nine, and almost 20% of children obese by the time they leave primary school at eleven. As parents both Joe and Paul spoke of their passion to deliver appetising and nutritious food to local children and explained that eating the right foods can lead to healthier, happier more successful children in Exeter.
To book your school a place at the 'Teach and Eat' launch event on Tuesday 24 February from 6.30am until 8pm, e-mail teach&eat@fresha.org