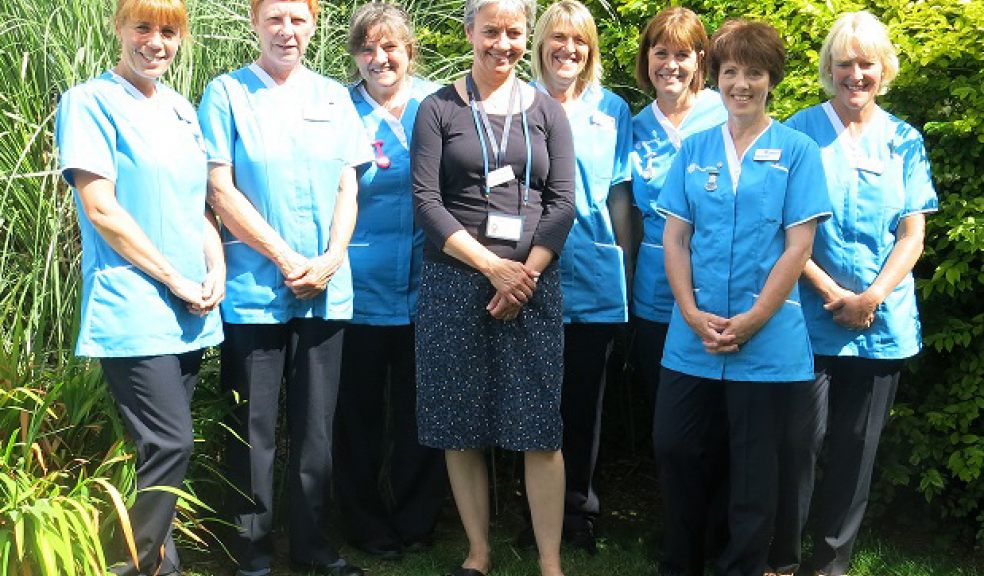 Hospiscare@Home Nurses 'Absolute Angels'
Hospiscare@Home, the new service bringing the expertise of the hospice into the home for residents in and around Budleigh Salterton, Exmouth, Lympstone and Woodbury, has received touching feedback about one of the first patients to use the service.
Earlier this year, Katie, who lived on her own in East Budleigh, was diagnosed with an inoperable brain tumour and given the prognosis that she had 3 months left to live.
Her best friend Alice explains further: "We knew at the end of 2016 that something wasn't quite right.  Katie and I have been best friends for years but I live in Surrey so we used to speak on the phone every day.  Her speech started to sound odd and she complained that her hand wasn't working properly.
"At first we didn't think too much of it, but after various tests we got the news back that Katie had an aggressive brain tumour.  Shortly after this I came down to Budleigh to look after her and moved in so I could care for Katie 24 hours a day.  I know if the roles had been reversed that she would have done the same for me.
"One thing Katie was adamant about was that she wanted to be cared for and to die at home.  It was really important to her and I fully supported Katie's wish.
"At first we had a mixture of help from various healthcare professionals and carers visiting Katie.  It was a bit like a whirling vortex, lots of different individuals coming and going, all a bit disjointed, brisk and noisy.  Katie's condition meant she got easily agitated and frightened.  It often took me hours to calm her down after the home visits.  It was very stressful for both of us, and I did wonder how on earth we would cope as Katie's illness progressed.
"Then about a month before Katie died everything changed.  The Hospiscare@Home team had just launched their new service, and Katie got referred to their care. 
"The difference was incredible, absolutely incredible, and it really bought it home to me what a speciality it is to provide this sort of palliative care.
"Katie was now finding it hard to verbalise and the Hospiscare@Home team knew exactly how to communicate with her.  They would talk quietly and slowly and she stopped getting agitated.   As there are only seven specialist nurses in the team the continuity of care is seamless. It was like having a wonderful addition to the family, with the added advantage that they were complete experts in what they do.
"From being frightened and agitated Katie became more relaxed and we started laughing together again, and we had some wonderful moments with each other and the nurses.  They were so kind and caring and nothing was too much trouble.  They involved Katie and myself in every aspect of the care and decision making.  It was like a bespoke service, tailored specifically to what we wanted.  The team were looking after me as well as Katie.  Always making sure I was ok and taking the time to do all the little things which can make such a big difference. Everything was done to the nth degree, I simply couldn't have managed without them.
"Once we knew Katie was getting very close to dying, myself and another close friend chose to be by her side, without a nurse, so we were able to have a very personal goodbye.  We knew that the Hospsicare@Home team would be over in a shot if we needed any help.
"The service this charity provides is very special, to feel so supported and cared for at such a difficult time is just invaluable.  I was able to carry out my best friend's wishes, and feel very comforted that she died at home peacefully, just as she had wanted to.
"I feel so strongly that we need to get the message out there about Hospiscare@Home.  There is not enough palliative care available and it's such a speciality.  We need to support their work, and grow this service so more of us can have the choice of where and how we are cared for at the end of our lives.  Katie and I felt so lucky to have been referred to this charity.  The Hospiscare@Home nurses are absolute angels."
Ann Rhys, Hospiscare Assistant Director of Care (Community) added, "This new provision is an extension of the Clinical Nurse Specialist service already provided in the area and the nursing team work closely alongside other community services. Hospiscare@Home offers hands-on nursing care when required, any time, day or night, supporting adult patients with life-limiting illness who wish to remain at home at the end of their lives. It fills the gap between acute hospital care and care offered by other support agencies, helping to avoid unnecessary hospital admissions and enabling patients with a life limiting illness to stay at home towards the end of their life."
For further information email hathome@hospiscare.co.uk or call 01395 279113.
Hospiscare@Home is provided by the charity Hospiscare (Exeter, Mid and East Devon) and entirely funded by partner charities Budleigh Salterton & District Hospiscare and Exmouth & Lympstone Hospiscare.  To continue offering Hospsicare@Home the charities need help.  To support or make a donation to your local service:
• Visit www.exmouthhospiscare.org or call 01395 279113
• Visit www.hospiscarebudleigh.org or call 01395 443629
• Alternatively, to support the provider of the service visit www.hospiscare.co.uk or call 01392 688000
• A gift in your Will can ensure the service continues in the future.
Some names and identifying details have been changed to protect the privacy of the patient and her friend.