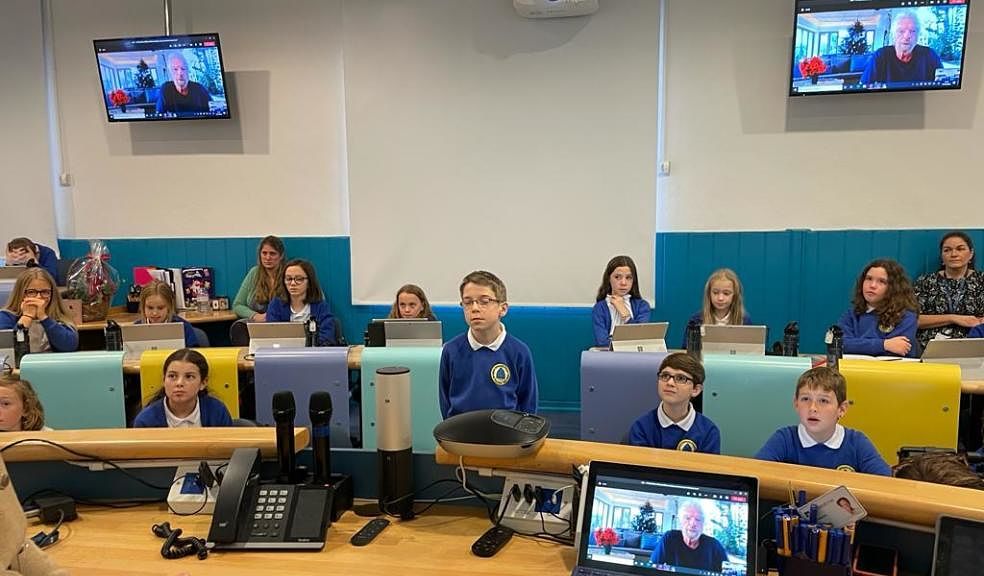 Broadclyst Year 6 children chat live with Sir Richard Branson about dyslexia
Year 6 children at Broadclyst Community Primary School (BCPS) had to keep a big secret all over Christmas – they had a virtual meeting in their classroom with Sir Richard Branson on 17 December, which was discussed during The One Show last night (14 January).
The Year 6 children had been working on establishing their own companies after being awarded seed funding through a Dragon's Den style process as part of BCPS's annual Global Enterprise Challenge. While they were looking for inspiration from successful business leaders, Richard Branson unexpectedly joined a live lesson via a Microsoft Teams call.  They were able to chat, ask questions and glean valuable knowledge about being a successful entrepreneur.
The meeting was an opportunity arranged through Made by Dyslexia (MBD), a charity whose purpose is to understand, support and value dyslexia; Sir Richard is one of many successful people 'made by dyslexia'. The children talked to him about his own experiences at school, the positive characteristics of dyslexia and the Global Enterprise Challenge, which helps them to develop a wide range of business skills. 
Jake (10), a BCPS pupil who has been identified by the school as having dyslexic tendencies, had a one-to-one conversation with Sir Richard, who emphasised that dyslexia is a gift, not something to worry about, and that in business, delegating and working with people who have a wide variety of different skills is important. According to his mum Vicki, Jake was 'buzzing' for days afterwards: "The entire experience has made him feel very special. I am hoping we can use this event as a springboard to inspire him further, to help keep him persevering with the things he finds more tricky for quite some time to come."
During the One Show broadcast, Sir Richard said that when he was at school, "people thought I was stupid and thick" and it was not until he was in his 20s that he was diagnosed with dyslexia. Kate Griggs, founder of MBD, talked about Xtraordinary People, the book they have published as an introduction for children, parents and teachers, to help them understand how dyslexia can be a very positive thing. In a further recorded message, played for Sir Richard live on the show, Jake said: "I see schoolwork and the future differently now. Thank you for inspiring me."  Sir Richard told Jake: "…realise it's a gift…so many extraordinary people are dyslexic and overcome it and go onto great things and I'm sure you will as well!"