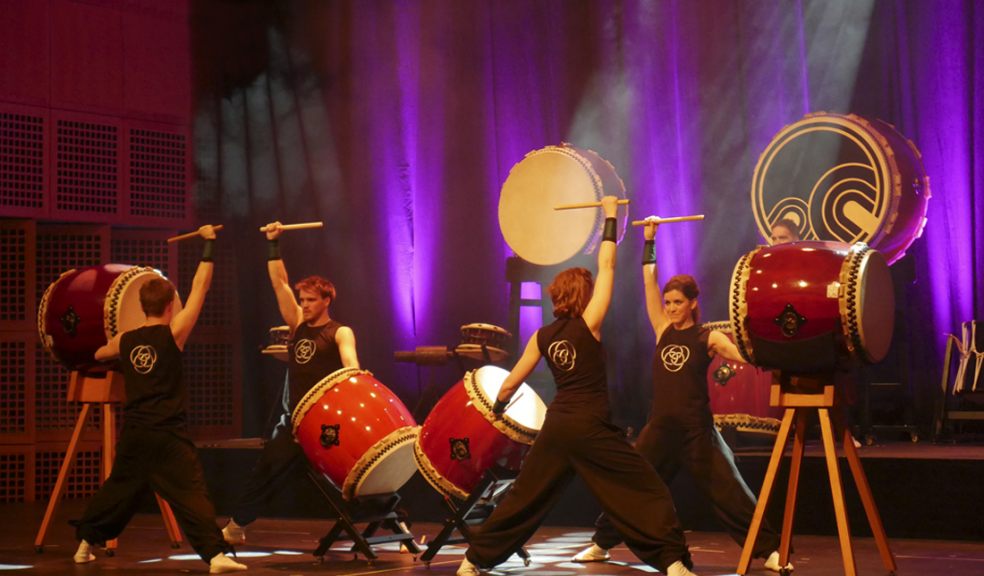 UK Premiere of Taiko Composition 'A Good Death' to take place in Exeter
Jonathan Kirby, Artistic Director of performing arts company Kagemusha Taiko, has produced a new piece of music with three taiko (drum) compositions entitled:  Dignity, Love, and Legacy.
The inspiration for 'A Good Death' came from an interview about end-of-life care which Jonathan heard on the radio. 
"When the interviewee said that a good death involved dignity, love and legacy, I knew immediately that I had to compose something for taiko on that theme," said Jonathan.
"Taiko seemed to me to be the perfect medium for expressing these ideas because of the way Japanese culture looks at death. Although taiko is actually a modern Japanese invention, dating only from the 1950s, it does have strong roots in Japanese culture.
"The Japanese concept of bushido, the way of the samurai, is sometimes called 'the way of death'.  But bushido isn't about having some kind of death-wish, it's about always doing the right thing without fear of consequences, including death. 
"In the West, art is sometimes done for its own sake (ars gratia artis) but in East Asia art is pursued because of what can be learned through it.  Through taiko, people learn to play with confidence in order to share the joy that they feel themselves when drumming with their group.  Taiko teaches courage.  With courage, we can talk about death and prepare for it, whether it's our own death or that of others. 
"In our final days, it's good to be afforded dignity.  It's good to be surrounded by those whom we love and who love us.  And it's good to leave a positive legacy, so that a good death can involve a celebration of life, not just sadness at the loss of it." 
Jonathan is also teaming up with local end of life charity Hospiscare who support patients with life limiting illnesses and their families in Exeter, Mid and East Devon.  He hopes 'A Good Death' will raise awareness of the amazing work Hospiscare do in the community, and intends to raise funds by selling CDs for £5 each and donating £1 from every sale to the charity.  The CD will be available in Hospiscare shops, Kagemusha Taiko concerts and events and online at http://kagemusha.com/taiko-store/a-good-death.
"It's certainly an unusual partnership," says Tina Naldrett of Hospiscare.  "But our values have a lot in common with those of Kagemusha Taiko, and we see this as a good way to help promote discussion of a topic that is too often ignored."
'A Good Death' was premiered at the European Taiko Concert in Dusseldorf, Germany, on 11th March and the first UK performance is planned later this month.  This performance will be the official launch of the CD and involves an exclusive event on Friday 21st April 6pm-7pm at Kalendar Hall, South Street, Exeter.
Admission is free, but is by advance ticket only. To book contact Jan Howe  jan@kagemusha.com or  phone 01626 325832.