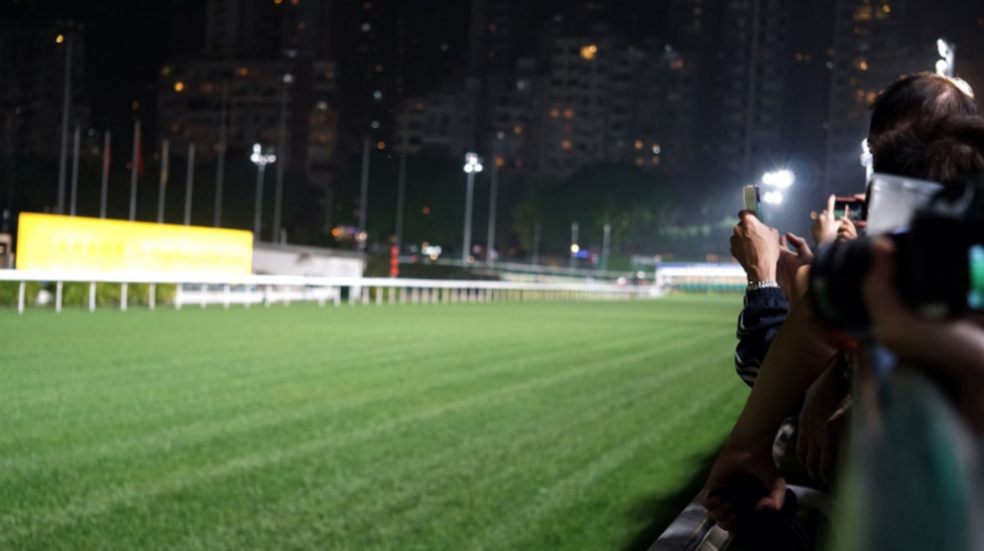 Why horse racing needs a crowd
When you think of racing, you don't just think of the jockeys spurring their horses on along the course. You also think of the crowds filling the stands, the roar of an audience passionately engaged with the spectacle before them. You think of racing as a social event: the frocks, the hats, the champagne and the picnics. You know instinctively that the crowds are what makes racing special, just as much as the horses, the riders and the race itself.
This is why the coronavirus pandemic has been so devastating for the horse-racing sector. Races being run effectively "behind closed doors" with empty stands is better than the meetings being cancelled completely, but everyone agrees that it's a sorry substitute. Crowds are not only the main source of revenue for racecourses, but they also create the unique atmosphere that is so much a part of the racing experience.
An ongoing tradition
Exeter Racecourse is one of the oldest in the country and has been welcoming visitors to the Haldon Hills for over 300 years. The stands can accommodate up to 20,000 spectators, and anyone that has attended a fixture there will know that the atmosphere is frequently electric. Not being able to host visitors has meant a huge financial burden, but it also sees a long ongoing tradition broken, which is a source of great personal sadness for many local people.
Of course, many other iconic racecourses around the country have been placed in a similar position, and the bigger the venue, the more striking the difference. Racing without crowds at Ascot or Cheltenham just seems wrong, and while reduced numbers with social distancing may prove to be a workable solution, everyone will have to admit that it just won't be the same.
Placing bets
Another integral part of horse racing, of course, is placing a bet on the outcome. You certainly don't need to attend in person to do this and, in theory, betting can carry on if races are run without crowds. However, it should be noted that British horse-racing doesn't benefit directly from the betting industry in the same way that European racing does, and so this doesn't solve the financial problems facing many tracks.
Nevertheless, the possibility of following the race on TV, on radio or online with a bet riding on the outcome isn't necessarily made less likely by lockdown rules, unless fixtures are cancelled altogether. Punters can get free Cheltenham bets from GG.co.uk as well as top tips from expert commentators, blogs and all the latest horse racing news. Staying at home, having a flutter online and staying tuned in for the winner may currently be the safest way to enjoy the races at any venue.
A great family day out
Horse racing isn't all about adult pleasures like alcohol and gambling. With the sport's popularity increasing, racetracks are increasingly welcoming younger visitors to their meetings, with under-18's sometimes admitted for free. There's been a big push to sell racing as a great family day out, with many courses introducing children's play areas, crazy golf and other family-friendly attractions, besides the main event.
Although a range of food is always on offer, families can bring their own picnics and enjoy the racing at their leisure. There's usually plenty to explore, both indoors and out. Visiting the paddock to get up close to the horses is a wonderful experience, and there's always shelter close at hand if the weather turns bad.
Smaller crowds
Obviously, in normal times, the sight of packed stands is most pleasing to both those attending a race and the racetrack owners. But can racing continue with smaller crowds? Will you be able to get the same atmosphere if the stands are half, or even a quarter full?
Let's look on the bright side: there are many theoretical advantages to having smaller crowds at a racing fixture. It will be easier to get a position where you can see the race clearly. Similarly, it will take less time and effort to be served at the bar, order food and even place a trackside bet. Although trouble at races is rare, smaller crowds are easier to handle and there's less chance of stewards being overwhelmed, or of anti-social behaviour being ignored.
The biggest advantage, of course, is that we will all be safer. We'll be able to enjoy our favourite pastime without a high risk of infection or worse.
The impact on the race
One thing we haven't looked at so far is the impact of a large, lively crowd on the race itself. Although the jockeys are top professionals and their horses are highly trained thoroughbreds, there's no doubt that having a huge crowd cheering you on does make a difference. The dull roar of the spectators all along the course can spur horse and rider to that extra burst of effort, excitement and determination. In a close-run race, this can be the deciding factor between first place and a narrow second.
Does this mean that a race run without crowds is a fairer contest? That's certainly an original angle and one way to look at it. Ultimately, however, the crowds are part of the racing experience, and one might as well suggest that the horses run without their riders to get the best idea of which is most deserving.
While a race run behind closed doors is totally legitimate, it's no secret that jockeys miss a big crowd, and the encouragement and excitement of the spectators rarely favours one horse over another.
Smaller crowds are certainly better than no crowds at all, and it's vital that racetracks always put public safety before anything else. Limiting crowds during a pandemic is not just a question of protecting those present, but also of protecting the communities and families they will return to.
We are all hopeful that the days of sold-out stands will return sooner rather than later. In the meantime, let's try to enjoy racing as best we can, whether from trackside, at home or elsewhere.