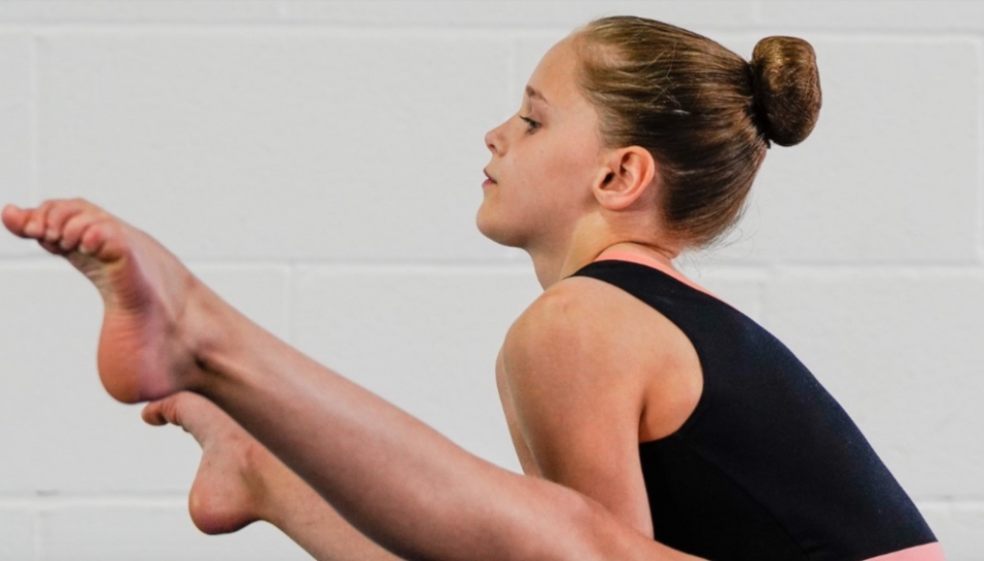 Honiton gymnast Hallie wins silver in global acrobatics competition
Last weekend, four Honiton gymnasts took part in the global Acrobatic Blocks Competition (ABC) where they performed virtual handstand events against some of the best acrobatic gymnasts and circus performers in the world.
Hallie Bennett, Max MacDonald, Sky Shute and Oscar Felice took part in the event, which was held on Zoom and broadcast live on YouTube, featuring more than 350 competitors from 25 countries in four age-group categories.  Competing hand-balancers were from countries including Japan, USA, Russia, Portugal, Australia, Israel and Iran. The competition ran from 7am until 11pm.
Silver for Hallie
The U12 age-group section had 181 competitors in total, and 11-year-old Hallie Bennett from Honiton won silver in the speed test. She managed 10 straddle presses to handstand in a speedy 18 seconds. The winner was a gymnast from Iran who completed the event in just under 17 seconds.
Hallie also scored 6th highest in the endurance event and was 14th in the technique event. The technique event saw Hallie performing 1-handed handstands, deep arched handstands, strength holds and contortion moves.
All Honiton gymnasts showed excellent form on their handstand blocks, with tremendous skill and balance.  Honiton gymnasts full results were:
Under 12s
Hallie Bennett: 2nd in Speed competition; 6th in Endurance; and 15th in Technique
Max MacDonald: 52nd in Endurance; 57th in Speed; and 127th in Technique
Under 14s
Sky Shute: 22nd in Speed; 15th in Endurance; and 17th in Technique
Oscar Felice: 11th in Speed; and 30th in Technique
James Reddy, director at Honiton Gymnastics Club and a coach of the gymnasts, said: "We're extremely proud of Hallie, Max, Sky and Oscar. All of our gymnasts have been working tremendously hard during lockdown on their fundamental conditioning.  For our acrobatic tops this means lots of practice on their handstand blocks.
"Our gymnasts have missed so many competitions over the past 12 months, so this virtual event was the perfect opportunity for them to compete again and perform acrobatic moves. We hope to get all of our gymnasts preparing as soon as possible for competitions when we return to training on 12 April.
Training hard during lockdown
Honiton gymnasts have been doing Zoom sessions throughout lockdown (as Honiton Gymnastics centre has only been open for four months out of 13) and the gymnasts are eager to get back into the gymnastics centre.  The club's coaches have voluntarily run 50+ Zoom sessions every week, to keep 400+ gymnast at the club fit, healthy and enthused about gymnastics.
In normal times the gymnasts train in acrobatics partnerships and many had qualified to represent the south west at the national finals or were due to compete in the British Championships. 
Videos
To watch Hallie, Max, Sky and Oscar's performances, visit the ABC competition on YouTube below and here: https://www.youtube.com/watch?v=l5tjrA3d7Ko
Honiton Gymnasts are featured between 4:10:00 and 4:50:00
Hallie's speed test: 4:14:00
Hallie's endurance test: 4:26:26
Hallie's endurance test: 4:46:20