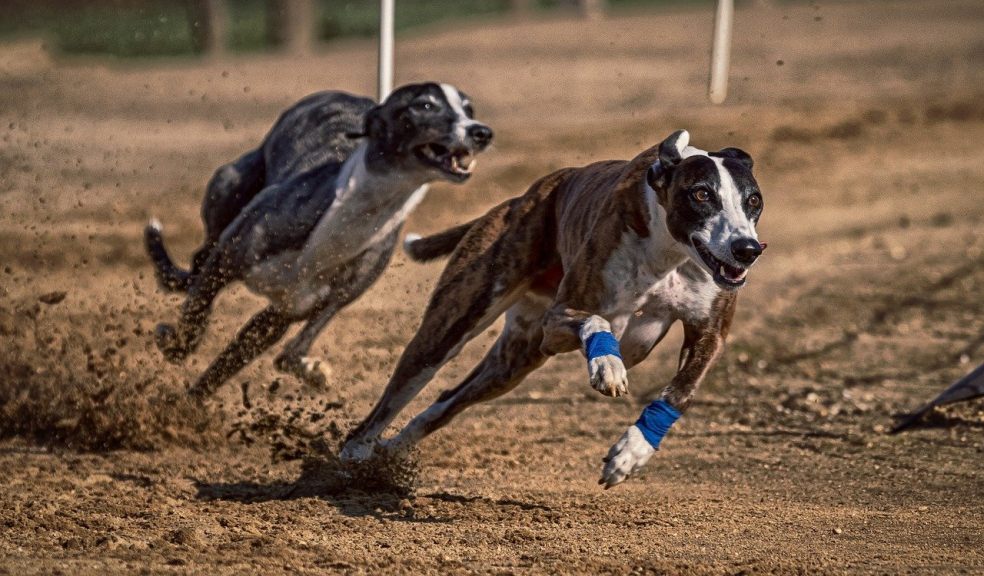 Greyhound racing in Exeter
History of racing
Greyhound racing has a long history in England and around the world. It was born out of coursing, a form of hunting that became a sport during the 1700s. Coursing involved greyhounds or other sighthounds (like whippets, wolfhounds, and deerhounds) chasing down wild rabbits or deer. The thrill of watching a pack of dogs chase down their prey was replicated with the introduction of the mechanical rabbit in the early 1900s. The mechanical rabbit made it possible for the sport to become more accessible - a day at the track is much more comfortable and easier to organise than a trip to a woodland!
The first greyhound racing track in England was opened in Manchester in 1926. At the peak of its popularity in the 1940s, there were over 200 independent greyhound racing tracks and 77 registered ones in the UK. Since then, the popularity of the sport has gone through highs and lows but seems to be on the rise again after a major dip in the 1990s. Although there are only 19 registered tracks still operating in England, sites like https://www.greyhoundbetting.co.uk/bonus/ show just how popular the sport remains. Just like betting on horse racing, betting on greyhounds adds an extra level of excitement to an already exciting sport.
Greyhound racing is not without its controversy. Animal welfare organisations and charities around the world have gotten involved in trying to ban the sport or at the very least implement policies that protect the animals. Since the introduction of new regulations on the sport in 2010, Parliament has published a report on the welfare of active and retired racing greyhounds. The 2015-2016 report shows that positive changes are being made, and yet further progress in ongoing.
One of the main concerns of those who are against greyhound racing is what happens to the dogs after they retire due to age or injury. Organisations like the Greyhound Trust work hard to find loving homes for retired greyhounds, the happiest ending for these hardworking, athletic dogs. Retired greyhounds tend to be couch potatoes who enjoy short sprints but mainly love having a cozy bed to curl up in for most of the day. 
Exeter
Exeter was a popular destination for greyhound racing, with not one but two local tracks hosting races throughout the week. For almost 70 years there were local venues for people to enjoy a day out at the races.
The Exeter Greyhound Stadium, also known as the Marsh Barton Stadium, was a popular greyhound racing venue for over thirty years. This track had competition from the County Ground Stadium which hosted greyhound races from 1930 to 1997. Unlike the Exeter Greyhound Stadium with its more traditional oval track, County Ground had a squared-off track. The County Ground was also used for rugby union matches and speedway races, making it a very popular destination for sport in Exeter.
Famous Racers
Just like any sport, greyhound racing has its fair share of great contenders. Dogs sired from the Cutlet line dominated the sport in the 1930s. This shouldn't be a surprise as Mutton Cutlet, the sire of the line, sired over 500 winning dogs! Brothers Beef Cutlet and Future Cutlet often raced against one another and often placed first and second when they did. Beef Cutlet set one of the fastest times on record for 500yds when he won the Hunt Cup at Blackpool with a time of 26.13 seconds, an average speed of 40 miles per hour.
While some dogs start fast right out of the gates, others have a different style. Flying Winner became a fan favourite for what has been called her last-to-first racing style and earned her place in greyhound racing history as one of the great long-distance racers. This style saw her win 21 out of 32 races, a very impressive record.
Other famous racers include Dolores Rocket, one of the only greyhounds to win both the prestigious Derby and St Leger races. During 1985-86, Ballyregan Bob set the still unbroken record for most consecutive wins with 32 while also setting speed records at ten different tracks. Westmead Hawk won the Derby twice and was such a popular figure that he became the first animal athlete to have a waxwork at Madame Tussauds.
Greyhound racing is an exciting betting sport with a long history in Exeter and beyond. The Covid-19 pandemic may have temporarily halted in-person races in England but as we have seen from its long history, it's sure to come back strong.