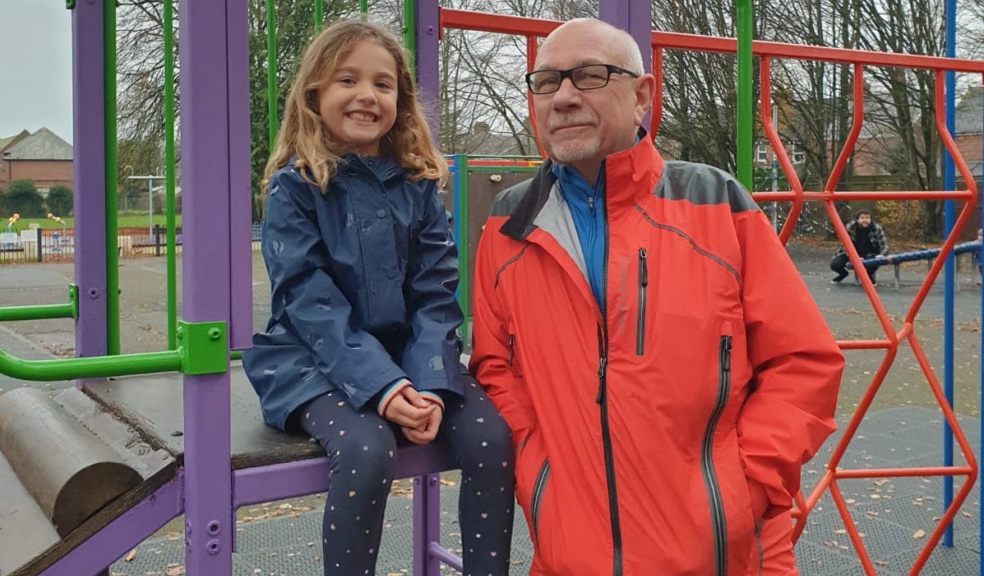 Support for Cycling - Whatever the Weather
Inspired by cycling to and from school - come rain or shine - with his young granddaughter, Exeter businessman Mick Green has developed a new initiative to inspire others to join them.
The Cycling Whatever The Weather campaign has been backed by local cycling charity Ride On – Cycling for All and Exeter City Futures and sponsored by Exeter solicitors Cartridges Law.
Mick, who only took to the bike in the first lockdown in March, said he wanted people to consider cycling as an alternative to driving wherever possible. He added: "As a previously 'diesel polluting school pick-up Grandad' and a disabled 65-year old with a fat belly, I always picked my granddaughter up from school in my van. But a new drug controlled my condition and allowed me to get on a bike. My granddaughter Addison is very keen on cycling which helped keep me in the saddle."
Sharing the Ride On vision of a cleaner, healthier, and more active Exeter, Mick's idea supports the Net Zero plan to make Exeter carbon neutral by 2030. He believes a cultural change is possible, where people of all ages think of cycling as the 'norm' and the first form of transport they consider. He likens it to learnt behaviour such as seeing litter pickers in action leading to other people ceasing to drop litter and starting to pick it up themselves.
The former Royal Marine, who now runs his own business Endorse HR, as well as being chairman of Exeter FSB, added: "Unless we can convince people to 'cycle whatever the weather' we are unlikely to make much headway with getting them out of their cars.
"Interestingly, all the evidence I've seen shows that it's not the children who worry about the weather but the parents and carers."
The average commuting distance in England is only four miles a day. Cycling this distance instead of driving would save 71kg of carbon – that's equivalent to three trees!
Mick is now in the process of scoping the #CWTW project. Due to Covid 19 restrictions, organising events to support the campaign is an idea he has had to put on hold. Instead, he's launching the #CWTW Challenge, where people sign up to take on the challenge and are presented with a duck bell handlebar bike light paid for by sponsors, Cartridges Law. Proudly sporting their handlebar duck bells they can 'quack' to spread the word and raise the campaign profile.
Nicky Mein, partner at Cartridges Law said: "We are proud to be supporting a great project like this. It fits perfectly with our ethos and values."
Will Page, head of charity at Ride On, said they were delighted to support the campaign. He added: "We are impressed with the excellent campaign Mick is running. It ties in closely with Ride On's values and vision. One of the great things about Exeter is how many inspiring voices we now have, proactively demonstrating the benefits of the lifestyle changes we want and need to see. The city is lucky to have someone like Mick Green!"
You can follow Mick Green on Twitter on @Mik1G, Cycle Whatever The Weather #CWTW."
To join the campaign, or for more information, visit www.exetercityfutures.com/cwtw/