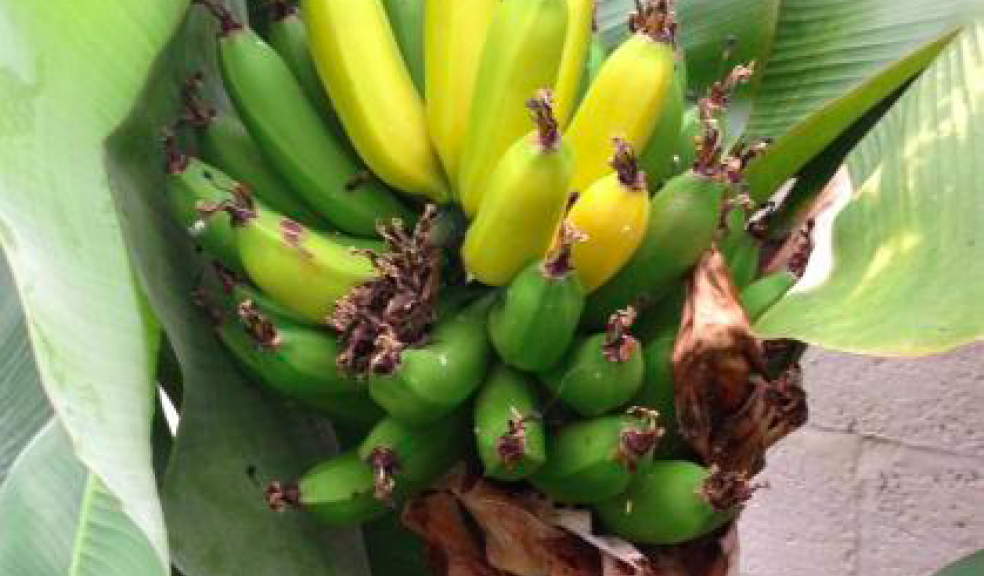 Edible bananas grown for the first time at University of Exeter
Edible bananas have been grown for the first time by the talented gardeners at the University of Exeter.
The mini versions of the popular fruit of the Musa acuminata 'Dwarf Cavendish' – normally only found in tropical countries - have been cultivated at a greenhouse at the University's Streatham campus. They are of the same Cavendish variety found in shops but taste slightly sweeter.
The plant has been growing for five years, and the University's grounds team are unsure as to why it has suddenly started producing fruit. It gets plenty of feed and attention, particularly from Nursery Supervisor Luke Groombridge, who even plays music to it – including his own electronic compositions as well as popular hits on the radio.
Grounds Manager Sam Primrose said: "We use the banana plants for display purposes around campus including graduation, so to see the ripened fruits appear is very exciting. The plant started flowering last September, and we have been waiting since then to see if fruit will appear and now they have.
"It is difficult to say why it has fruited this year, it could be down to the warmer drier winter we've had over 2016/17 but we do hope it now flowers every year, as they are so tasty."
The University of Exeter's campuses are acknowledged as the most beautiful and botanically interesting of any UK university. The Streatham Campus is a registered botanic garden and both Exeter campuses display examples of the University's national collection of Azara, a South American evergreen shrub. The grounds also feature high-quality sporting facilities for students, staff and visitors.
A team of 28 staff, work on the grounds, nursery and outdoor sports facilities throughout the year.