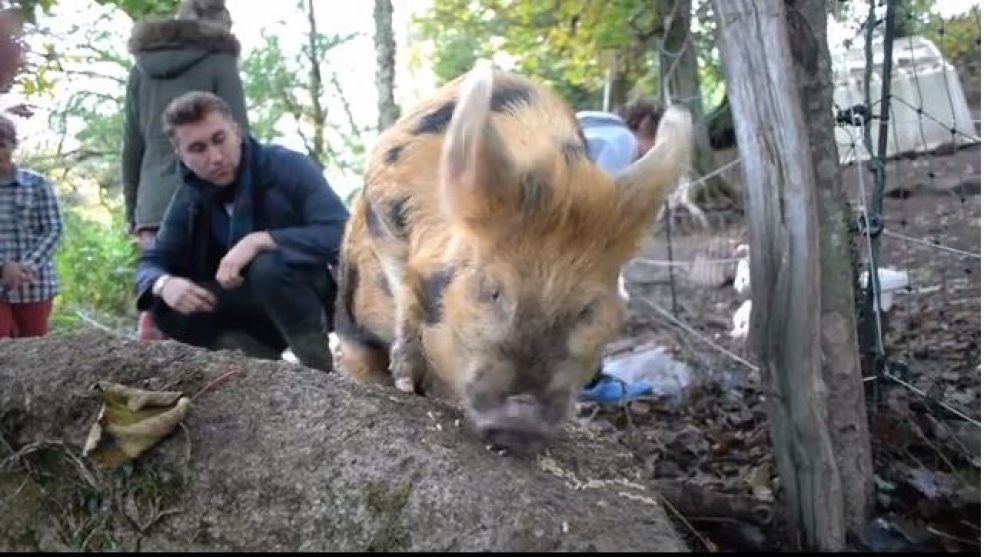 Community farm seeks crowd fund backing
Chagfarm, a new not-for-profit Community Interest Company located in Chagford has reached the half-way point of it's crowdfunding campaign.
The eight week campaign will see the Farm Directors, Sylvan and Davon Friend, seek £15,000 for more farming equipment and facilities to expand their raw goats' milk dairy and ensure the continued resilience of the local community's food supply.
After successfully achieving its first year targets of turning over £12,000, the Community Supported Agriculture (CSA) enterprise, is on a mission to show that their business model is financially viable by recruiting an additional 25 new members by April 2014.

Chagfarm currently has 35 members of varying membership types, some can take a portion of the farms produce in exchange for a more traditional paid subscription while the more adventurous can apply for a limited number of 'work share' memberships by working shifts in exchange for the produce.

Members can even trade a variety of in demand materials with the farm such as animal feed and farm equipment.

Chagfarm Member Angharad Barlow, said: "I became a member of Chagfarm because  i belive that's how all food should be produced, That all our food should be produced locally organically and not sourced via supermarkets.

"The benefits of membership for me are very much the fact that it's a family project, that we can bring the children and they can interact with and get and understanding of the animals we have and the pets that we have.

"also that the food that we eat it's not just something plucked off the shelf in the supermarket and that there is this whole process of life involved around it."

Donations will enable Chagfarm to build a milking parlour for their five milking goats and construct a 'cheese cave' to make Chagfarm's own goat milk products, including uniquely flavoured cheese, milk and yoghurt

Donations will also allow Chagfarm to carry out essential repair work on the farm roofs and invest in solar panels to provide electricity as the farm is not connected to the mains. 

In exchange a wide-variety of bespoke rewards are up for grabs, including everything from a hand-crafted cheese board and the privilege of naming one of next season's milking goats, to an introduction to the art of hedge-laying and an VIP dining experience at the farm.

"We're really excited about our Crowdfunder Campaign and hope that our exclusive foodie-based rewards and farming experiences will tempt people beyond our local community tosupport a low-impact, high-welfare food production," said Sylvan Friend, Founder of Chagfarm.

"We've got a tough second year ahead of us and the 15,000 if reached, will certainly help us to expand and continue to demonstrate that fantastic local food for local people is both affordable and sustainable.

"We believe that the way we produce and consume food needs to drastically change for the better and if we can reach out to other like-minded people via Crowdfunder, then we're one step closer to self-sufficiency," continued Friend.

So far the campaign has made just over half the funding required but is seeking a final push of willing supporters.
To make a donation and support the project, please visit the Chagfarm Crowdfunder page or keep up to date with the campaign by following the farm on Twitter@Chagfarm and on Facebook Chagfarm CIC.
For more information on how Chagfarm operates or even  how to become a member visit their website or attend an open day on every third Sunday of the month.
"The food is high quality, local and fresh, sustainable and most importantly members can witness how their food is produced from beginning to end." said Chagfarm founder Davon Friend

"We have a variety of membership options but what's really important is that members commit for a minimum of year.

"This enables us to ensure that we can meet demand."