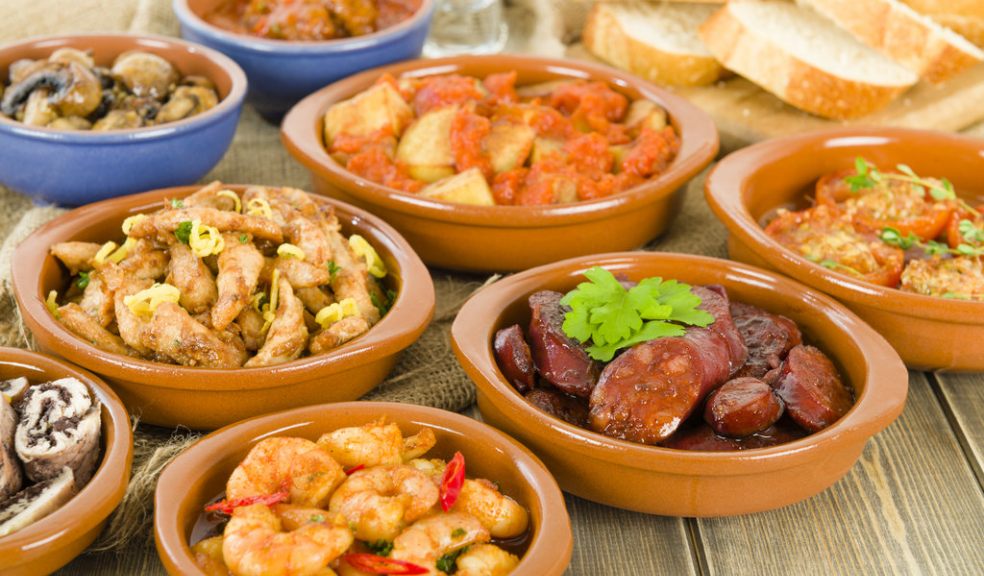 Get the kids into tapas with this easy-to-cook menu
The Spanish diet is one of the most nutritious in the world. With the prime ingredients consisting of olive oil, fruit, vegetables, nuts and fish, you can't go wrong with tasty Spanish cuisine.
But how do you get your kids to love this type of food? One way to get them to eat Spanish-inspired food is by introducing tapas – perfect bite-size portions made for sharing. Thanks to these recipes, they'll become tapas aficionados in no time.
Broccoli and Potato Croquettes with Cheese & Herb Dip
Croquettes are a heavenly creation, particularly Spanish-style ham croquettes. Although this dish isn't for ham-based ones, it's more kid-friendly, containing lots of veg for a delicious vegetarian nibble your little ones will love.
If you're short on time, you could serve up McCain potato croquettes alongside the dip for an equally delicious, minimal-fuss tapas dish. Crispy on the outside and creamy on the inside, the croquettes are made with fluffy mashed potato and take under half an hour to cook in the oven, saving you time and effort.
INGREDIENTS
400g floury potatoes, sliced in half
150g broccoli, cut into florets
1 medium egg yolk
40g mature Cheddar, grated
60g fresh breadcrumbs
For the crust
20g plain flour
2 medium eggs, beaten
100g sesame seeds
4 tbsp olive oil
For the dip
100g cream cheese
50g natural yogurt
1 tbsp chives, snipped
1-2 tbsp full-fat milk, if needed
METHOD
Bring the potatoes to boil in a medium saucepan and simmer until completely cooked through. Drain and mash thoroughly, then tip back in the saucepan. Simmer over a low heat for a couple of minutes, stirring continually to get rid of surplus moisture.
Next, bring a small saucepan of water to the boil, tip in the broccoli and simmer until tender. Drain thoroughly and dab dry with kitchen paper (make sure you do this fully, as too much water will cause the croquettes to get too wet).
Chop up the broccoli finely, then pour into the mashed potato with the egg yolk, cheese and breadcrumbs. Split the mixture into 12 identical balls and roll each one into a short sausage shape. Pop in the freezer for 10 mins to chill.
For the dip
Pour the cream cheese, yogurt and chives in a bowl and mix until you achieve a soft texture, adding the milk if required.
Tip the flour, beaten eggs and sesame seeds into three individual bowls. Turn the croquettes around in the flour, dunk in the beaten egg, then cover in the sesame seeds.
Warm up the oil in a large, non-stick frying pan and stir-fry the croquettes on a low-medium heat for a few minutes, turning regularly for an even, golden colour. Drain on kitchen paper and plate up with the cream-cheese dip.
Spanish Chorizo and Potato Frittata
A thick slice of Spanish frittata, bursting with chorizo, potatoes and onions, can be enjoyed hot or cold. Keep a couple of slices accessible in the fridge for lunches or a swift, nutritious midweek meal.
INGREDIENTS
125ml cup olive oil
4 chorizo sausages, diced
1 brown onion, peeled and sliced
1kg Desiree potato, diced, peeled
8 eggs
salt and pepper
METHOD
Put around three tablespoons of the olive oil in a frying pan and heat over a medium heat. Sauté the chorizo sausages in the pan until thoroughly cooked and put to one side.
Using the oil from the chorizo, sauté the onions and potatoes until soft.
Pour the eggs into a bowl and scatter generously with salt and pepper. Add the onion and potato mixture to the eggs and leave to soak for roughly 10 minutes. Stir through the chorizo. Sprinkle well with salt and pepper.
Heat the rest of the olive oil in the pan and, once sizzling, combine the potato, chorizo and egg mixture to the pan. Reduce the heat and jiggle the pan around a bit to mix up the ingredients.
Cook on a low heat for a few minutes then place under a hot grill in the oven for an additional few minutes or so, to finish the top.
Plate up warm with a crisp garden salad.
Nutty Cheese Balls
If ever there was a tasty, kid-friendly tapas dish, it's this – bite-size pimiento cheese balls. These scrumptious appetisers are so simple to make, made from cream cheese, shredded Cheddar and Monterey Jack cheeses as well as mayo and chopped pimientos.
INGREDIENTS
55g reduced-fat cream cheese, softened
235g grated Cheddar cheese
225g grated Monterey Jack cheese
3 tbsp low-fat mayonnaise
3 tbsp pimientos, drained chopped
1 tsp grated onion
⅛ tsp garlic powder
pinch of salt
pinch of freshly ground pepper
190g toasted pecans, finely chopped
METHOD
In a food processor, blitz the cream cheese until smooth. Combine the Cheddar, Monterey Jack, mayonnaise, pimientos, onion, garlic powder, salt and pepper and thoroughly pulse. Tip into a bowl, cover and place in the fridge for 1-2 hours.
Tip the pecans into a medium bowl. Make balls out of the cheese mixture so they're around 2cm in size and coat each one evenly with pecans.
Plate up the cheese balls at room temperature or chilled.
Just because you have kids, doesn't mean you can't enjoy 'grown-up' tapas food together. These recipes will make any mealtime seem sophisticated, while also serving something Spanish and nutritious for little ones.