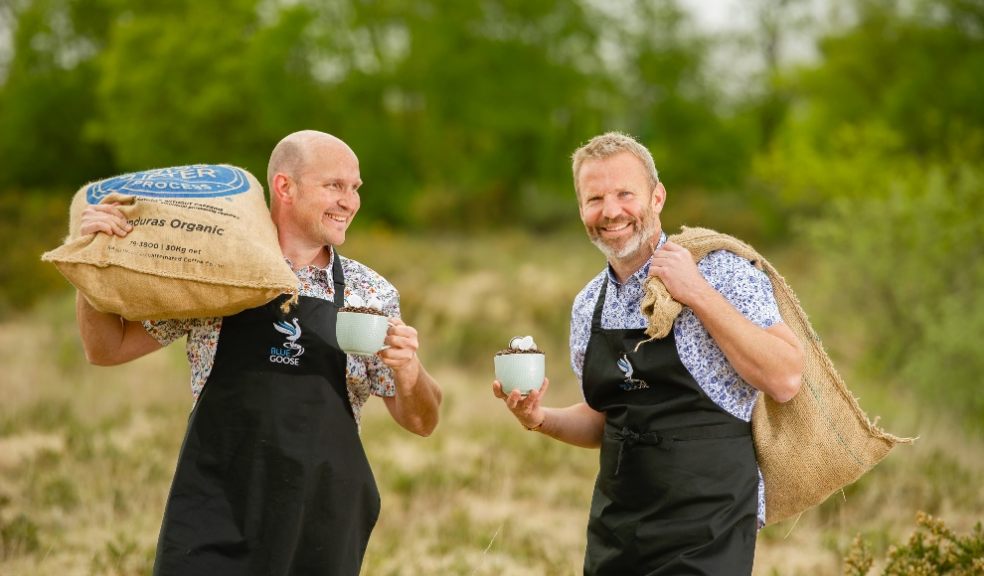 Coffee lovers should 'think local' during UK Coffee Week says Devon-based Blue Goose
While a cup of coffee is great as a morning pick me up, its far more than a shot of stimulation, and Devon-based Blue Goose Coffee is asking consumers to 'think local' before drinking their favourite brand during UK Coffee Week which ends on October 25.
"It's about conscious purchasing," said Exeter-based co-founder Lex Thornely who is supporting the annual UK Coffee Week, which is a charitable fundraising week supporting Project Waterfall, where coffee businesses and coffee lovers across the UK come together to help the people and communities who grow coffee.
He continued: "We are absolutely aligned to UK Coffee week. We already support our own water and wildlife charities in Ethiopia, but we really want to inspire people to apply the 'buy local' culture here in the South West to products that can't be grown in our fields, in particular coffee. 
"Locally, consumers' desire to understand where their food comes from and who grew it is a fabulous approach to purchasing and it's exactly this principle we would love all consumers in the region to apply when next purchasing a pack of coffee pods, whole bean or ground coffees.  
"Considerations like are the farmers paid fairly for their green bean coffee and is the coffee grown using sustainable farming practices that encourage and not destroy biodiversity. Whether we're talking about South West farmers or coffee farmers in far away countries, these questions will help drive fairness and the environmental agenda all the way through supply chains. This is how small shifts in purchasing habits can have a far greater effect than consumers can imagine - small shifts lead to big change.
"These questions and more are drive all our decisions at Blue Goose, where we are doing the hard work so it's easy for consumers to swap their everyday products for more ethical and environmentally friendly products without compromising on taste or budget.
"For example we focus on sourcing the highest quality speciality-grade coffee over commodity-grade coffee. This means our customers get the very best tasting coffee in the world, while our farmers and not the commodity markets command the price we pay them for their coffee crops. Not only does this allow them to earn a greater income to support their livelihoods, families and workers but also enables them to invest in sustainable farming practices that nurture our coffees long into the future."
Filled with ethically sourced and sustainably grown coffee from the world's most respected coffee growing regions, Blue Goose launched it's plastic free Nespresso® compatible coffee pods from its Exeter base in September 2017, with its range including four speciality Arabica coffees; Ethiopian Yirgacheffe, which was recently awarded Two Stars at the Great Taste Awards and secured a Which? Magazine Best Buy in 2019, their organic Peruvian, a chemical-free and organic Swiss Water Decaf and Blue Goose Lungo. 
Blue Goose Coffee was also one of the very first companies to offer eco-capsules. Lex explained: "In the UK alone, demand for Nespresso® compatible pods continues to grow but a particularly sobering consequence of this is the sheer volume of capsules being using and discarded on a daily basis by the UK and global population, with a predicted 52 billion non-recyclable plastic coffee pods being produced globally by the end of next year.
"Between them aluminum and plastic capsules take between 150-500 years to degrade in landfill respectively. For us, coffee capsules without doubt pose an environmental disaster waiting to be recognised. By helping raise awareness of this and minimising capsules from landfill sites in the South West and beyond we are proof that small businesses really can be and are at the heart of creating positive change. Unlike the big corporations, we are putting people and the planet before profits."
With its eco and ethical credentials running strongly through every bean and eco capsule, Blue Goose Coffee is hoping UK Coffee Week will help encourage consumers to think about the people and processes involved in getting that mug of coffee to their table.