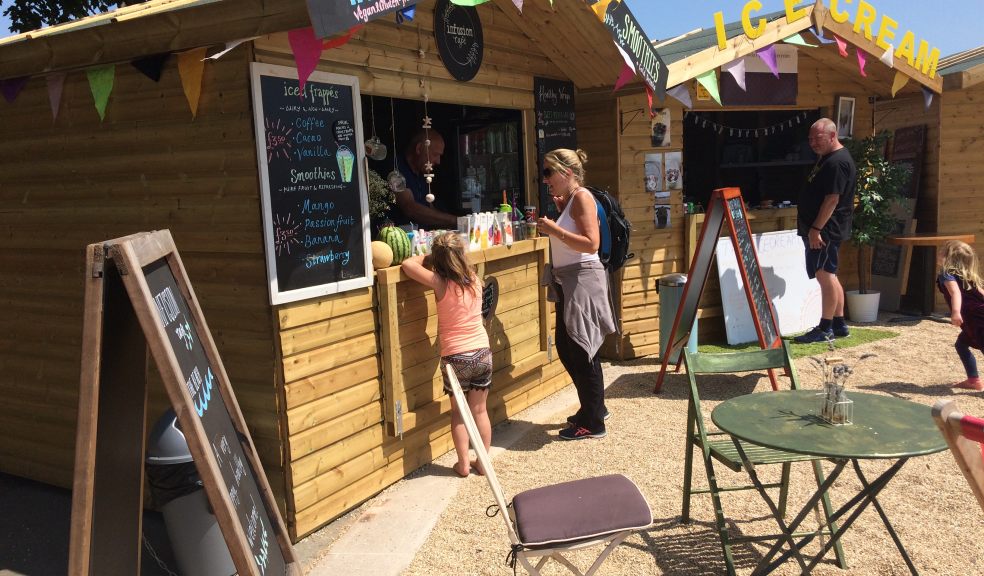 Taste of the West's New Food Village arrives in Exmouth
From Thai-inspired ice cream, to locally-bred pork, the new food village at the Queen's Drive Space on Exmouth sea front is proving a huge hit with locals and visitors alike.
The new attraction, which is being run by Taste of the West, has already attracted hundreds of visitors, keen to sample some of the tastiest produce from the region, in its first month of operation.
It is based at the Queen's Drive Space area, which is also home to a new Jurassic-themed play park and outdoor event space, and is open until September.
John Sheaves, Chief Executive of Taste of the West, said: 'Five years ago, I was lucky enough to visit one of the world's greatest authentic food villages in Singapore. I was so inspired that I vowed to bring this concept back to the south west and showcase the best food and drink from the region. When East Devon District Council approached me about managing a new food village at the revamped Queens Drive Space on Exmouth Seafront, it was the perfect opportunity to put my plan into action'.
Local pub chain, Oddfellows are running a bar at the village and are open every day. Owner Yvan Williams said: 'It's been brilliant to be here in this beautiful beachfront setting. We're especially enjoying the open-air theatre and cinema performances, and people have been flocking to see them, whilst enjoying a pint of local ale or a glass of wine at the same time.'
As well as Oddfellows, there are a number of local food producers, operating on a rotating basis for the rest of the summer.
This includes businesses such as Kenniford Farm, Exmouth-based café Infusion Café, Shakers, Bush Farm, Pandas Pan Roll Ice Cream, Earl of Gravy, and Big Bear Coffee.
Owner of local business Panda's Pan Roll Ice Cream, Andy, said:
'We learnt how to make our unique style of ice cream on the beach in Thailand, so to be serving it here at Exmouth seafront in the sunshine with the waves rolling in, isn't too dissimilar!  It's a great place to be based and so far, we're having a brilliant summer.'
Taste of the West are also this summer announcing the launch of their brand new 'Food Finder' map. Using the latest cutting-edge geolocation technology, the map tells you where the nearest quality food and drink establishments are – something that Taste of the West believe will be especially useful for the large number of visitors to the area this summer.
John Sheaves added: ''At Taste of the West, our aim is to provide the region's residents and visitors with great quality food and drink, as well as increasing their awareness of where that food comes from and to highlight the integrity of food from the region. The new Food Finder map enables people to access our best restaurants, pubs, cafes and shops, wherever they might be in the south west.'
To access the Food Finder map visit www.tasteofthewest.co.uk/food-finder
Ends
Thursday, 19 July 2018
________________________________________
Notes to editors:
For further information please contact Eleanor Yeo, eleanor@mcmu.co.uk, 01392 423060 or Sue McQueenie on sue@mcmu.co.uk