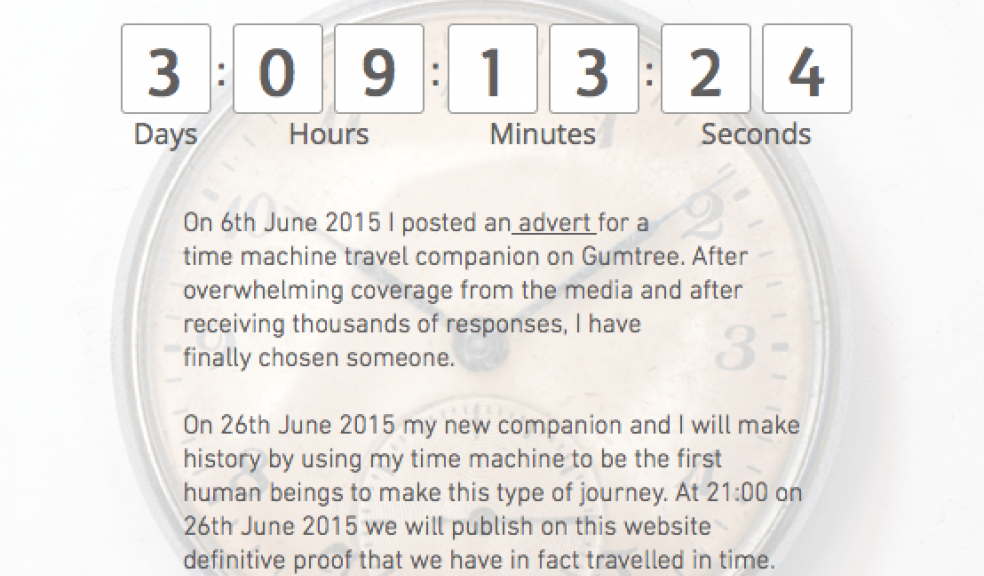 Exeter time travel experiment to be broadcast
There will be a live broadcast of time travel being screened at Walkabout in Exeter on Friday.
A lady known as Anna from Exminster put an ad on Gumtree to find a companion after she believed she had invented a time machine.
Similar to the story in the film Safety Not Guaranteed, which came out in 2012, Anna has faced skeptics in the press.
On 16 June, Ollie McAteer, writing for the free newspaper Metro, did a poll to see whether their readers found this hilariously funny or not.
In his article about the Gumtree ad, McAteer concludes that: "Being forced to listening to their amazing jokes along the way is in the fine print."
You get a chance to see for yourself this Friday 26 June at 7.30pm and Anna will release the video on her website at 9pm on www.myrealtimemachine.com
The company responsible for filming the broadcast is Big Shiny Ideas of Devon.
Rob Hutt thought this event was one not to be missed and will, Rob confirms, "We have a team on the ground with Anna documenting the experiment and a team at the Walkabout in Exeter arranging a live stream of the event."
Anna was ideally looking for a time travel companion with a car, as she says in her ad, "Owner drivers would be a plus as the machine needs to be taken to a wide open space like a beach to prevent property damage. Happy to split fuel costs :-)".
The exact location of the experiment has not been confirmed as Anna wants to reduce the likelihood of any environmental damage.
Rob of Big Shiny Ideas says: "The experiment will be taking place at an undisclosed location in Mid Devon and our client would like to apologise in advance for any interference to any of the local residents electricity supply."
Therefore, to see this for yourself it would be safer to pop to Walkabout in Exeter at 7.30pm this Friday or look out for the film on Anna's website at 9pm.
Screenings of Anna's Time Travel: 
Exeter Walkabout, 99-101 Fore Street, Exeter at 7.30pm. Free entry. 9pm on www.myrealtimemachine.com