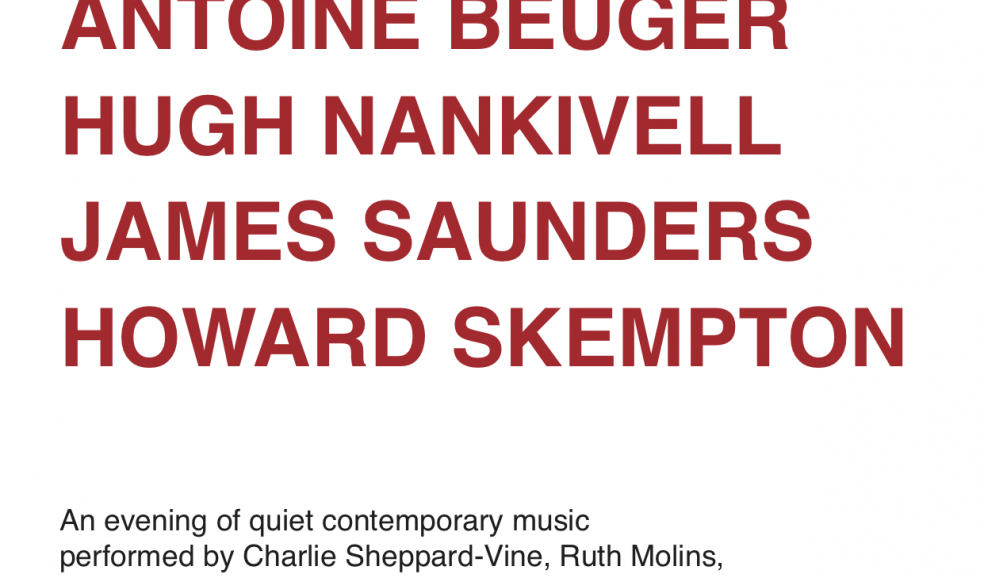 In our most ambitious concert so far, our ten-piece ensemble play quiet music for grand piano, strings, wind, coffee cups, bottles and other sonic delights in the lovely acoustic of St Matthew's Church (Newtown, Exeter).
Hugh Nankivell is making a new piece especially for us.
We welcome clarinettist Charlie Sheppard-Vine all the way from Glasgow.
Alex Wilson will play some of Howard Skempton's lucid piano music.
We'll also perform James Saunders' revelatory music with its different textures of quietness, create 'Artificial Environments' by Brussels-based composer Joanna Bailie and intone Antoine Beuger's very quiet and calm 'Lieux de Passage'. And, as a special treat, whisper our way through John White's haunting 'Drinking and Hooting Machine' for drinkers and bottles.
Other performers are Ruth Molins (flutes), Andrew Gillett (violin/viola), Julie Hill (violin), James Mitchell (cello), Tony Whitehead (sine tones), Emma Welton (violin/double bass).
It'll be a mixture of fun, quiet and gorgeous.
Tickets on the door, £7 (£4 for students, Musician's Union members and under-18s).
www.facebook.co.uk/EmmaWelton/events
#EmmaTWelton