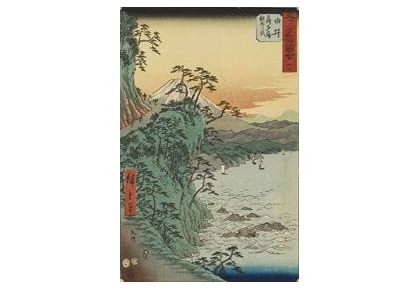 Event Date:
Tuesday, November 29, 2016 - 10:00am

to

Sunday, April 16, 2017 - 4:30pm
Venue:
RAMM, Queen Street, Exeter
Hiroshige's Japan: Stations of the Tōkaidō Road
A new exhibition of woodblock prints from one of the best known of all Japanese artists starts at Exeter's Royal Albert Memorial Museum & Art Gallery (RAMM) on Tuesday 29 Nov 2016: Hiroshige's Japan: Stations of the Tōkaidō Road.
The exhibition features 21 prints from Fifty-three Stations of the Tōkaidō Road, the series that made Utagawa Hiroshige (1797-1858) famous. Hiroshige is considered one of the last great masters of the ukiyo-e tradition and his work had a direct influence on renowned western artists such as van Gogh, Monet, Cezanne and Whistler. Hiroshige is particularly renowned for his landscape prints, unusual compositions, humorous depictions of people involved in everyday activities and masterly expression of weather, light and seasons.
First published around 1833, the Fifty-three Stations of the Tōkaidō Road series depicts views along Japan's major highway and is full of fascinating insights into the journey between the great Japanese cities of Edo (the current city of Tokyo) and Kyoto. The exhibition combines the selected prints from the Ashmolean Museum collection with a display of Japanese woodblock printing tools, a 1850's Japanese triptych and other digital resources from RAMM's collection.
The exhibition runs from 29 Nov to 16 Apr 2017.
Tickets (£4) can be purchased online at http://rammuseum.org.uk or both at Garden and Queen Street reception. A concessionary price of £2 is available for X-card holders, supporter groups and students. Entry for under-19s is free. An exhibition catalogue Hiroshige: Landscape, Cityscape (£15) and related souvenirs are available at The Shop at RAMM.
Designed to expand the exhibition's themes, the programme of accompanying events includes:
A six week course in mindfulness organised in association with MIND starting Friday 13 January -.
A talk by Dr Clare Pollard, Curator of Japanese Art at the Ashmolean Museum, organised in association with Art Fund Devon on Wednesday 1 March.
A dementia-friendly gallery tour on Thursday 16 March.
A mindfulness workshop organised in association with MIND on Saturday 18 March.
A Sumi-e Japanese Ink Picture Painting Workshop on Saturday 25 March.
The exhibition is organised by the Ashmolean Museum, University of Oxford.
Image: Yui - The Treacherous Coast at Satta Peak, 1855, Utagawa Hiroshige I (1797 – 1858) Colour woodblock print © Ashmolean Museum, University of Oxford.