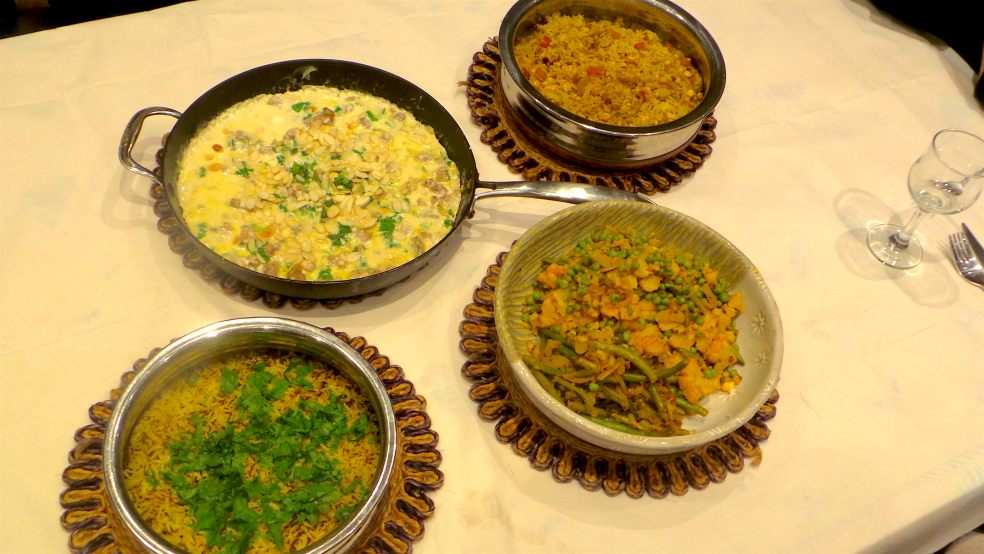 One Day Traditional Indian Cookery Course
Nila Ross-Patel, guest tutor at Exeter Cookery School, will teach you how to create authentic Indian cuisine the way her Mother taught her.
We are delighted to welcome former cookery tutor Nila for a day of cooking Indian cuisine the authentic way.
A fun-filled day of learning how to cook authentic Indian dishes, most of which originate from the Gujarat state of India and are mainly vegetarian.
Many of the dishes can also be cooked in advance, so you can impress your friends and family at dinner parties.
Enjoy a cookery course with a difference, where you will not only learn how to cook Indian food, but you will also discover how the dishes fit in with the cultural and geographical influences of India. This knowledge is a result of Nila's multicultural upbringing in the Midlands and several trips to India.
Nila's food
You will watch a demonstration of four dishes  – chicken korma, pilau rice, spiced green beans in mustard seeds and spiced cauliflower and peas – and then you will make them yourself.
Lunch will be what you have cooked, but no meal is complete without dessert, and so Jim Fisher will make pears poached in red wine with his lovely pistachio and cardamom ice cream.
Nila will demonstrate how to make a savoury lassi (a refreshing drink made with natural yoghurt).
After a very hearty lunch, you will be shown how to make rutli (chapatti) dough and you will learn how to make rutli. The rutli forms the basis for samosas and you will then make some for yourselves to take home with you and either freeze or cook at home that evening.
And you will learn how to dry fry your own spices.
These are examples of the kind of dishes you could be making
Samosas (vegetarian) – demonstration and then for you to eat
Budjas (vegetarian) – demonstration and then for you to eat
Chicken korma (a 16th Century dish originating from the Moguls) - hands-on
Pilau rice - hands-on
Spiced green beans in mustard seeds - hands-on
Spiced cauliflower and peas - hands-on