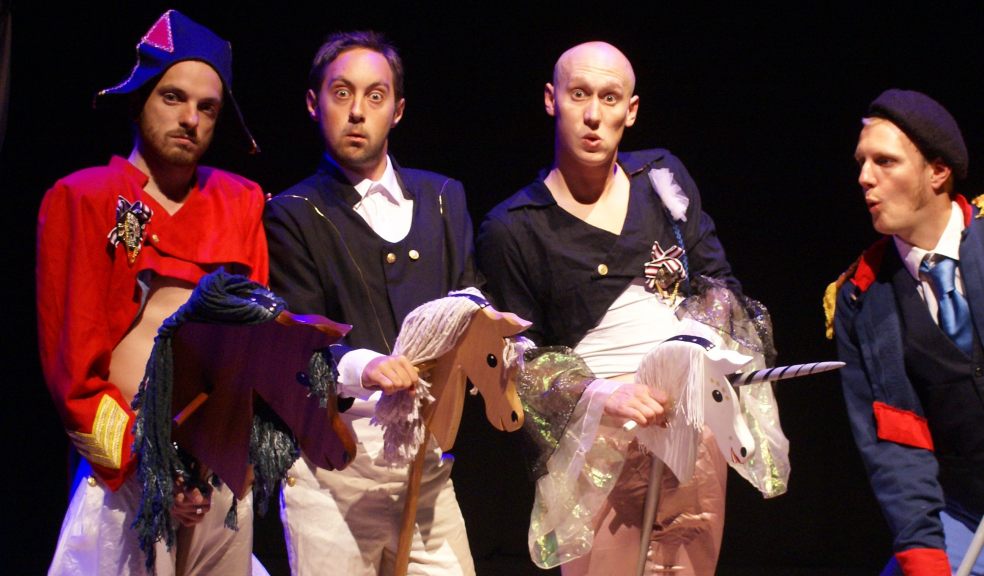 Forum family festival on Exeter University campus
The Children's Literature Festival, exetreme imagination, concludes the week of half term activities with a series of storytelling and fun events for the family on Saturday 23 February around the University of Exeter's Forum and the Northcott Theatre.
Free, free and extra free activities make up the Forum Family Festival, providing opportunities to participate in and wander around various events on offer throughout the day. Visitors should watch out for award-winning clowning troupe, Le Navet Bete, performing Hansel and Gretel in surprising places and be prepared to be amazed by tales from around the world told by storytellers David Heathfield and Sandhya Dave. Illustrations for children's books form the basis of an outstanding exhibition of work from past winners of the Kate Greenaway and Carnegie Medal, which will be on display in the Forum.
exetreme imagination, the festival of writing for and by young people, has grown over the last two years through the collaboration of partners across the city, including the University of Exeter, who all aspire to celebrate young people's literature.  Professor Debra Myhill, an education expert in language and literacy at the University of Exeter said: "Reading and writing are fundamental skills for all children to acquire, and one of the very best ways to do this is through inspiring their imaginations and giving them creative space to explore ideas in their own writing and in all the wonderful literature written for children.''
There will also be the opportunity to meet children's author Julia Donaldson, famous for The Gruffalo, at Exeter Northcott Theatre, for an hour of spelling-binding fun. This is a ticketed event and will involve the Children's Laureate acting out some of her best-loved picture books and singing songs inspired by her stories.  Also in the Northcott Theatre, young writers will be encouraged to bring their imagination to the table, to design magical menus and decide what characters from story books might like to eat for dinner.  This workshop is for children who may have wished that they could visit Willy Wonka's chocolate factory or sneak into the Gryffindor common room for a midnight feast.  The Forum Family Festival starts at 10.45am and all activities and events finish at 3.15pm. For more detailed information, see the website: www.artsandcultureexeter.ac.uk.
The festival is supported by Exeter City Council and the National Lottery through Arts Council England, themed around storytelling and childhood.