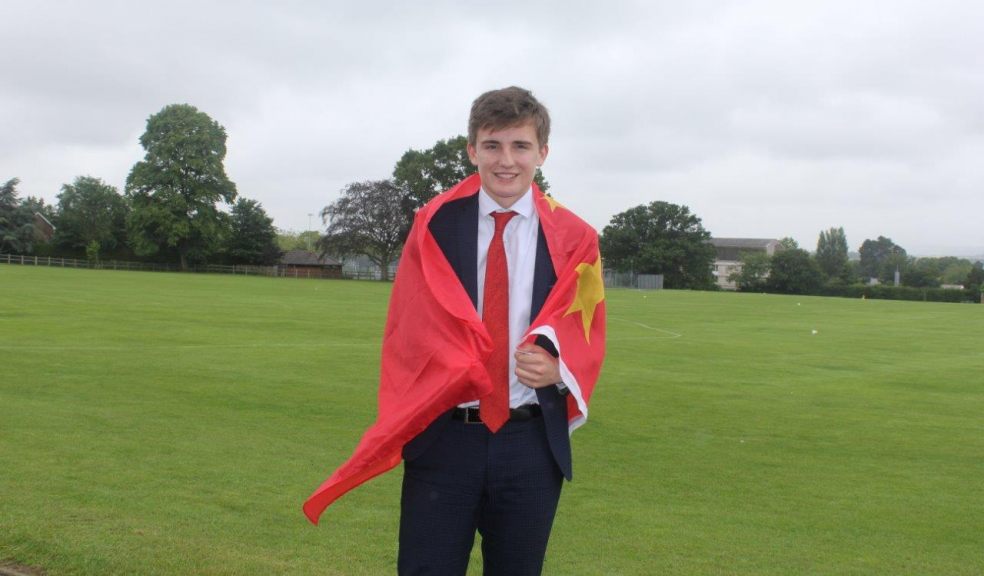 Exeter School alumnus offers three-week work experience in China
An Exeter School Sixth Former has been given the opportunity of a lifetime thanks to a former pupil.

Lower Sixth pupil George Heard has been offered an all-inclusive work experience placement in China thanks to the generosity of leading educational consultant Julian Fisher (1993 -2000).

Seventeen-year-old George will spend three weeks in Beijing, working on a variety of projects, learning about the local working environment and understanding how entrepreneurs are succeeding in today's China. 

This is the first work experience placement of its kind offered to an Exeter School pupil by one of its alumni and Sixth Formers currently studying Business Studies or Economics were invited to apply for the opportunity.

The opportunity arose following a visit to China by Exeter School's Bursar Miles MacEacharn, Headmaster Bob Griffin and Deputy Headmaster James Wilson during which the trio met with Julian, Senior Partner of Venture Education and Vice Chair of the British Chamber of Commerce in China.

On a return visit to Exeter School, Julian gave a talk to Lower Sixth pupils, sharing his advice and experience as a business influencer, and made his generous offer.

George explained how his passion for business was sparked by taking part in the Student Investor Challenge which involves investing into the FTSE 100 and trying to gain the highest returns in order to win the competition. 

"Over 5,000 teams of students and teachers take part each year and my team, The Dream Crushers, qualified to the semi-finals. It was my role to monitor the current state of the stocks and if we should sell or hold. Furthermore, we were able to learn about the stock market and investing."

Since then George has played an important role as Managing Director of the school's Young Enterprise team, creating a mindfulness card game that allows people to interact on a personal level with mindfulness. 

"We used mindfulness to help people connect with others in the workplace. It is designed to help address mental health issues within the workplace. We decided to develop and sell this idea firstly because we saw a gap in the market and secondly, because we wanted to bring the highest amount of value possible to the consumer."

The game has attracted interest from both South West and international companies such as Devon County Council, Kitsons solicitors, Tozers Solicitors, Bishop Fleming accountants, Francis Clark LLP, Ashfords Solicitors, Gregory Distribution, Delt Services, HSBC and Deloitte, and recently featured on a BBC Radio One podcast.

George said he was looking forward to increasing his knowledge of the China market.

"I would like to find out more about how China developed from an industrial powerhouse to a new middle class of 200 million developing as well as new markets in the form of technology firms in new tech hubs such as Shenzhen," he said.

"I am looking forward to visiting the Great Wall of China and learning from Julian and his knowledge of business in China. I am especially looking forward to learning about the way in which business connections are made in China in the form of guanxi. In China this is the system of business and social networks that allow dealing and business to take place."

George is currently studying Computer Science, Biology, Business Studies and Geography and in the future would like to develop start-up companies of his own implementing knowledge learnt through the China internship, the YouTube channel valuetainment and further internships to learn about the systems in business and how larger businesses reduce costs by implementing systems.

Julian said: "China's global importance is not always matched by awareness in the UK and there is no better way to understand a country than to live and work in it. George will have a life-changing trip including cultural experiences, language learning and a lot of meetings with entrepreneurs and thriving businesses. 

"We'll also meet with Nicholas Smith OBE, another Old Exonian who lives in Beijing and received his award from Queen Elizabeth II in 2011 in recognition of his services to music in China and to Sino-British relations."

Head of Economics Stuart Mackintosh said this was an incredibly exciting opportunity for a pupil to gain an insight into the business world in China. 

"The contrasting way in which business is conducted in China will provide George with an insider knowledge which will put him in great stead when he enters the world of work."