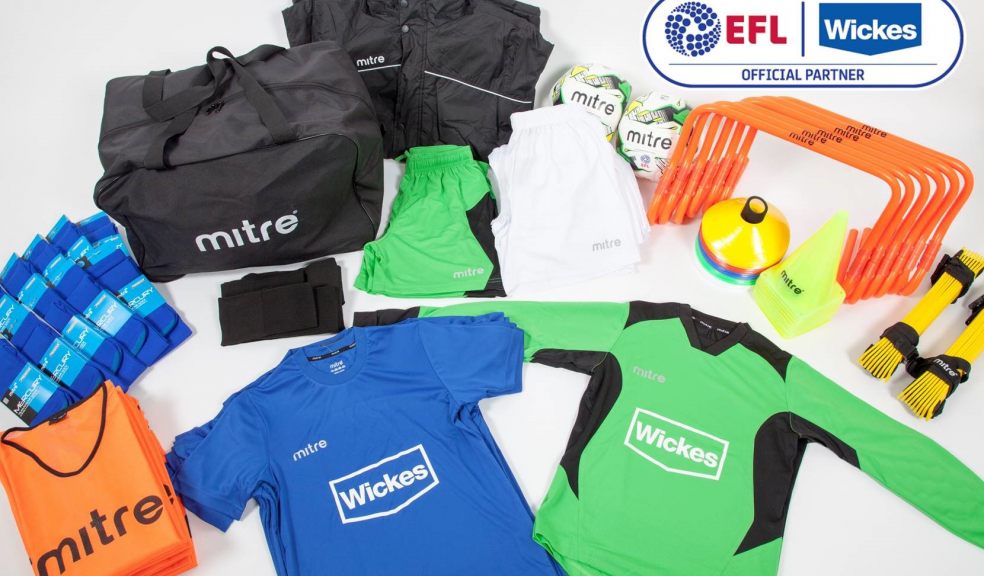 Wickes launches Kit for Kids
Wickes has announced the launch of Kit for Kids, a community based initiative providing members of the public the opportunity to win free Mitre team kits.
Through its partnership with the EFL, Wickes believes support begins at home, so in turn it wants to support to all the local communities that are passionate about football.
Wickes has teamed up with Mitre & the EFL to support grassroots football and offer the ultimate kit giveaway for junior sides, with 72 sets of brand new Mitre kit to give out to the lucky winners and their football team. Along with the Mitre Kit, Wickes, the official Home improvements partner of the EFL are also giving away over 1,000 EFL tickets to all Kit winners to watch their local EFL team play. Wickes will be picking the lucky winners after entries close on 25th December. 
All applicants need to do is tell Wickes why their nominated club really deserves it. Maybe the Under 7's share kit with the Under 10s? Or perhaps there is a great story about how the head coach is helping grow the girls' team in the area? Maybe the team is working hard to develop the skills of the kids both on and off the pitch? Whatever the team's story, Wickes want to hear it.
To enter the competition simply visit www.wickes.co.uk/competitions/kits-for-kids
Shaun Harvey, CEO of EFL said: "Wickes have some exciting plans regarding the activation of the relationship and the Kit for Kids activity demonstrates just that; delivering real tangible benefits for clubs, their supporters and local communities."
Matthew Gaunt, Head of Brand & Communications at Wickes said: "We are thrilled to launch Kit for Kids with both Mitre and the EFL and deepening our involvement within football. We hope this demonstrates our commitment to local communities and gives youth football teams in need a kick start to help develop the footballers of tomorrow"