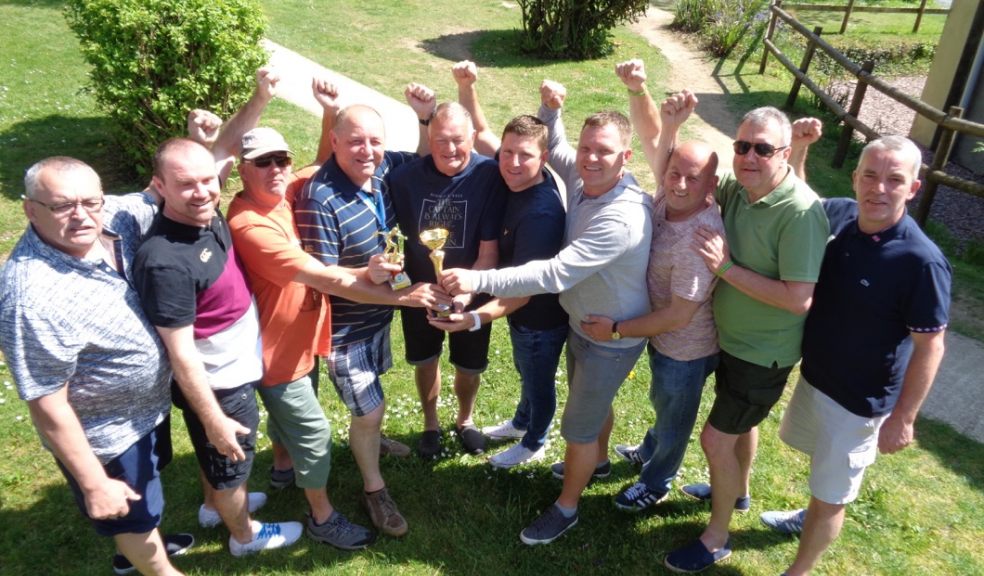 Singing their way to victory
It's all down to the singing, say Exeter men's skittles team the Saints who triumphed in an intercounty tournament held in Bude.
Captain Paul Kennard said the Saints are known for their vocal abilities in competition.
'We are a noisy lot,' he admitted, 'we out-sing everyone.  Our songs are so catchy that sometimes even our opponents join in with us!'
The strategy clearly worked as the team who play out of St Thomas Social Club in Exeter, beat 24 teams from Wales, London and five counties to pick up the winners' trophy.  They clinched their victory with a final score of 406, eight points ahead of their nearest rivals, the Caerphilly Allsorts. 
Not content with that, Saints' team member Simon Albinson picked up the man of the match trophy with a score 45 while  fellow team mate Steve Letheren collected the cup for the highest scoring man of the weekend.
This is the first time the Saints have won one of these tournaments, which are part of an annual series organised by Serious About Events of Torquay who also stage the annual Gasket Guy British Skittles Championships. 
'We've been entering for five years now,' continued Captain Paul.  'We've finished in the top five every year but of course this is our best result.  We're a little bit competitive but we are definitely there to enjoy the weekend first and foremost.'
Secret of their success, he says is down to some good experienced players who hold the team together.  Four members of the team were part of the Saints squad who were runners-up in the men's British championships last year. 
Meanwhile the Sinners ladies team also from St Thomas Social Club missed out on a place in the finals by just one pin. 
Photo: L-R:  Colin Steer, Simon Albinson, Roger Staddon, Steve Letheren, Paul Kennard, Jason Jordan, Simon Burwood, Stan Alford, Dave Rowe, John Miller.