Can Exeter City try again?
It's been a full month since Exeter City's disastrous loss in the League Two play-off final to Northampton. It may not seem like it, but that heartbreaking and inexplicable defeat is already fading into the past, and attention must now turn to the 2020/2021 season. Exeter came so close to success last time around, but by the time the clock strikes midnight on December 31st this year and 2020 gives way to 2021, the Grecians will have been in the bottom flight of English football for a full decade. Could the team climb out of the bottom of the barrel on the next attempt, or will this season's failed endeavors be more costly than we yet realize?
The season that has just ended was a season like no other in English football history. Exeter City was lumped into the play-offs based on their final league position, with the season incomplete. It isn't inconceivable that, had the full season been played, the club would have been able to secure automatic promotion. We'll never know, and we can't dwell on that. Instead, we've had a harsh reminder of the lottery-like nature of the play-offs. No matter what a team's form is like going into the play-offs, the outcome is no more predictable than an online slots game. You could even go further with that comparison, because success or failure at UK slots is based on little more than dumb luck. Some players will spin the reels of that online slots game once and walk off with the jackpot. Others will spin them a dozen times and come out with nothing at all. This time, Exeter City were the losers.
The logical thing to do for any team that's narrowly missed out on promotion is to strengthen over the summer and look to go one better the next time around. Matt Taylor would dearly love to do that, and he's already made a public call for unity from the fans, but there are problems occurring within the club that are above his station. Exeter's financial situation is so bad that as things stand, there will be no full-time goalkeeping coach at St. James' Park. Steve Hale had his contract terminated not long after the play-off final defeat. The club has had to make cutbacks across the first team, the academy, the coaching staff, and even the stadium maintenance team, and Hale was deemed as being surplus to requirements. It's hard to see how that decision could be justified from a purely footballing point of view, but in the current financial climate, football-focused decisions can't always take the lead.
Aside from losing a trusted and popular coach, Taylor might also find himself short of players. He's spoken of his desire to bring one or two new additions to Exeter before the season restarts, but 'one or two' won't make up for the losses that the first team has endured. No fewer than eight players have either left the club or not had their contract renewed for next season. Dean Moxley, who was sent off in that fateful fixture against Northampton, departs the club for the second time. Craig Woodman will also be looking for new employers next season. They're the headlines names of the group of eight, but fans with longer memories will also remember players like Lee Holmes for their contributions to the team in the past. All are now gone. Exeter City is now a team shorn of coaching staff and senior players, and seemingly without an immediate plan to replace them.
Not all of the blame for this should be laid at the door of the club or its manager. It's doubtful that Taylor will be happy about losing so many members of his squad. It's also doubtful that Julian Tagg has made these cuts without giving any thought as to how it might affect his team's prospects for next season. Exeter is far from being the only club at League Two level who are having to make difficult financial decisions about next season. It might even be the case that there are teams affected far worse than Exeter are. The majority of teams who play in the competition next term might be weaker than they were this time around, and that might even play into Exeter's favor, but for the team and it's fans, that's a hope more than it is an expectation. The reality is that there will be teams who are far more fancied for promotion than the Grecians. Cheltenham and Colchester will try again. Bradford City will fancy themselves, and so will Salford. All three clubs who've been relegated will want to make an immediate return, and Bolton Wanderers are likely to be a very different proposition in 2021 than they were in 2020.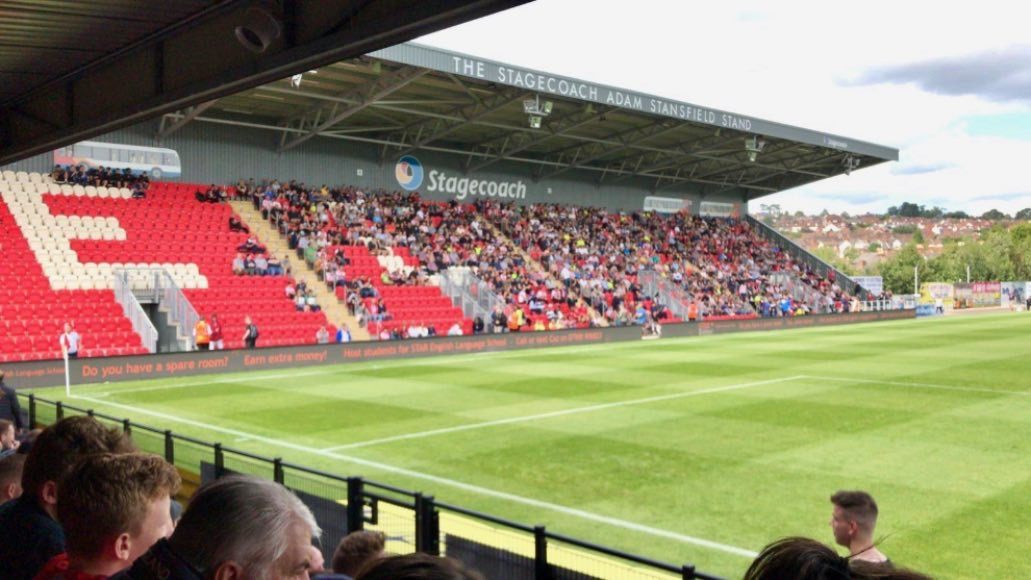 As disheartening as all of this might sound, anything can happen in football. As unlucky as Exeter has been, there's an inspirational tale from the division above them that might provide fans with hope. Wycombe Wanderers, who were outside the League One play-off places when the season ended, ended up in the play-offs almost as a wildcard and then secured promotion to the Championship. They might be the smallest club ever to play at that level, and in terms of budget and support, they're comparable to Exeter. Even the little clubs have a day in the sun every once in a while, and if Wycombe can manage it, there's no reason why Exeter can't. The Grecians might have to overcome the odds and upset a few bookmakers to secure promotion next season, but that's not to say that it can't be done.
Most fans would agree that Matt Taylor is doing a good job at Exeter, and if it's at all possible, those same fans would like to see him given the time to build a new squad and try to push the club forward to the next level. It won't be easy, and in the early stages of next season, we suspect that there might be reason to worry. It's time to start feeling optimistic again, though. Shake off those play-off laments; the game is gone, and it's in the past. Tomorrow is another story, and Exeter will come again. Perhaps this will be their year at long last.