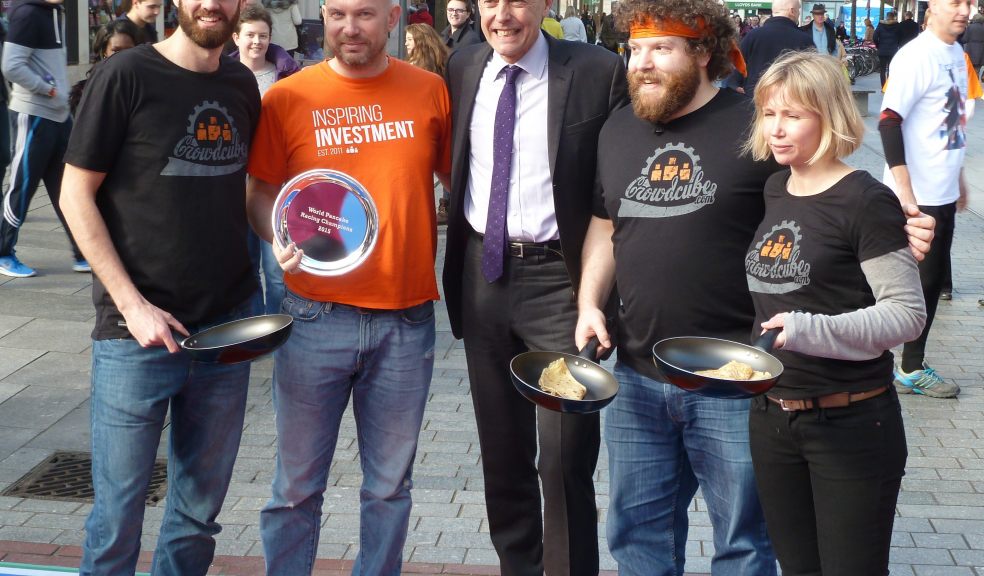 World Pancake Racing Championships a 'flipping' success
Crowdcube battered the opposition in the 2015 World Pancake Racing Championships held at Princesshay Square to celebrate Shrove Tuesday.
Teams of four from businesses, shops and groups all across the town were egged on by cheering crowds as they flipped it out in a knock-out relay race.  
Each race involved a short sprint along South West Athletic Academy's portable running track, interrupted with several flips along the way. 
Speed was obviously the main tactic but some teams discovered that a dropped pancake undid all their good work.   Eagle-eyed officials from Exeter Age UK and local MP Ben Bradshaw were on the lookout for incomplete flips but everyone demonstrated consummate tossing.
The final was a two team affair between Crowdcube and Turner Lockyear Barnfield. After a close start the Crowdcube team quickly opened up a gap with a burst of speed and were able to hang on to their lead for the remainder of the race with magnificent athletic leaps to catch their pancakes mid-air. Turner Lockyear Barnfield though did fight back and the last lap was close as Crowdcube dived for the line as the eventual winners.
A triumphant Richard Eckley from Crowdcube said: "We all had a lot of fun. This is the single greatest achievement of my life  I dreamed of becoming a World Champion as a little boy and now my dream has come true." 
Darren Westlake said their aim was to "toss high and toss well'', with nodding heads from the final two team members, Rose Elliott and Mike Royston who were too busy celebrating to talk.
The teams from Abode Exeter, Everys & WBW Solicitors deserve a mention for their sheer enthusiasm during their race heat.
The World Pancake Racing Championships was organised by local events company Wacky Nation and sponsored by Princesshay with pancakes supplied by Abode.
Sally Raynes, Events Director at Wacky Nation, said: "It's great to see local businesses coming together to have fun, whilst supporting a great local charity.  All the teams really got into the spirit of the event and there was great camaraderie."
Among the teams competing were entrants from Nexus Open Systems, WBW Solictors, Stones Solicitors, Everys, Turner Lockyear Barnfield, South West Water, The Organic Agency, Magdalen Chapter, Abode, Santander, WSP, John Lewis and Exeter Age UK.
Teams were sponsored to take part and a bucket collection was also taken at the end with all the proceeds going to Exeter Age UK.
In addition to the main races, individuals from the general public took part in the '20m Pancake Challenge' organised by South West Athletics Academy.