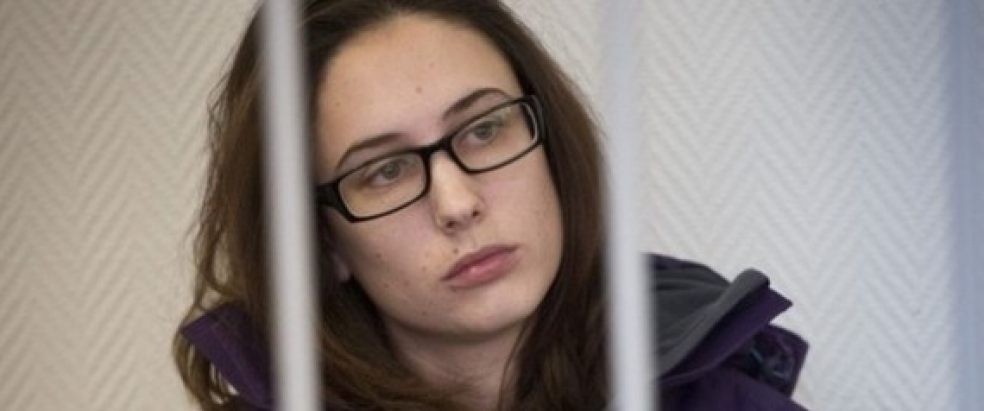 Two from Devon bailed in Russian court
Update: Alexandra Harris and Kieron Bryan have been granted bail- set at 2m rubles each
Before the judge Kieron Bryan said: "To be accused of hooliganism for doing my job as a reporter is  the same as suggesting that every journalist who works in a warzone is a soldier or that the court reporter here today is somehow responsible for the outcome."
Also bailed was the Arctic Sunrise captain Peter Willcox.
Anthony parrett case is also currently being heard. 
Greenpeace has posted bail for the 9 activists processed yesterday but doesn't expect their release until the weekend.
..............................................
Alexandra Harris, a Greenpeace activist originally from Devon is in a Russian court today for a detention hearing ahead of trial for hooliganism.
Ms Harris, 27, was heard to say that she feels "trapped in a political game" before appearing in court today.
Ms Harris is one of six Britons who are being held among the Arctic 30, a group of Greenpeace activists and journalists who were arrested by Russian officials following a protest of a Gazprom oil drilling platform in the Arctic Circle.
In a letter to a fellow Greenpeace activist in October, Ms Harris wrote: "I dream of the outside world a lot. When I wake I'm sleeping with steel bars digging into my back, facing the same four green walls I've faced for 25 days. That's the hardest time of the day.
"Despite everything that has happened I don't hate Russia, I just want to go home."
Also from Devon and due to appear before the court in St. Petersburg today is freelance video journalist Kieron Bryan.
Mr Bryan, 29, was due to appear in court on Monday but asked for the hearing to be postponed until today.
Another British man, Anthony Perrett from Wales, is also due to appear in court today.
The Arctic 30 were arrested following a demonstration against a Gazprom oil drilling platform in the Arctic Circle.
There have already been several detention hearings this week which saw nine activists bailed yesterday and three bailed on Monday including Denis Sinyakov, a photojournalist and Russian national.

Before the judge Mr Sinyakov said: Sinyakov: "prosecution witnesses show I was photographing the event. Investigators consider photojournalism a crime?" (translated from Russian)
Bail has so far been set at 2m rubles (around £38,000) per person.
Colin Russell, 30, is so far the only activist to have a bail request denied and will remain in prison for a further three months before facing trial for hooliganism.
Exeter MP Ben Bradshaw said on Monday that unless the Arctic 30 are released the UK government must consider boycotting the Sochi Winter Olympic games in Russia.
Mr Bradshaw also criticised the approach of the Government and Prime Minister David Cameron.
Mr Bradshaw said: "The softly, softly approach adopted by David Cameron does not appear to be working.
"It's time that the UK and other Government's with hostages (and that is the right word) in Russia make clear to Putin that there will be consequences from their further detention."
Earlier this month Mr Cameron said that he had made his concerns clear to Russian president Vladimir Putin and raised the government's views that the 30 are protestors rather than hooligans.
In a statement, the UK Government has said that they will continue to use their diplomatic influence "to make sure the Russian authorities understood the importance we attached to resolving this."
More details to follow.