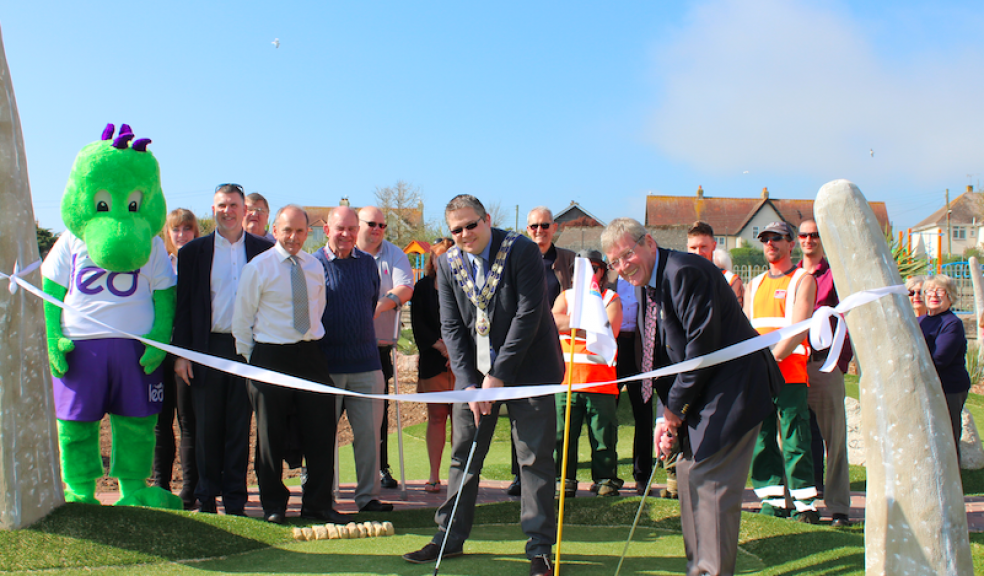 Seaton adventure golf declared officially open
Seaton's wonderful new Jurassic themed adventure golf course in Seafield Gardens has been officially opened (on Friday 7 April) by East Devon District Council, Seaton Town Council and LED, who have worked hard in partnership to make this exciting visitor attraction ready for residents and visitors to enjoy this spring.
Councillor Paul Diviani, the Leader of East Devon District and Councillor Marcus Hartnell, the Chairman of Seaton Town Council, who is also East Devon's lead councillor for Seaton, cut the ribbon assisted by Mike Vine, East Devon's Parks Improvement Officer (who is responsible for the outstanding Jurassic planting scheme).
The event was also attended by Peter Gilpin (LED CEO), Marcus Allen (LED Area Manager), Ledly, LED's dinosaur mascot, Councillor Andrew Moulding East Devon's portfolio holder for strategic development and partnerships, and Dave Cook, East Devon's Senior Engineer (Technical) who oversaw the site preparation and construction of the course, working in conjunction with East Devon's StreetScene team.
The course has been funded with Section 106 money - collected by the district council from developers for new homes they have created in Seaton. The total cost of the scheme's hard construction was £71,500.
The idea for the mini golf course came from Seaton Town Council, who along with the town's residents, community groups and sports organisations were asked by East Devon District Council what sporting facilities they would like to see in the town. The adventure golf course was the most popular choice among a range of suggestions put forward and voted on by the local community.
Although the course was officially opened on 7 April, it has been in play since 1 April and will remain open for the duration of the Easter holidays until 17 April. It will then open again on the 1 May Bank Holiday, plus every weekend from 1 April to 24 September 2017.
Over the summer, the course will be open every day from 29 May until 8 September 2017.
Entry is free of charge for LED Unlimited members and only £3 (Adults) and £2 (children) for non members.
Councillor Paul Diviani, Leader of East Devon District Council, said: "The course looks absolutely marvellous and the planting that our StreetScene team has been busy putting in place picks up the Jurassic theme beautifully. I have it on good authority that the course plays extremely well, offering golfers both easy and difficult options.
"It's a wonderful asset for Seaton and fits in so well with our other extremely successful visitor attraction, Seaton Jurassic, which is pulling in large numbers of visitors. We hope that the adventure golf will prove an equally popular amenity for the town.
"I would like to say a well deserved thank you to East Devon's StreetScene service, who have pulled out all the stops to get this golf course constructed and planted in time for the season. They have done a tremendous job."
Councillor Marcus Hartnell, East Devon District Council's lead councillor for Seaton, as well as East Devon's ward member for the town and the Chairman of Seaton Town Council, said:
"It's great to see that the adventure golf course has got off to a fantastic start this Easter. The fine weather has meant lots of people have already had a chance to try it and I am certain it will continue to be extremely popular with locals and visitors throughout the year."
LED's Peter Gilpin said: "The new facility is fantastic for Seaton, and we hope that it will encourage more visitors and local residents to use Seafield Gardens."