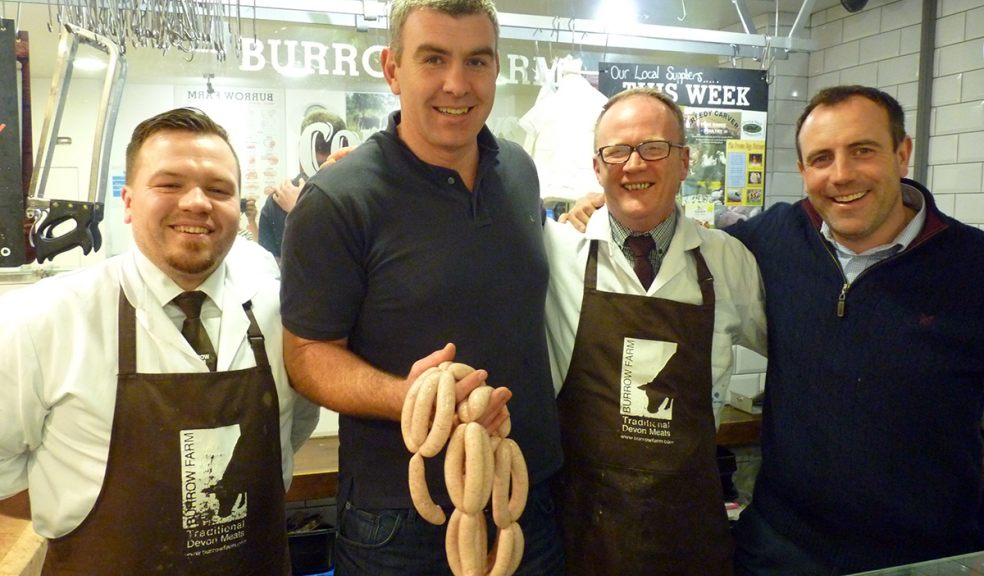 Rich Baxter attends Burrow Farm Workshop
FORMER Exeter Chiefs rugby star turned farmer, Rich Baxter joined a special sausage-making and butchery workshop at a city butchers last week.
Customers and suppliers were invited to the event, which was held at Burrow Farm's St Thomas butchers shop, Courtney's.
The event was held to introduce customers to Burrow Farm's two new Master Butchers, and to give customers a chance to have a go at making their own sausages – something that Burrow Farm's Courtney's shop is famous for.
Shop owner Neil Grigg said: 'We wanted to give our customers a chance to meet our brilliant new butchers, and to let them see how they work. Our sausages are incredibly popular, so it seemed like a good idea to let people have a go at making them for themselves.'
Richard Baxter, who provides Burrow Farm with some of their Red Ruby Devon beef, said: 'I've been supplying beef here for about a year now, but never had the chance to meet the customers face to face. This evening has been a brilliant opportunity to get to know them a bit, and also watch the butchers at work.'
Visitors were also entered in to a prize draw to win one of Burrow Farm's meat boxes. Exwick local, Ruth Watkins was the lucky winner, although all visitors on the night took home a goody bag, including their own handmade sausages.