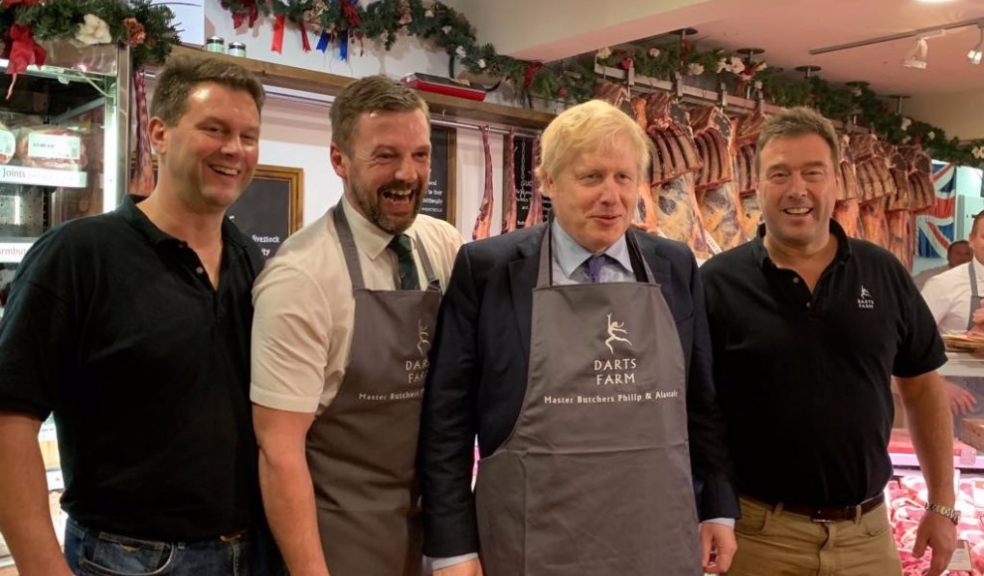 Prime Minister visits Darts Farm
A shining light in the West Country, leading the way with its support of local producers, Topsham's Darts Farm was visited by Prime Minister Boris Johnson on Thursday (28th November), during his General Election campaign trail. This high-profile visit pays testament to the ongoing commitment, hard work and dedication the Dart brothers have shown creating this inspirational farm shop. What started as a small pick-your-own hut in a field and has become a hub of the very best from the Westcountry with over 300 local people employed onsite.   
Commenting on behalf of Darts Farm, Michael Dart, Director says: "There are many challenges for farmers and producers at the moment. The Southwest region has so much to shout about on both a national and international level, producing some of the very best products available worldwide and it is vital for everyone to buy and support local, which will help reduce food miles and have a positive impact on the environment."
Michael continues: "We were delighted to welcome the Prime Minister at Darts Farm.  Boris Johnson was in good spirits as he immersed himself in our highly regarded Master Butchers and discussed farming practices with us. He recognises the outstanding care here in Devon given to every aspect of the industry by those involved."
Mr Johnson was joined by Simon Jupp, Conservative candidate for East Devon, who says: "Boris is a huge fan of Devon, he used to swim in the River Exe as a child saying it was 'absolutely beautiful'."  Mr Johnson, whilst at Darts Farm, pledged to 'level up' the Westcountry and deliver his vision for the Great South West. He then continued on his Devon tour for the unveiling of the Nancy Astor statue. A momentous day all round for this vibrant and bountiful county.
Darts Farm Master Butcher, Alastair David comments: "As always, our absolute priority is to support local farmers who share our values of high-quality produce and excellent animal welfare.  During Boris Johnson's visit it was a pleasure to shine the spotlight on this incredibly important topic."
Celebrating its 25th year, Darts Farm remains a family business run by the three Dart brothers; the retail looked after by Michael and James and the farm by Paul.  Darts Farm showcases the best food and drink the region has to offer and is home to a selection of handpicked specialist retailers.  These include The AGA Shop, Fired Earth, Orange Tree, Cotswold, RSPB, Energy Hair and the Treatment Loft.
www.dartsfarm.co.uk