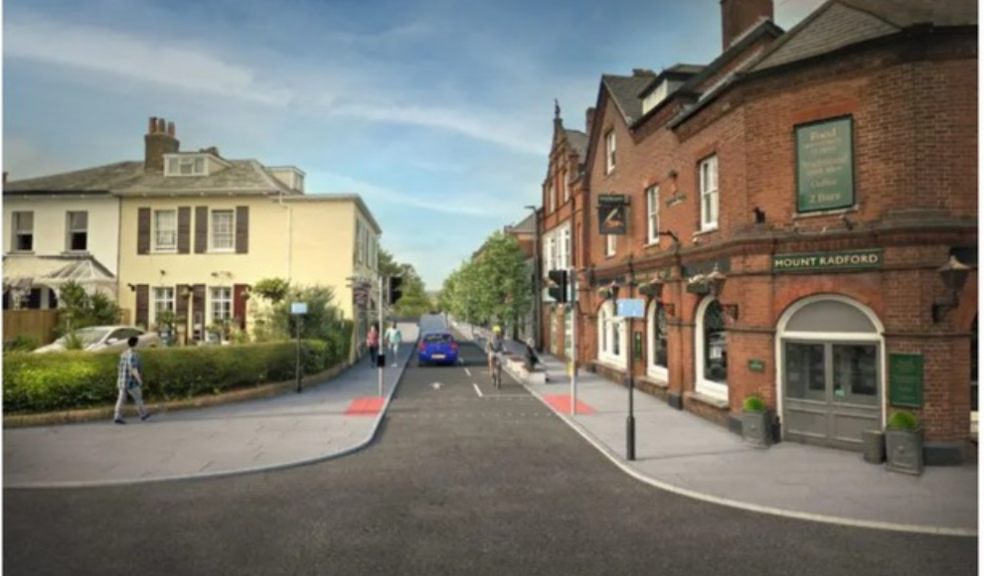 Magdalen Road one-way system set to become permanent
The temporary one-way layout of Exeter's Magdalen Road is to be made permanent after councillors rejected the favoured option of residents for its post-covid future.
Famed for its independent shops and restaurants, the neighbourhood centre of St Leonards became one-way  in June 2020 to support social distancing and active travel measures. It was claimed this would be temporary.
A cycle lane was also added, part of the 'pop up' E9 Strategic Cycle Route connecting the Newcourt/Pynes Hill area to the Royal Devon & Exeter Hospital and city centre.
A number of consultations followed with local residents – as well as people  from the city and wider area – about what should be done when the temporary layout ends. Of the 1,500 responses, 75 per cent were in favour of reducing through-traffic. The specific options offered were:
Option 1 – one-way westbound with contra-flow cycle lane (i.e. making the temporary layout permanent)
Option 2 – one-way eastbound (Option 2a including a contra-flow cycle lane, Option 2b not including one)
Option 3 – low-traffic street (virtual pedestrianisation apart from access for delivery vehicles etc)
Option 4 – revert to original layout (i.e. remove all temporary measures)
Whilst the low traffic option was the most popular with just over 50 per cent selecting it as their first preference, it was decided by officers that the second favourite – making the current set-up permanent with one-way traffic only towards the city centre and a contraflow cycle lane – was the most deliverable and therefore recommended for approval.
Members of the Exeter highways and traffic orders committee voted in favour of the proposal, subject to further approval by the cabinet.
However, after hearing from a concerned resident of the adjoining Denmark Road into which eastbound traffic along the bottom of Magdalen Road now turn s, the committee said they should consider this impact.
Officers were asked to bring forward proposals to reduce traffic flows and speeds on Denmark Road, including a possible 'no right turn' from there into Heavitree Road, and similarly from nearby Spicer Road.
A report to the committee about Magdalen Road's future layout said a low traffic street "would provide the best environment for pedestrians and cyclists and provide additional street space for pavement cafes and ancillary business activity."
But it warned that removing the on-street parking could be detrimental to some traders and extra funding may be needed due to it being the most expensive option. The committee heard that traders were split 50-50 on wanting less through traffic along the road.
The report said proceeding with a low traffic street would risk significant delay before the temporary measures could be replaced with permanent infrastructure.
It continued: "In light of this, it is considered that [making the temporary layout permanent] is the most deliverable option for reducing traffic on Magdalen Road. It improves the pedestrian realm, improves air quality and still retains on street parking for business, and it is therefore recommended that this option be progressed."
However, due to the popularity of turning the road into a low-traffic street, the report added that the design of the permanent one-way system will "as far as practicable, avoid impeding the future delivery of this option". Additional 'traffic free days' would also be explored, the committee heard, because of the level of support for virtual pedestrianisation.
Councillor Carol Whitton (Labour, St David's & Haven Banks) said the plan was a "good outcome" for both the residents of St Leonards and the street's traders.
"This has been a hugely controversial scheme and has generated vast amounts of extremely impassioned correspondence and I've certainly received the vast majority of that. It has raised very strong passions in all directions.
"I feel, personally, that this has navigated our way through those passions and strong feelings in the best possible way we can do in the circumstances."
Proposed designs of the permanent scheme also revealed the current echelon parking bays along Magdalen Road, which drivers must currently reverse into, will be altered to allow drive in and reverse out. County Councillor Percy Prowse (Conservative, Duryard & Pennsylvania) asked whether this was safer than the current set-up, as vehicles will have to reverse out into oncoming traffic, including bicycles.
Will Pratt, Devon County Council's lead of transport, strategy and infrastructure delivery for the Exeter area, said the change was because it was what many people in the consultation wanted.
The project is expected to cost around £1 million, therefore the final decision on its construction will need to be made by Devon County Council's cabinet.
By Ollie Heptinstall, local democracy reporter