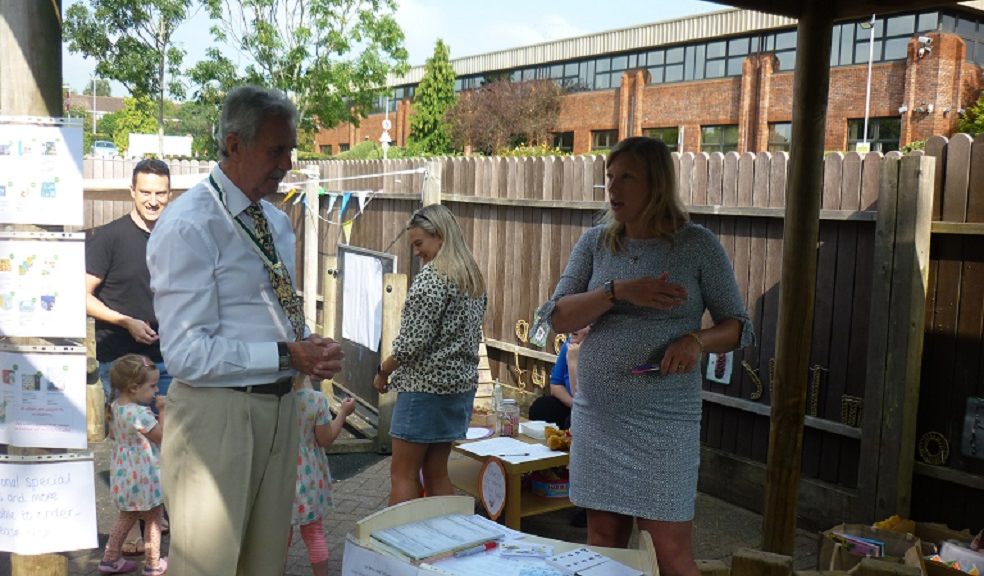 Happy Days Exeter welcomed families and friends to celebrate its 30th birthday
Happy Days Exeter hosted a 30th Birthday Party on Saturday 4th September to raise essential funds for a local children's hospice while also celebrating 30 years of Happy Days.
The popular nursery located in the Peninsula Park Estate, adjacent to Rydon Lane, invited existing families from around Exeter to join staff and children for a garden party at the weekend. The day gave families a great opportunity to come together for a fantastic morning filled with engaging activities and tasty treats. As well as saying "Happy Birthday" to Happy Days Nurseries, they also raised funds for the Children's Hospice South West by sponsoring The Big South West Cream Tea. Collectively, the nursery group raised £1350 with more money due to come in for the hospice.
The party featured a class hosted by Sing and Sign - an excellent programme enabling young children to dance with words and nurture a greater understanding between families through teaching various gestures and signals. Councillor Mr Peter Holland and Mrs Jacky Holland cheered the children on when they began to hook nautical-themed prizes from the activity pool. With fantastic support from a number of businesses within the area, Happy Days Exeter raised additional funds by hosting their very own raffle.  To make the day even sweeter they all devoured a delicious cream tea.
Lisa Marchent, Nursery Manager at Happy Days Exeter said:  "We are so grateful to everyone for making the 30th birthday here in Exeter such a huge success. A special thanks to our staff for their commitment to making the party so special.
"One of our parents had a stall for Usborne Books and spoke with families about the importance of reading with young children. We had our very own mini café that served hot drinks, scones, cream and jam.
"I'd also like to say a special thank you to Councillor Mr Peter Holland and Mrs Jacky Holland for supporting the event.
"The event ended with a fantastic raffle, and we are so grateful to all of the businesses that donated prizes. It was truly an unforgettable day and a great opportunity to raise awareness of both Happy Days Nurseries and the Children's Hospice South West."
Bernadette Chambers, Area Fundraiser for Children's Hospice South West said: "We are so grateful to Happy Days Nurseries for their support of The Big South West Cream Tea, in what is the 30th anniversary year for both of our organisations.
"Happy Days' support will help us to continue offering vital care to over 500 children and families across the South West that access our hospices for support. Thank you to everyone involved in making our 30th birthday so special.
"On a personal note, as a parent of Happy Days, I would like to take this opportunity to thank them for their fantastic early years care and support for our family, and the many thousands of other children and their families that have passed through their nurseries."
To find out more about Happy Days Exeter, please contact Lisa Marchent on 01392 369 741 or visit https://www.happydaysnurseries.com/nurseries.html.