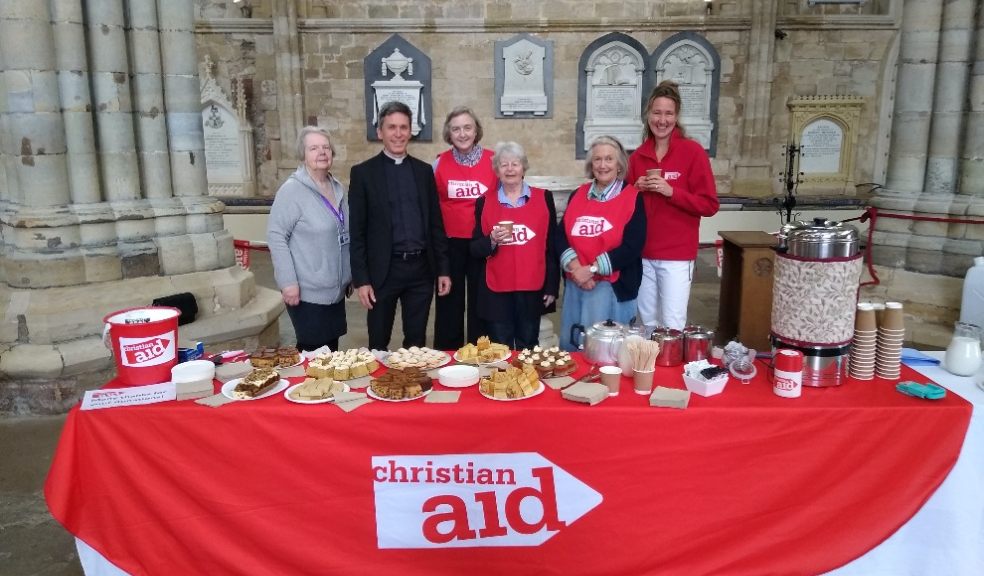 Exeter Cathedral kicks off Christian Aid Week with a Coffee Morning and Exhibition launch
Local schools were invited to send a message to those in charge with "Letters for Creation" about the impact of climate change on our planet, in an Exhibition at Exeter Cathedral launched with a Christian Aid Week coffee morning on Saturday 14th May.
Hopes, fears and dreams for creation were shared through art and prizes were awarded to the winning entries, commemorating the start of this year's Christian Aid Week (15-21 May).  
From the war in Ukraine forcing millions to flee from their homes to the climate crisis in Zimbabwe causing devastating drought and hunger, Christian Aid is raising money to help those in most need during crises.  
During the Letters for Creation Exhibition Launch, speeches were made by the Bishop of Exeter, the Right Reverend Robert Atwell and Joan Moncrieffe, a Devon based artist who has created her own piece in response to the schools' work. Moved by the ethos of the exhibition Joan created "Against the tide" – made from salvaged and reclaimed materials, Joan states "It depicts the need for Christians to stand for what is right and not just go with the flow of the rest of society. Christian Aid is right to put the spotlight on those in Zimbabwe, suffering from hunger and drought as a result of the climate crisis."
Bishop Robert went on to say: "Children and young people are passionate about the environment and that is reflected in the Letters for Creation artwork on display. We would do well to learn with and from our children as we seek to care for God's creation. We also stand in solidarity with poorer nations who are acutely vulnerable to climate change and the effects of wars in other parts of the world."
Several schools participated in the exhibition, including Exeter Cathedral School, St Peters' C of E Aided School and Southmead Primary School, from Braunton, north Devon.
Although Ukraine is nearly 7,000 miles away, Christian Aid has warned the war will drive up food prices in Zimbabwe and around the globe. Large amounts of the world's food, like wheat, comes from Ukraine. Without them, more people will be pushed to hunger. 
 In rural Zimbabwe, seven out of ten women rely on farming to earn a living and provide for their families. But with no rain, women can't grow enough food for their children. In times of drought, many families can only afford to eat one bowl of porridge a day.  
Jessica Mwedzi lives in Chadanyika village, Mutoko District in the northeast of the country. She explains, "One year, we had no rain. The scorching sun burnt my crops just as they were about to bloom. It was so painful and disheartening."  
She adds: "My children crave a decent meal, but I can't provide. It pains me to send them to bed hungry".  
Through local partners, Christian Aid helps the most at-risk communities in Mutoko and Mudzi districts prepare for and adapt to the changing climate, empowering vulnerable communities to grow drought-resistant crops, build storerooms to preserve food for the dry months and learn new skills for alternative employment. 
The Coffee Morning was also addressed by Christian Aid's church engagement officer for Cornwall and Devon, Katrine Musgrave, who said: "We are all connected. Whether it's fleeing violence or dealing with the effects of the climate crisis, those in desperate need must be supported. Christian Aid Week is an opportunity to unite with those who are suffering and give them new hope, so they can build resilient futures for their families. 
"Over the years, I have seen the tremendous efforts of supporters in Devon and Cornwall determined to help transform the lives of the world's most vulnerable people. With every gift, every action, every prayer, every one of us can make a difference this Christian Aid Week
"Why not join Exeter Christian Aid supporters next weekend, in a sponsored walk on Saturday 21st May; meeting at 11am outside the cathedral and walking along the beautiful Exeter canal. For more information email me at kmusgrave@christian-aid.org"
This Christian Aid Week your gifts could transform lives.
£5 raised could buy water taps for a community garden
£15 could buy drought-resistant seeds like sorghum or millet to help 10 farmers like Jessica to grow food
£60 could train 50 women farmers to adapt and grow food in the changing climate
£250 could help a family build a storeroom, and provide seeds and fertilisers