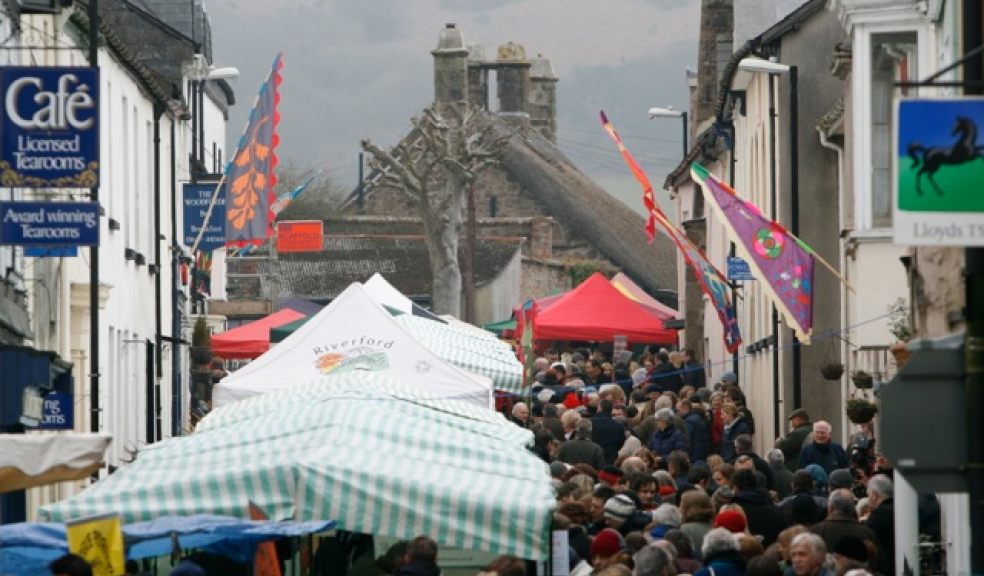 Cheer up March MoretonHampstead Festival 9/3/13 - The Peoples Festival
SATURDAY 9TH MARCH, 2013
Moretonhampstead Festival of Food, Drink and the Arts, is sponsored by Helpful Holidays one of the leading holiday cottage specialists in the South West,
"THE PEOPLES FESTIVAL"
Beautifully situated within the Dartmoor National Park and on the edge of the High Moor, Moretonhampstead is a small moorland town of character which dates back over 1000 years to Saxon times. Moreton, (as the locals call it) is known for its friendliness and sense of community.
For the last four years the town has run an increasingly successful and popular event celebrating the best of local foods, drink and local arts. It has a growing reputation for the strength of its organisation and the friendliness of volunteers who run the festival as a non-profit making venture, everyone giving their time for free – a community run festival for the wider community. Any surplus cash is given to a local charity. The whole town turns out to welcome visitors to this highly enjoyable event – 7,000 last year.
Highlights this year include:
History, pie and ale
In the thirteenth century, King John granted Moreton a charter to hold regular markets and a great fair once a year. They are carrying on this tradition with this increasingly successful food festival.  The town boasted 32 pubs in which drovers drank fully after profitable sales of their animals. Truly a cattle town, drovers roads (still in existence) brought hundreds of cattle onto the moor, coming from as far away as London to graze the rich uplands.  When the cattle were being moved onto or off the moor it was described as the 'Red Tide' because most of the cattle were of a red colour and there were so many of them in the droves.
To celebrate Moreton's long connection with cattle The White Hart Hotel are making a special Drovers Pie made with local beef and Hunters Beer, their chef, Matthew King, will be doing a demonstration of how to make it and the hotel will serve it too. www.whitehartdartmoor.co.uk/dartmoor-hotels
Historian, Paul Cleave, will be giving a lively talk on the history of Moretonhampstead as part of the festival. Paul is specialist in the history of food and tourism in Devon having completed a PHD on the subject at Exeter University.  He has gripping stories to tell. Amongst other things Morteton was a tourist town catering to travellers journeying from East to West, London to Plymouth with a long history. In an 1859 travel guide, the women of Moretonhampstead  "were noted for their Amazonian qualities!"
Kitchen Jumble Sale
They are encouraging visitors to contribute their unwanted kitchen items with all proceeds going to 'Farms For City Children' a local charity set up by Michael Morpurgo that gives city children a chance to experience country life – working with animals, cooking and outdoor fun.  All unwanted kitchenalia in addition to a cookbook swap.
Bread Workshops
Learn to make real, healthy, additive-free bread – with ease! Anyone can bake a loaf. We will show you how!
Children will be taught to make dough and bake their own perfect little loaves to take home. Adult Master Classes will also be running with Roger Birt of Red Dog Bakery throughout the day. Booking essential. Sharon Davies, successful owner of Midfields Granola is so keen to get children cooking she has opened up her catering kitchen unit for the festival.
Book your workshop on our website or contact Sharon on 01647 440462 or email sharon.midfields@btinternet.com
Workshops sponsored by Midfields Granola and flour by Shipton Mill.
'Made on Dartmoor Short' Film Competition
Sponsored by Bovey Castle, the Made on Dartmoor film competition is new to the 2013 festival, promising to highlight the talent and creativity of local filmmakers, whose focus will draw heavily on the iconic rural backdrop of the moor. Potential film makers are being invited to write, shoot and edit a video of no more than 90 seconds that features food related people, animals or products, all of which either work, are grown or produced within the confines of the Dartmoor National Park. The winning entry will be forwarded to Regional TV, all food & drink producers and tourist organisations in Devon with a request air it at their convenience and there are £200.00 worth of prizes up for grabs! Entries in by 4th March.
http://moretonfestival.com/made-on-dartmoor-film-competition/
Art
Green Hill Arts centre will be hosting the Local Open Art Show, a vibrant local platform for resident visual artists and craft makers. Last year's event revealed exceptional emerging talent and gave a sense of the artistic prowess that exists within the parish of Moretonhampstead. The show will run from Wednesday 13 February 2013 to Saturday 9 March 2013. There will be an Arts Trail, a superb way for those interested in art to explore this most beautiful little Dartmoor town, and a chance to visit local artists in their studios and houses. The local Blacksmith will be demonstrating throughout the day. Local Artists work will also be seen in St. Andrews Church. 
Music in the Church From 10.00 a.m. - 4.00 p.m. hear live music in the Church performed by local musicians including 'Nell and I'; The Crooked Roots, a folk trio; Exeter's Global Harmony; and Moretonhampstead's Female Community Choir, The Moorhens.
There will be over 100 stalls, cooking demonstrations will be taking across the festival, and there'll be lots of activities for children from face-painting to dedicated entertainment. The festival will be opened by Michelin starred chef, Michael Caines, a long-term friend and supporter of the event.
Join us for FREE family fun, live music, local art and an abundance of fabulous food.