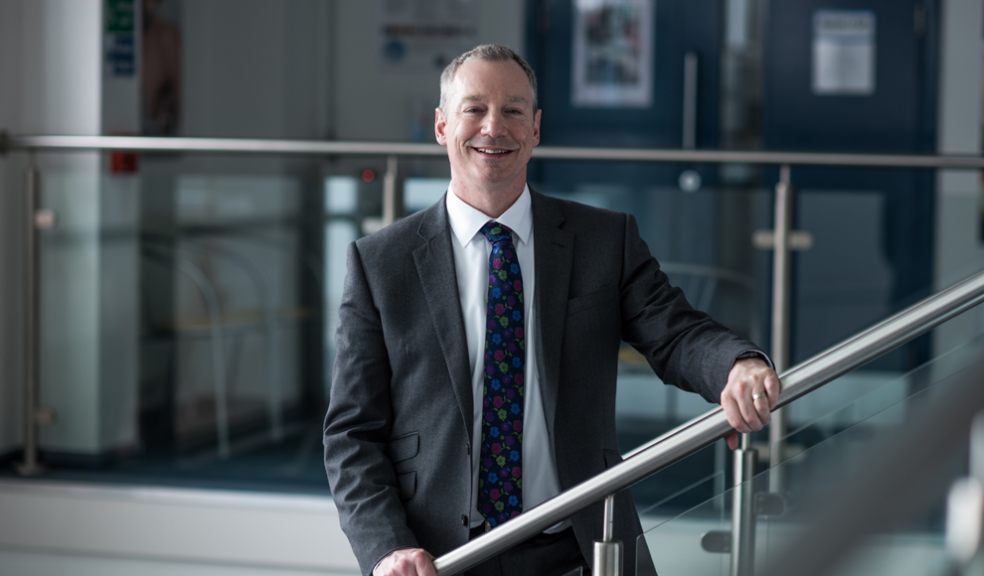 Exeter College principal recognised in New Year's Honours list
Exeter College Principal and Chief Executive John Laramy has been awarded a CBE in the New Year's Honours List in recognition of his services to education.
John, who has been with Exeter College for twelve years, has successfully led the College and sustained its status as one of the very best colleges in the country. The College continues to win various awards and in his first year as Principal, it was ranked as the top college in the country by one of the sector newspapers, FE Week. In fact, in the five years the paper has ranked every college in the country, Exeter has never been outside of the top 5. The College was named STEM FE College of the Year in 2018, City & Guilds Centre of the Year 2016 as well as a Sunday Times Top 100 best not-for-profit organisations to work for in 2019. 
John said, "I am thrilled, delighted and humbled to have been awarded this honour. Education changes lives and it certainly changed my life. 
"I am fortunate that I work in a sector that exists to try and make everyone's tomorrow better than today. Education is a team sport, so I would like to thank all of those who have contributed to this honour, including all of those that I have worked with during my career, thus far, and the students who make further education the special sector that it is." 
During John's time as Principal at Exeter College since 2016, he has overseen exceptional success across the College's curriculum offer and spearheaded innovative projects to help the region become recognised as a sector leader in further education. This has included significant recent multi-million-pound investments in exceptional facilities for the region's learners, including a Gym and Dance Studio, Advanced Engineering Centre and construction on a new Digital and Data Centre that is set to be completed in the coming months.  
John continued, "I would also like to thank my wife, Donna, whose fantastic support means that I'm able to contribute to the wider success of the sector such as Chairing the Tertiary Colleges Group and working with the Education Training Foundation at the Oxford's Said Business School in relation to leadership development in further education. I've also been immensely proud to have had a hand in helping to establish one of the two first specialist maths schools in England. 
 
"Finally, I would like to thank whomever put me forward for this honour and the special awards panel who make a recommendation to the Prime Minister and the Queen - it has certainly provided a massive lift to the start of 2021." 
Exeter College Chair of the Board of Governors David Allen OBE said, "I am delighted that John's terrific commitment to Exeter College, and education more widely, has been recognised with a CBE and I offer him my warmest congratulations. 
"As a Board of Governors, we are enormously proud of John's leadership of the College and his many achievements. He has successfully overseen the development of Exeter College in to one of the leading organisations for further education in the country and has been a true advocate of continuing to develop the education landscape for the benefit of learners, businesses and our communities. 
"When combined with the award of a knighthood to his predecessor Richard Atkins, this has been an exceptional start to 2021 for Exeter College." 
In addition, former Exeter College Principal and current Further Education Commissioner Richard Atkins CBE has been awarded a knighthood for services to further education. Sir Richard Atkins, as he will now be known, was a very successful Principal at Exeter College from 2002 to 2016 and currently oversees the further education sector in England, helping to improve quality and sustainability of provision.  
Do you want to join Ofsted Outstanding Exeter College? Explore now, using the Virtual Exeter College Experience. The next Live Event date, where you can talk online directly with subject leaders, is available on Tuesday, 19th January.