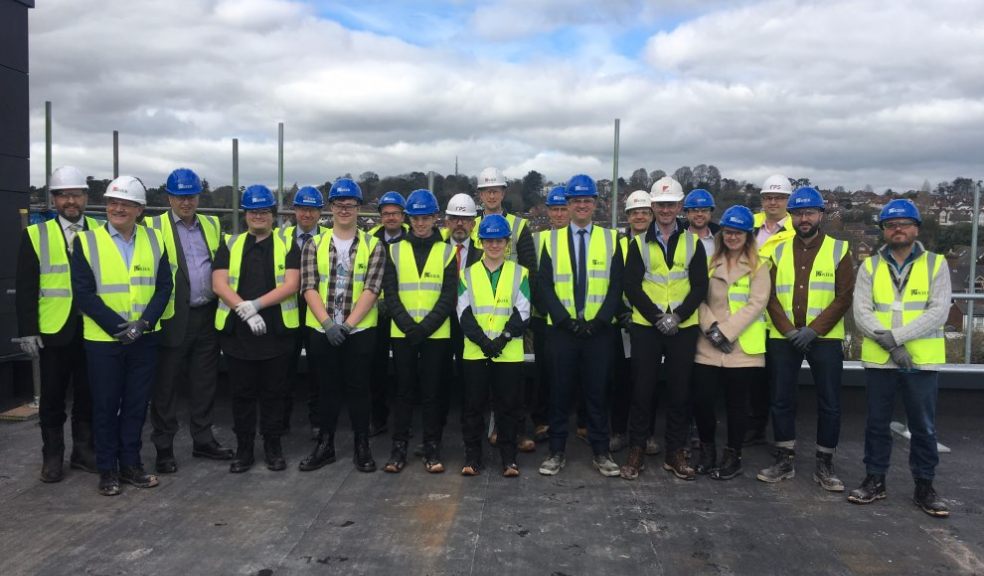 State-of-the-art residence tops out in Exeter
The Student Housing Company, which is bringing state-of-the-art student accommodation to Exeter for the 2019/20 academic year, has held a topping out ceremony at Clifford House today. The event, which was attended by representatives from Exeter College and the building's contractors, Kier, marks the completion of the superstructure for this exciting new project in the city.
Exeter College media students Adam Douglas and Michael Corfield attended to preview a unique project they have undertaken as part of their studies. Having responded to a brief set by Kier to create a site induction film aimed at sub-contractors and visitors, guests at the ceremony were treated to a showcase of the two local students' work being submitted for their UAL Level 3 Diploma and Extended Diploma in Creative Media Production.
The Student Housing Company has invested £22m in the residence, which will provide 312 student beds in a combination of high-quality studio and shared apartments complete with ensuite rooms. The accommodation has been designed to reflect feedback from students across the UK by incorporating an outstanding range of communal spaces.
Nick Richards, Managing Director at The Student Housing Company, said: "The topping out of Clifford House today marks a key milestone in the construction process and we can't wait to welcome students for the 2019/20 academic year. The ceremony was a celebration of the state-of-the-art residence and the wider regeneration of the local area that this project has allowed. We're delighted that the investment has also benefited local students at Exeter College and hope we can work together again in the future."
Anthony Irving, Managing Director at Kier for Western & Wales, said: "Providing young people with the means and opportunity to fulfil their potential is of the utmost importance to Kier.
We are delighted to be working with The Student Housing Company to deliver this impressive accommodation for students. Ranked as one of the leading Russell Group universities, Exeter University is positively contributing towards driving excellence in the City, and the provision of quality accommodation is of upmost importance. Exeter is a place for students to develop and thrive enjoying the benefits of a top education, in a city that offers lifestyle benefits, culture and a strong community focus" 
Darren Church, Section Lead – Media at Exeter College, said: "We are delighted that our students have had the opportunity to take part in the project with Kier. Real life experiences are extremely valuable and the film they have produced is of extremely high quality. The students have been professional and organised in managing the film project and the finished product will now be used on Kier construction sites in the future."
To book a show flat tour at 41 Sidwell Street, or book a room at Clifford House, visit The Student Housing Company's website.