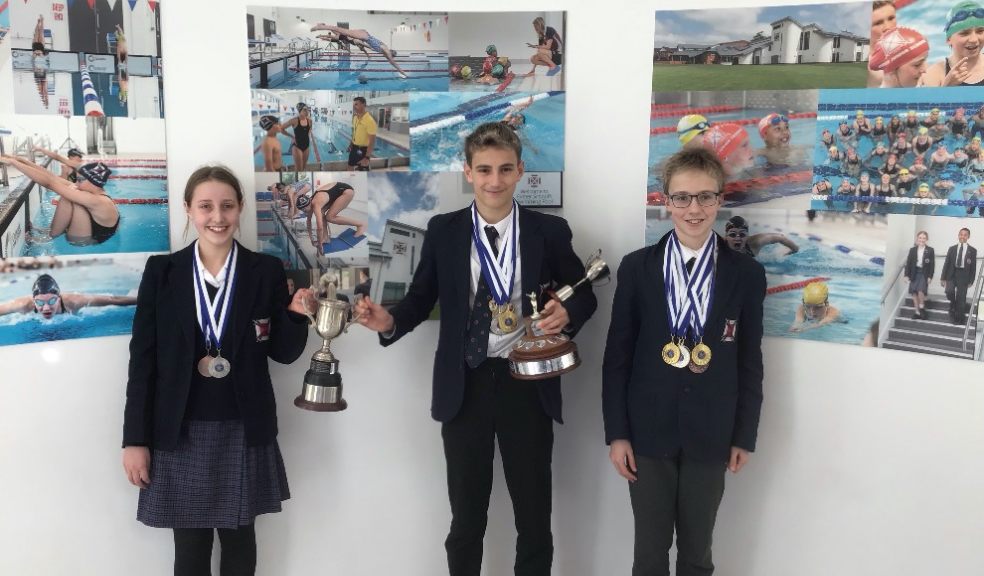 Exeter School champions making a splash in the pool
Seven pupils from Exeter School competed for their respective swim clubs in the Devon Swimming Championships during January and February.
Emily Bishop competed in 10 events in the U14 category gaining four PBs with a very strong performance in the 50m freestyle placing her only a few milliseconds away from a regional time.
Hanna Sari also competed in the U14 category, gaining qualifying times in 12 events and achieving five PBs, while her sister Sara reached the finals in eight events in the U15 category also gaining third place in the 400m individual medley.
Evie Handley made the finals of all her events in the U13 girls and achieved a silver medal in the 200m butterfly with a regional time of 2.48 and a bronze medal in the 100m butterfly.
James Biddick gained a very impressive five medals including a gold in both the 50m and 200m butterfly, silvers in 400m and 800m freestyle and bronze in the 200 individual medley.
Harry Allen reached the finals of eight events gaining bronze medals in the 100m butterfly and 50m backstroke and silver medals in the 100m and 200m backstroke as well as the 100m breaststroke. His strongest performances were in the 200m and 400m individual medley in which he gained gold medals, ranking 11th in the UK in the 200m and 6th in UK in the 400m.
Charles Simpson gained five medals which included silver in the 400m individual medley and the 100m butterfly. Impressively, he also gained both gold medal and the trophy for the fastest Junior in both the 100m butterfly and breaststroke as well as the gold medal and trophy for fastest Junior with a British championship time in the 200m butterfly. 
Gary Robb, Director of Aquatic at Exeter School said: "It's always a feeling of great pride when we see our pupils succeed, whether they are representing their club, or their school. The pupils have all done tremendously well, despite some missing events due to Covid, and their achievements are the result of determination, hard work and commitment."