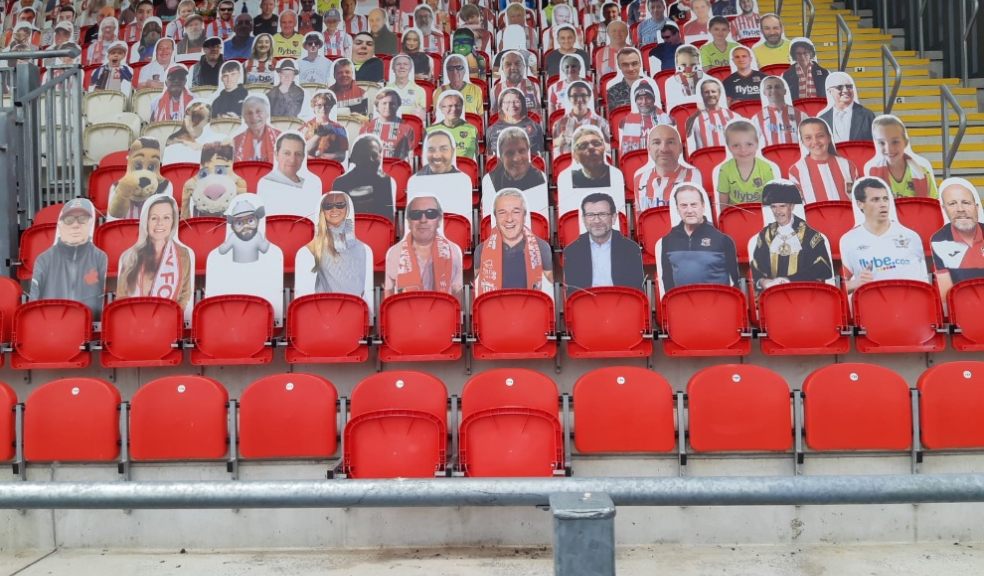 Civic Leaders send messages of support for Wembley-bound Grecians
Civic leaders have sent messages of support to Exeter City Football Club as the Grecians attempt to win promotion to League Division One at Wembley tonight (Monday 29 June).
The Lord Mayor of Exeter and the Leader of the City Council will once again be taking their place in the ground – as life-size cut-outs - as Exeter take on Northampton Town in the League Two Play-off Final.
The game is being played behind closed doors at the national stadium because of COVID-19 restrictions but nearly 1,800 Grecians will be in the famous ground as life-size cut-outs.
Wembley has allowed the Grecians to take the cut-outs to London for the crucial clash and they will be placed on seats in the stadium.
The initiative was launched by the club two weeks ago, giving fans the opportunity to pay for a life-size recyclable polypropylene cut-out of themselves for the Play-off semi-final at St James Park, which City won 3-2 on aggregate last week.
Lord Mayor Cllr Peter Holland (who is pictured sat next to City legend Adam Stansfield) said he took this opportunity to wish the team every success in achieving promotion.
"Come on you Grecians, make us proud and give supporters some cheer during these troubled times!" he added.
City Council Leader Phil Bialyk (pictured next to Lord Mayor) wished the team well and said he would be rooting for the Grecians: "The success of the football club has been a massive morale boost to the whole of the city and I for one will be cheering the boys on tonight."