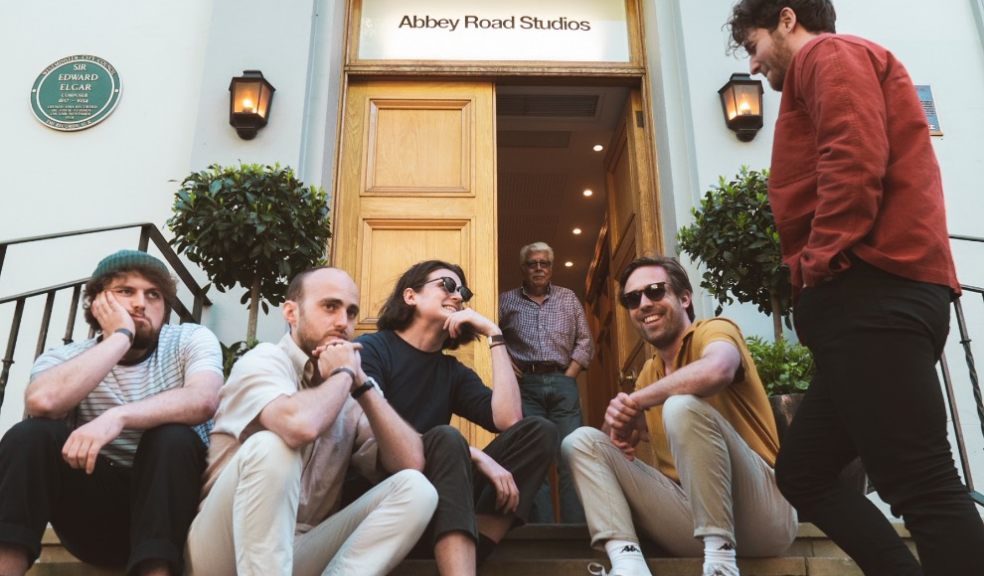 Heir follow their heroes and record at world's most famous studio
Groove pop band Heir have followed in the footsteps of their music heroes – all the way to Abbey Road!
The five-piece – whose keyboard player Sam Perry hails from Exeter – have just released their eagerly-awaited new single Fear of Falling.
The brilliant slice of throwback pop was not only recorded at London's legendary Abbey Road Studios but was produced by the great Ken Scott who has famously worked with such icons as The Beatles, David Bowie, Pink Floyd and Elton John.
The magical experience at Abbey Road was new territory for Heir whose previous singles were all recorded in the far more humble surroundings of their home studio.
Sam, a former pupil of  Exeter's ISCA Academy, said:  "We've always been in our own house with our mates producing the music. It's great to throw ourselves into the deep end at the studios where some of the most famous and ground-breaking music was created.
"We learned so much from working with Ken. He gave us the confidence to just go for it and I think that comes across in the songs we recorded."
Heir, who are Sam (keyboards), Tom Hammond (vocals/guitar), Sam, Harry Vernon (bass), Samuel Newham (drums), and SteFisher (guitar) – formed after meeting at Leeds College of Music.
The amazing opportunity to record at Abbey Road came about when multi-Grammy Award nominee Ken was on the lookout for a band to work with as part of his role as visiting professor at Leeds Beckett University. After being sent a list of bands he chose Heir.
Heir Frontman Tom Hammond said: "It's just mad to think our new single was recorded at Abbey Road and produced by Ken Scott who is just a legend.
"It's certainly a long way from recording at home with up-turned mattresses for vocal booths and keeping your fingers crossed that delivery drivers or door-to-door salesmen do not disturb you!
"For any musician, to walk into this hallowed studio, the place where so many famous artists have recorded – where The Beatles created Sgt Pepper – is a moment you don't really even dare dream about because it feels so intangible. We struggle to say that we were allowed in there without smirking – it's crazy really!"
Ken, who worked on no fewer than eight albums with The Beatles at Abbey Road as well as Bowie's iconic The Rise and Fall of Ziggy Stardust and the Spiders from Mars, said:"I have to feel that thing a fan would feel for the bands that I work with. For me that's Heir at the moment."
Heir had been due to follow their EP release with sold out live dates in London, Manchester and Newcastle before the Covid-19 pandemic struck.
The band, who have opened for the likes of Honne, Olly Mursand Lawson as well as playing Leeds and Reading Festivals, have had previous releases featured on BBC 6 Music and are a name on the tip of the tongue of the team at BBC Introducing. They are currently working on new material which they will be releasing very soon.
Fear of Falling is available to download and stream via all major music platforms from June 18th.