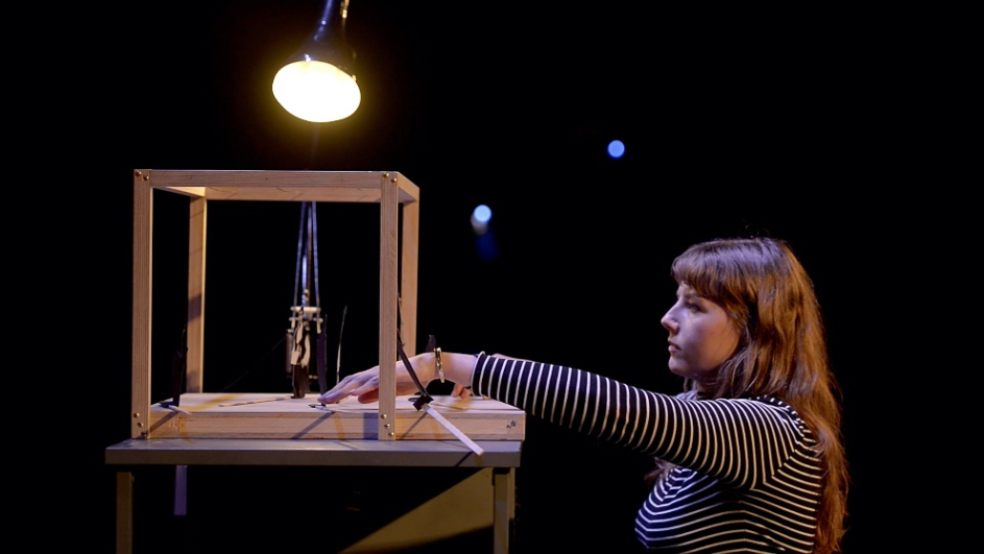 Exeter Northcott Theatre announces The Stories We Tell heritage day programme
Exeter Northcott Theatre has announced the programme for its The Stories We Tell heritage day, which runs at the venue on 1 May.
Visitors will be able to take part in family-friendly craft activities and see community-led film, exhibitions and live performances inspired by stories uncovered from the Northcott Theatre Archive.
Sophie McCormack, Heritage Manager at Exeter Northcott Theatre, said: "Two new live performances will take audiences on a tour to backstage areas of the theatre, on a journey through its history, and a new film asks who theatre is for and what stories need to be told now.
"There will also be drop in events such as family crafting activities for younger visitors and exhibitions sharing original materials from the archive which have never been on display before.
"It will be a fun day with lots of different events for people to learn more about the Northcott's role in Exeter and to be a part of what comes next in its story."
The Stories We Tell is the culmination of a two-year community engagement project carried out in collaboration with the University of Exeter's Digital Humanities and Special Collections departments with support from The National Lottery Heritage Fund.
This project enabled Exeter-based communities to explore materials from the Northcott Theatre Archive, sparking conversations about accessibility and the arts, the changing role of regional theatre, diversity and representation in theatre and experiences of women in theatre.
For more information about this event and project, please visit:www.exeternorthcott.co.uk/heritage/
The heritage day programme includes:
An Antidote to Invisibility by Liberty Smith
10:00 - Closing Time. Free and not ticketed.
Central to the heritage day is an installation film by Bristol-based artist and filmmaker Liberty Smith, which shares personal stories told by historically underrepresented voices in theatre. There is also a listening booth, where visitors can hear interesting stories about the impact theatre and the Northcott has made on people's lives.
The Places We've Been by Hannah Kumari and Company
Performances: 18:30 (accessible, BSL-interpreted performance), 20:00. Runtime: 45 minutes. Free and ticketed. Age 14+.
Taking in parts of the Northcott that an audience wouldn't normally see, The Places We've Been is inspired by the theatre's 55-year archive, and by workshops with local community groups and professional actors. This performance explores the stories which have been told in the past and asks how we can better serve all members of our community in the future.
Tickets for this performance are available to book now at:www.exeternorthcott.co.uk/events/the-places-weve-been/
The Back End of the Cow and Other Stories presented by the Northcott Young Company
Performances: 11:00, 12:00, 13:30, 14:30, 15:30. Runtime: 30 minutes. Tickets £7.50 (£5 concessions). Age 9+.
The Northcott Young Company have been busy gathering stories from a range of people involved with the Northcott to create a brand-new promenade performance. They will guide visitors away from the stage and through the lesser-known parts of the theatre, sharing funny scenes and poignant moments from the Northcott's history as they go.
Tickets for this performance are available to book now at:www.exeternorthcott.co.uk/events/the-back-end-of-the-cow-and-other-stories/
Drop-In Craft Activities
10:00 - 15:00. Free and not ticketed.
Throughout the day, children and families can get stuck in with craft activities at the Northcott's restaurant. The Northcott is providing art supplies and welcomes people of all ages and abilities.
Exploring the Archive Exhibition at the Bill Douglas Museum
Bill Douglas Museum opening times: 10:00 - 17:00. Free and not ticketed.
The Bill Douglas Museum, a short walk from the Northcott, is exhibiting an exciting collection of archive materials from the Northcott's 55-year history, including photographs, posters and play scripts.