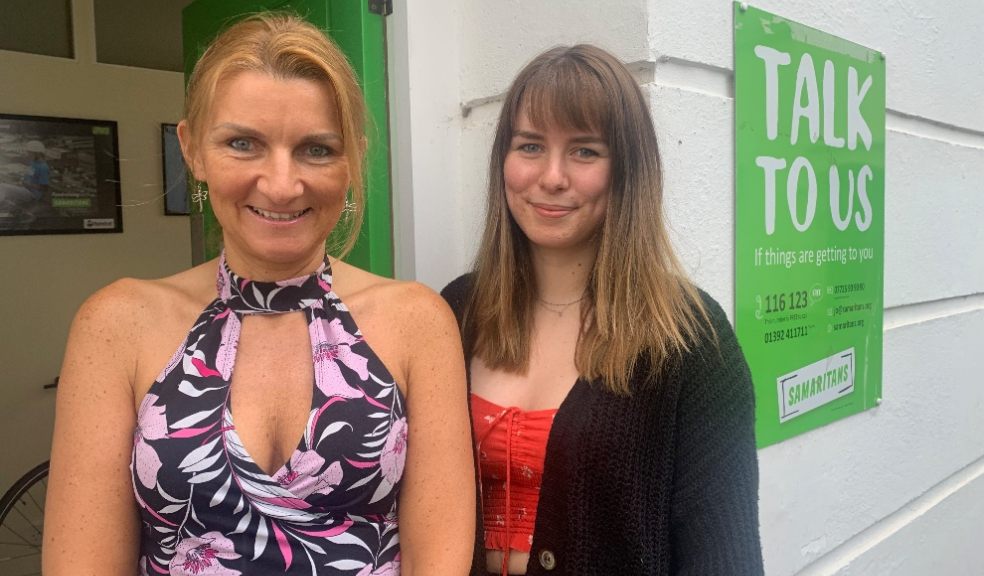 Jenny and Milly keep volunteering in the family
Jenny Berryman and Milly Evans are already exceptional because they give up time to volunteer with Samaritans - but what makes them really special is that they are mother and daughter.
The pair are the first mother-and-daughter volunteers in the Exeter, Mid and East Devon branch of the charity, having joined the organisation during 2019.
Jenny, 46, says her biggest challenge was overcoming a worry of becoming too involved when listening to others' problems. "However, the training we receive is exceptional - it gives us the confidence to listen without becoming an emotional wreck. That way we can help callers talk through their problems."
Both Jenny and daughter Milly, who live in Exeter, are support workers in mental health services in Devon.
Milly, 19, shortly heads to Plymouth University but in the meantime she volunteers with Samaritans' prison team, working with prisoners in Exeter Jail in a bid to reduce suicide and self-harm.
"For me the biggest challenge was being sure I wouldn't say the wrong thing but there's intensive training, especially if you are working with Listeners - these are the prisoners who operate the peer-support scheme in Exeter" she says.
Both mother and daughter have long-standing commitments to the charity from before their time as volunteers.
Milly initially approached the branch when she was just 15, wanting to help but having to wait until she was 17 to train and then turn 18 to 'go solo' dealing with callers. Meanwhile Jenny remembers her own childhood when her mother felt she had to talk with Samaritans from time to time.
"Too many people have a crisis and don't reach out. As people we'd be there if any of our own family needed help - and that's what Samaritans are to people in crisis who have nowhere else to turn" explains Jenny.
There are around 120 volunteers with the Exeter, Mid and East Devon branch, but there's always need for more according to Mel Whittock, the branch director.
"Jenny and Milly are terrific examples of how fantastic our volunteers are, and how they can really help turn around peoples' lives. We receive almost 37,000 contacts to our branch alone every year - almost all phone calls and emails - so we're always in need of more people who feel they can help" explains Mel.
"You'll receive full training to prepare you for the kinds of conversations you'll have. And when you start out, you'll have a mentor with you, to give you confidence you're doing the right thing."
The branch hopes to reinstate volunteer information evenings which have been suspended during the pandemic, but in the meantime anyone who feels they have something to offer can email volunteerrecruitment@exetersamaritans.org or leave a message on the branch admin line on 01392 496649.