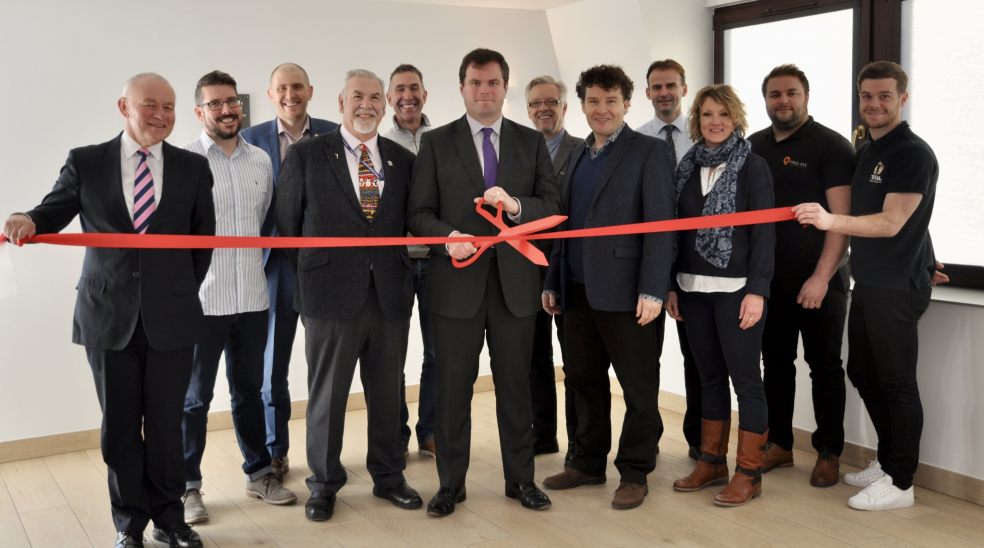 MP officially opens luxury apartments in South Devon
Sixteen new luxury rental apartments, located in Abbey Road, Torquay, just a short stroll to the seafront, were officially opened in a ribbon cutting ceremony by local MP Kevin Foster.  Commerce House is a multi-million-pound project of high-spec one, and two-bed contemporary unfurnished, energy efficient apartments, now ready to let from as little as £575 pm. 
Bringing sophisticated city living to Torquay, the impressive re-development, including stunning penthouse suites, showcases a makeover normally only seen in large hotels or commercial buildings; boasting luxury living at affordable rent.  The interior design of fresh, clean lines, is complemented with top brands such as Porcelanosa tiles, Miele and Neff kitchen appliances.  A state-of-the-art colour entry phone system alerts you to visitors, and an extreme acoustic insulation to all walls, floors and ceilings, means you will never hear, or be heard by the neighbours. Underfloor heating; room by room comfort control, 300MB internet connectivity, secure parking, and CCTV adds to the value, offering a better class of lifestyle.
"Torbay MP Kevin Foster MP was pleased to cut the ribbon on the new Abbey Road development, and praised the work that had been done at Commerce House Torquay to convert the building into something which now looks more modern and impressive."
The last major works at Commerce House was an award-winning makeover creating a principal hub in the South West for financial groups, including: Midland Bank Trust Corporation; Ernst & Young (EY); Commercial Union Barclays PLC.  In 1978 the building was officially opened by eminent British Politician, and Taunton MP Sir Edward du Cann.
Cllr Derek Mills Deputy Mayor representing Elected Mayor of Torquay Gordon Oliver at the opening, said: "When Gordon recently inspected Commerce House, he was impressed with the high-end finishes and, both he and I agree that it will enhance the surrounding area." He adds: "Mayor Oliver originally put the site together during his partnership at Irvine Nott Surveyors in the late 1970's, at which time he unveiled a plaque with Sir Edward du Cann MP and former Chairman of the 1922 Committee.  It's poignant, therefore, that this tradition continues with Kevin Foster MP officially opening the new apartments of this mix-use project in 2017 with a ribbon cutting ceremony and a commemorative plaque."
In more recent years award-winning Dental technicians, Radford Heath and Emma J Dental relocated within the building to the lower ground floor facilitated by a new £300K fit-out project, producing a state-of-the-art dental studio and artisanal workshop, centred around implant technology, by Pro-Fit Contractors, who subsequently were awarded the main build and fit-out contract for the upper floors at Commerce House.  Pro-Fit Contractors' principal, Liam Dansie has a proven pedigree of craftsmanship, having worked on high-end finishes for Princess Yachts over the last seven years.
Other notable names involved in the renovation of Commerce House, include; project manager, Tony German RICS - Crofts Surveyors; Jan Tribble of Torquay-based Kay Elliott Architects providing 'real time' 3D modelling of the floors; Jeff Hocking of IQ Consultants (M&E), and Demi Keenan Interiors creating CGI modelling of the interiors and Total Electrical.
Tony German – Croft Surveyors comments: "I was the project manager from start to completion working with Liam at Pro-Fit Contractors.  The contractor has been fantastic throughout, and it was nice working together as part of a team.  It's been an exceptional project and inspiring to take what, was basically three empty floors at the top of the building, and converting them to high-quality residential use. Bringing a redundant building back into the market place has been a great scheme for us to be involved in."
Developer CA Pilgrim 4 Limited represented by Jonathan Rodwell concludes: "What is special about this project, is that this building was housing major financials up to the early 1990's, and then it lost its way. With separate office space on the ground floor and, now a high-spec residential development on the upper levels, this type of multi-purpose building demonstrates what I feel, is to become the future for modern living. Not just residential or commercial, Commerce House is much, much more – it's a living breathing 24/7 entity   
Please view our ever-evolving website at www.commerce.haus