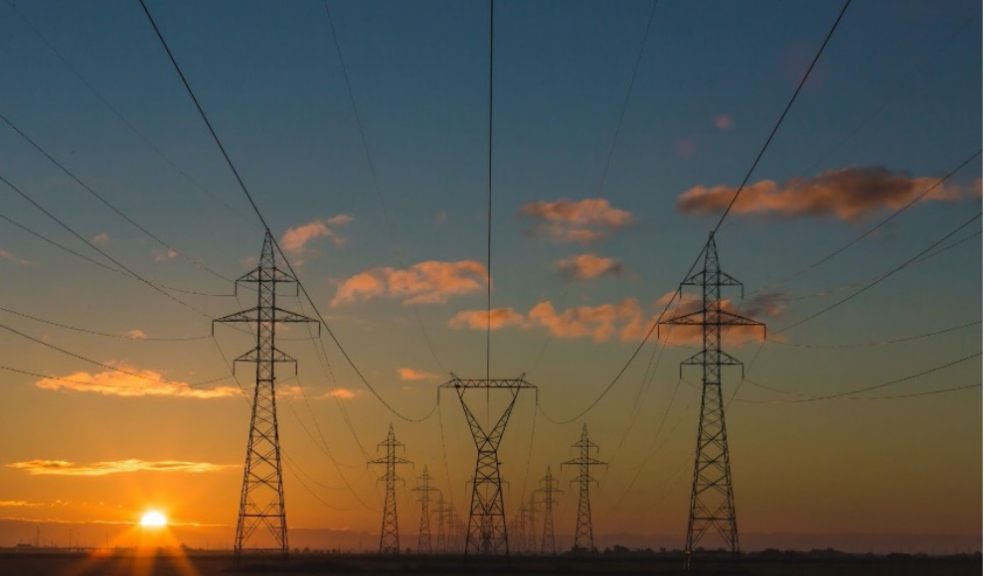 Exeter homeowners expected to pay over £50,000 on energy over 25 years 
Data predicting energy prices for Exeter homeowners over the average mortgage length per region
New research reveals that due to rising energy costs the average homeowner in Exeter could be expected to spend over £50,000 on gas and electricity over 25 years (the average course of a mortgage).
In April 2022 Ofgem announced that the price of energy would be capped at 54%. This means that the average household bills for gas and electricity could cost £806.20 more per year in Exeter, a total of £2,196.20 per year and £54,905 after 25 years. 
According to Land Registry, in 1990, the average price of a property in Exeter was around £55,110. So, new homeowners today will spend more to power their homes that people in 1990 spent to purchase theirs. 
Data showing energy prices in 2022 and over 25 years for UK regions: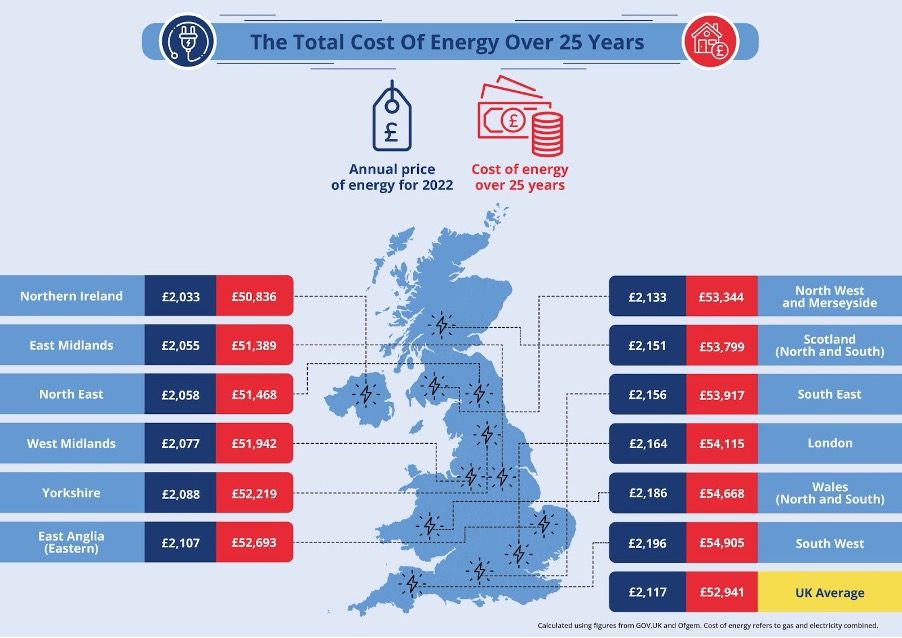 (Admirals, 2022)
The research reveals how much energy will cost compared to mortgage repayments, to help homeowners see the true cost of energy when owning a house, if prices remain the same.
Here's the stats for other regions:  
Average price of energy across the UK will be £2,117.66 in 2022 and £52,941.52 after 25 years. 

South West England is the most expensive place for energy, costing £2,196.20 in 2022 and £54,905 over 25 years. 

The cheapest is the East Midlands costing £2,055.58 in 2022 and £51,389.50 over 25 years. 

London is the 2 most expensive for energy in England and but the most for mortgage repayments. Costing £2,164.60 in 2021 and £54,115 over 25 years. The average price for total mortgage repayments is £417,000. 

Scotland -

The 5th most expensive place for energy, costing £2,151.96 in 2022 and £53,799 over 25 years. 

The 3rd cheapest place for mortgage repayments costing £154,500 over 25 years. 

Wales - 

2nd most expensive place for energy in the UK costing £2,186.72 in 2022 and £54,668 over 25 years.

Northern Ireland -

Cheapest place for energy and mortgage repayments, energy will cost £2,033.46 in 2022 and £50,836.50 over 25 years.

The average mortgage repayments cost £137,100.
Comparison of energy costs and mortgage repayments for each region:
Region

Energy costs 

(25 years)

Mortgage repayments  (25 years)

Energy costs as percentage of mortgage repayments (25 years)

Northern Ireland

£50,836.50

£137,100.00

37.08%

East Midlands

£51,389.50

£189,600.00

27.10%

North East

£51,468.50

£145,200.00

35.45%

West Midlands

£51,942.50

£191,400.00

27.14%

Yorkshire

£52,219.00

£164,400.00

31.76%

East Anglia (Eastern)

£52,693.00

£221,700.00

23.77%

North West and Merseyside

£53,344.75

£175,200.00

30.45%

Scotland (North and South)

£53,799.00

£154,500.00

34.82%

South East

£53,917.50

£304,800.00

17.69%

London

£54,115.00

£417,000.00

12.98%

Wales (North and South)

£54,668.00

£169,200.00

32.31%

South West

£54,905.00

£232,500.00

23.62%

UK Average

£52,941.52

£208,550.00

25.39%
(Admirals, 2022)
Energy prices are on the rise due to supply outstripping demand as the world reopens following the pandemic. These price rises have been exacerbated by the ongoing conflict between Russia and Ukraine. 
Roberto Rivero, Market Analyst at Admirals says, 
"One of the key drivers of the recent surge in inflation has been the rising global prices of oil and gas and, unfortunately, this is now impacting household energy prices in the UK.   
The pandemic caused many businesses to temporarily close and forced citizens to remain at home. As planes stayed grounded and cars sat idly in driveways, demand for oil plunged and dragged prices down along with it. As the world reopened, demand recovered faster than supply could handle, with many oil producers struggling to increase their production.
Although higher energy bills are concerning for everyone, energy prices are cyclical by nature, meaning that they won't stay high forever. Put simply, when oil and gas prices are high, producers expand their output to take advantage of high prices. This increase leads to supply gradually catching up with demand and, eventually, overtaking it, which causes prices to fall again"
However, the current high prices and this prediction of how much it could cost homeowners reinforces that we cannot continue to rely on fossil fuels. 
Let's hope more focus will be given to renewable energy in the future to reduce prices before they reach £50,000.