Etihad A350 'Sustainability50' Business Travel Review: An Unmatched Flight Experience?
We were lucky enough to be invited on a joint showcase event with Etihad Airways & Rolls Royce to try out the new Etihad A350-1000 on a trip between London Heathrow and Abu Dhabi in May.
Etihad is leading the airline industry's sustainability drive aimed at decarbonising aviation and their new A350's (5 will be introduced over the coming months), named Sustainability50, are a big part of that. The Rolls-Royce Trent XWB-powered Airbus is extremely fuel efficient, with a 25 per cent reduction in fuel burn and emissions.
'Sustainability50' carries a unique livery in recognition of the 50th Anniversary of the federation of the UAE, and Etihad's commitment to net zero carbon emissions by 2050.
Formed as a partnership between Etihad, Airbus and Rolls Royce, the Sustainability50 programme will see Etihad's A350s used as flying testbeds of new initiatives, procedures and technologies to reduce carbon emissions, building on the learnings derived from Etihad's similar Greenliner programme for the Boeing B787.
Etihad's goal is to deliver an unmatched flight experience for their guests, with sustainability at the core of this. So did the A350-1000 live up to this?
Lets start with Economy
As we were on a special flight, there were no passengers in economy. This did feel slightly strange, but, it did give us chance to have a really good look around.
In economy there are 327 seats in a 3 x 3 x 3 configuration, the first 5 rows also have additional legroom (an additional 4 inches).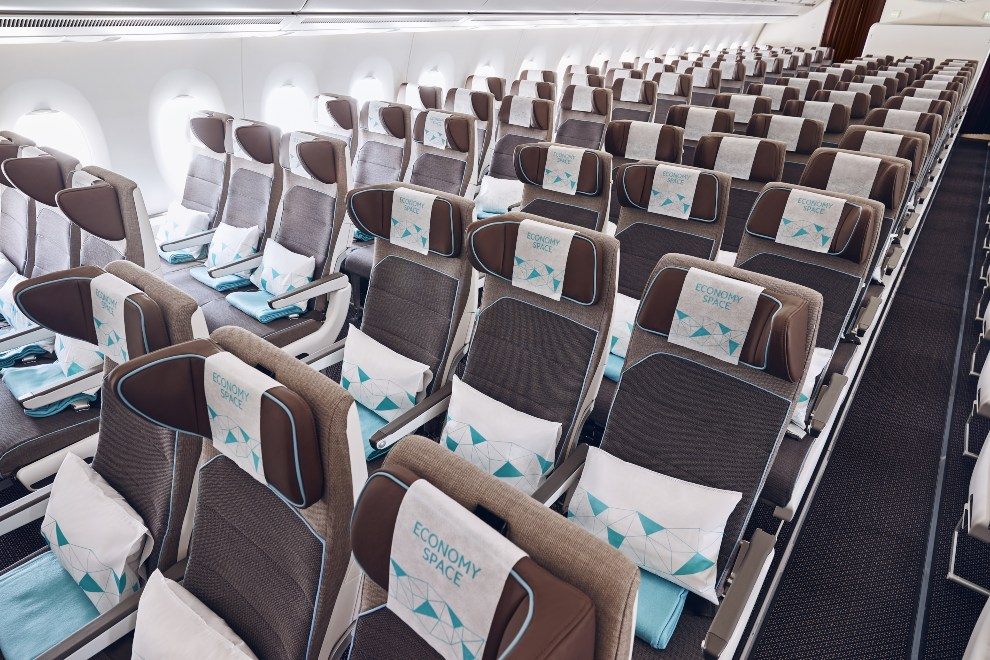 (image provided by Etihad)
The interior cabin is light and airy and the first thing that strikes you is the feeling of space. The seats are less bulky, in fact they are 1kg lighter. The award winning Crystal Cabin seats have been used, chosen by Etihad for their comfort, but also their sustainability credentials.
Each seat is equipped with a 13.3 inch screen with Bluetooth headset pairing. There is also a personal device holder with charging port and a supportive headrest. Blankets, pillows and amenity kits are provided on longer journeys.
For the younger guests, Etihad's 'Little VIP's' can enjoy the newly launched Warner Bros. World Abu Dhabi themed family-friendly flying experience. On the A350, there is a new interactive flight map feature allowing children to explore the maps with the help of some Jurassic-age friends. Educational and fun, and no more 'are we there yet?' questions!
On to the new Business Suites
There are 44 elevated business class studios in a 1 x 2 x 1 configuration. All face forward and have direct aisle access. The middle 2 seats have a sliding hatch which can be left open or closed, making this a good seat option for couples, friends or colleagues travelling together.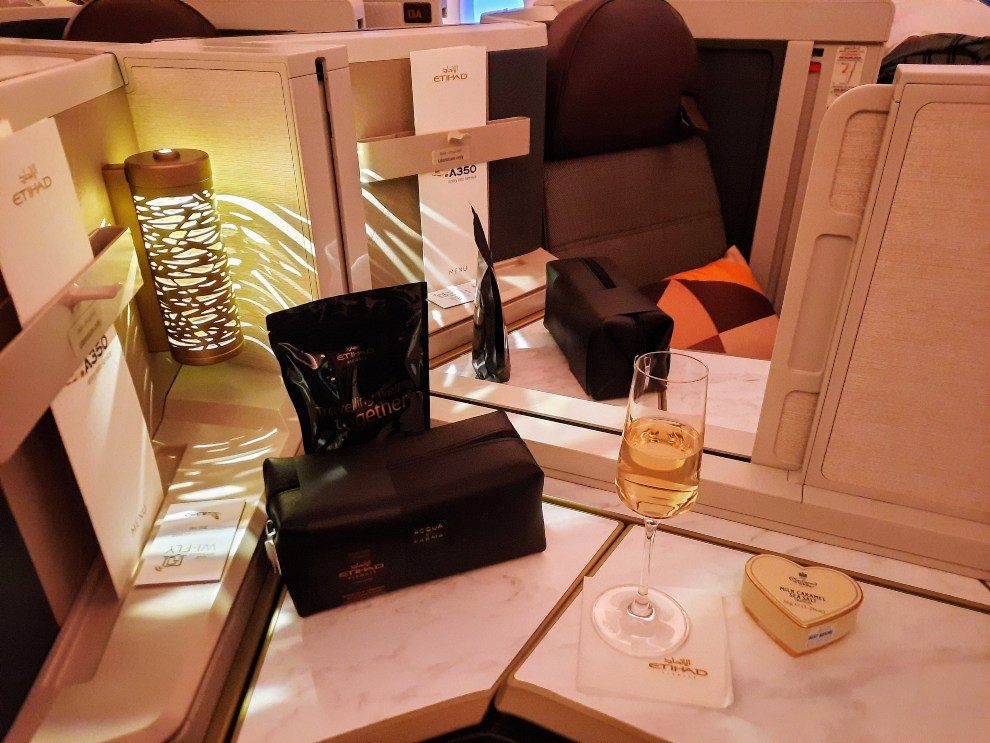 Each suite is elegantly decorated in muted tones, with marble look table tops and gold edging. Etihad's signature lighting comes into its own here with small wall lamps casting beautiful silhouettes, inspired by shadows from Abu Dhabi's palm trees.
The seats are customised Collins Aerospace Super Diamond seats. Each seat has a width of over 20 inches and converts into a fully flat bed (79 inches). There is plenty of room in the footwell too making this an extremely comfortable place to sleep. The studios have their own sliding door giving an even higher level of privacy and adding to that elevated business class experience.
The whole business class cabin feels spacious with high ceilings. This is partly due to the lack of overhead bins in the middle section of the cabin. This feeling of space means that you rarely remember that you are on a flight, and it is more akin to room service in a high quality hotel.
There is also more than enough storage available in the form of 'cubby holes' in each suite that can house all of the usual items - passports, laptops and water bottles etc. Noise cancelling headphones are provided and the entertainment system has an 18.5 inch screen that also comes with a handheld device that can be used independently of the main system.
There is a wireless charging pad in each suite as well as USB & USB-C points. The option to connect to the plane's wifi (which, incidentally was excellent) is also an added bonus for those entertaining children or on a business trip.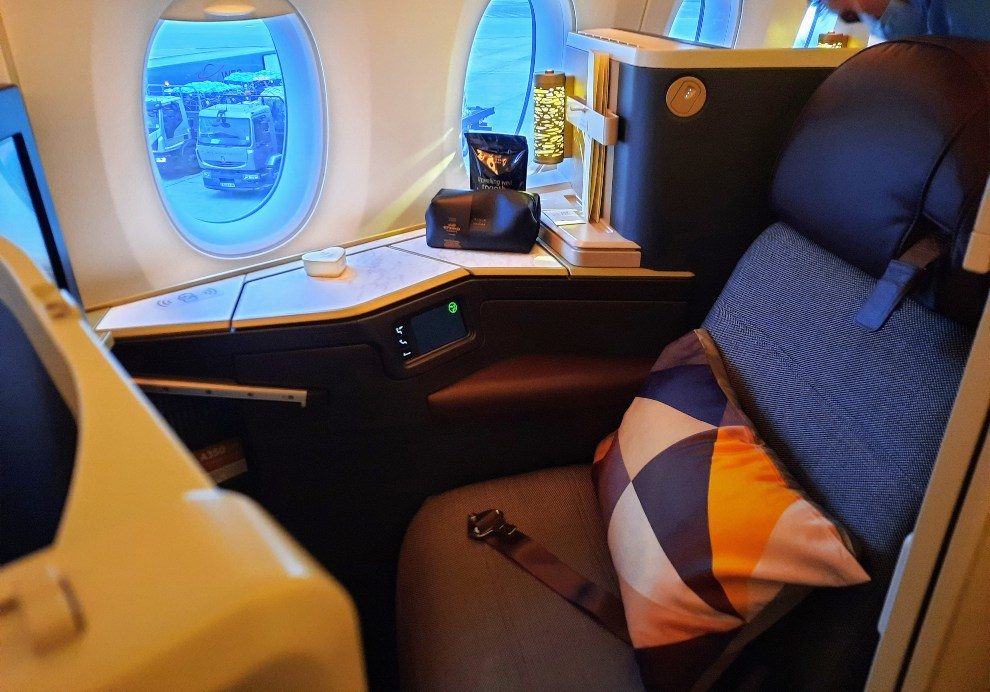 The aircraft is advertised as '50% quieter' than any other airbus aircraft which makes it easier to sleep and made for a more comfortable experience. As well as creating an elegant ambience. the lighting is also designed to emulate natural ambient light. In a further step to reduce light pollution Etihad have created a new dark-mode interface on the E-BOX inflight entertainment system. All of this combined, helps to reduce the effects of jet leg.
The Food
The dining service in business class is 'dine anytime' and guests can choose from a carefully curated à la carte menu or a snack menu.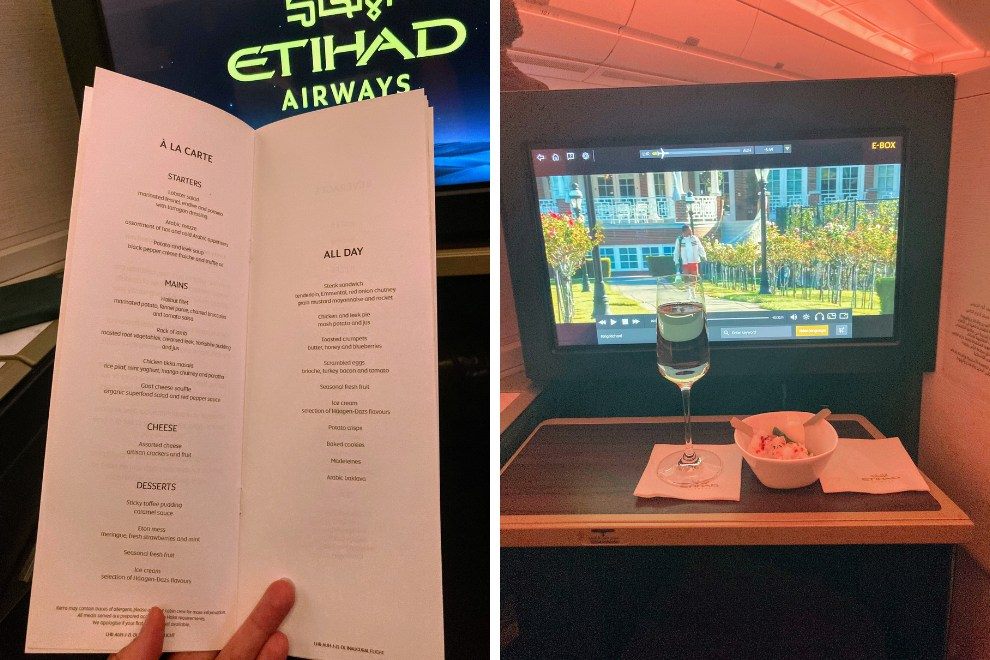 The cabin crew initially greet you with a choice of drinks, including champagne. Once you are settled into your suite, they confirm your choice of drink for after take-off and regularly checked in to see whether you needed a top up. The wine and drinks list was extensive with aperitif's and alcoholic & non-alcoholic choices for the most discerning of tastes.
The al la carte menu is 3 courses, with starters including lobster salad, Arabic mezze and potato and leek soup.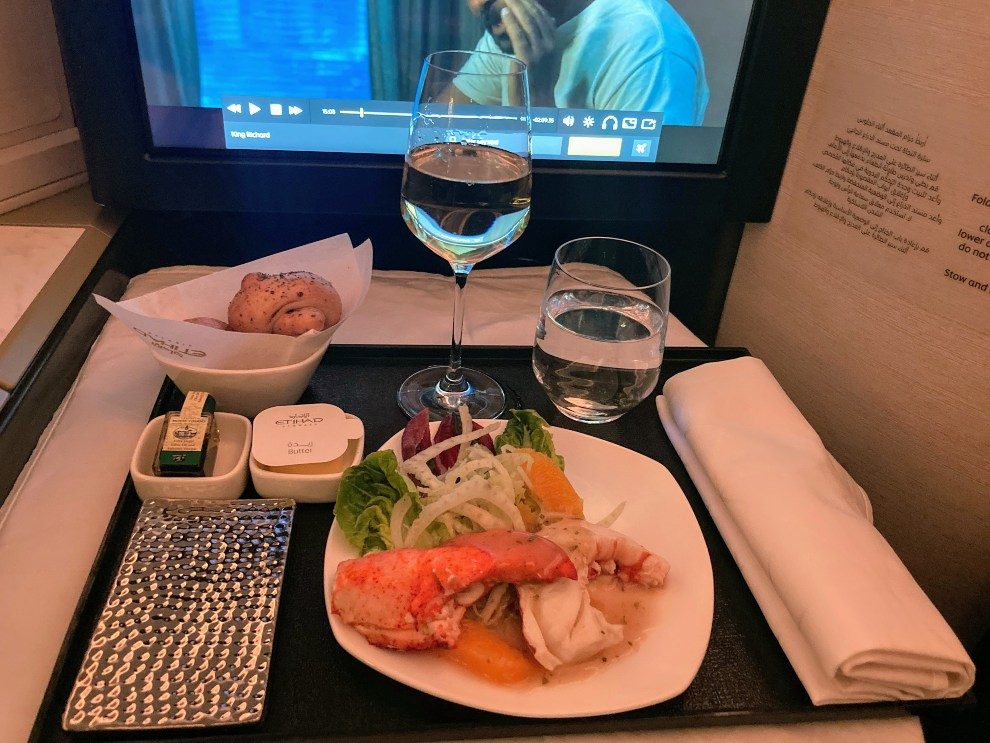 Mains included Halibut fillet, rack of lamb, chicken tikka masala or a goat cheese souffle.
You could then opt for cheese or desert, or probably both!
Deserts included sticky toffee pudding, Eton mess, fresh fruit and Haagen-Dazs ice cream.
The snack menu included a steak sandwich, chicken and leak pie, crumpets, scrambled egg, cookies, crisps etc.
All of the food we opted for was absolutely delicious. Our flight departure from Heathrow was at 9.15pm (just under 7 hour flight time) so after dinner and a couple of hours sleep we weren't ready to eat again, so opted for coffees, which came with Arabic baklava as we approached Abu Dhabi.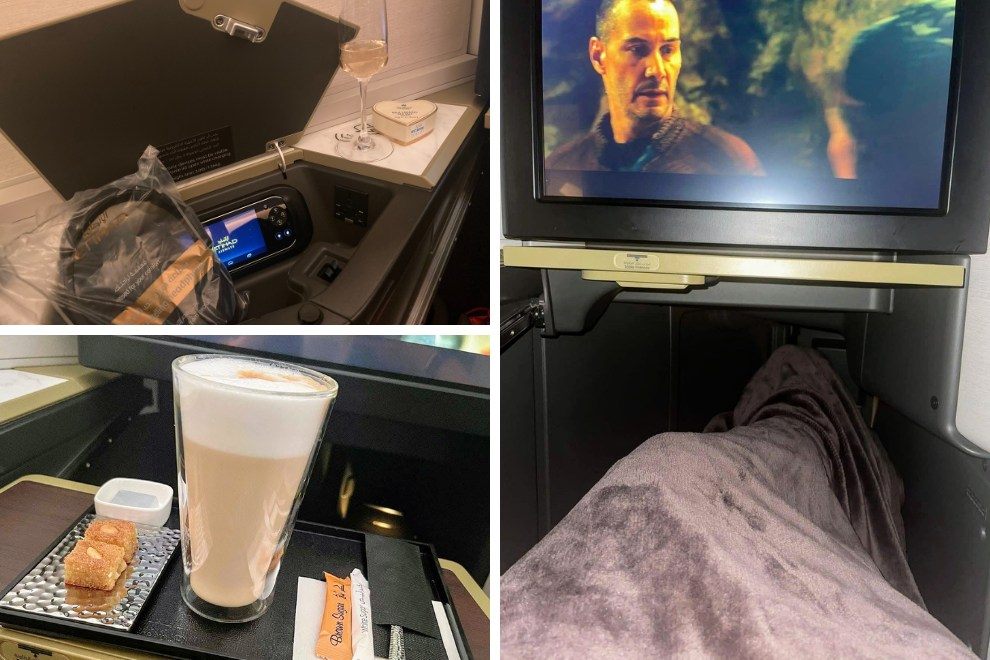 Overall
What a fantastic flight experience we had! The service was outstanding and the Etihad staff did everything possible to ensure we had an enjoyable experience.
The aircraft, with its elegant and airy interior was beyond comfortable, and noise was noticeably quieter too.
The Business class offering on the A350 is truly special, our own complaint... the flight wasn't long enough!
Article from The Travel Daily - You can read more Travel News over on The Travel Daily Website