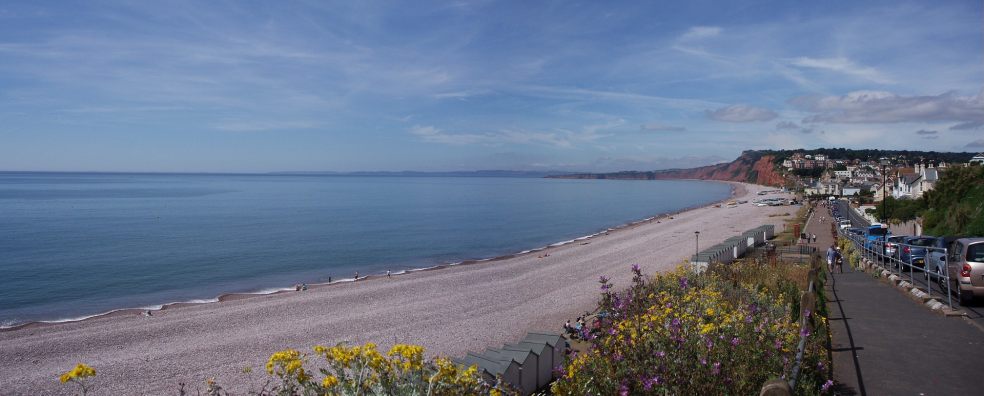 Britons crown Devon as top holiday destination in 2021
2021 is the year of the Staycation and Britons will be splashing £31 billion on holidaying on British shores this year 
We're all going on a summer holiday, no more working for a week, is certainly the song for this summer, as 71% of the nation is planning to take a summer holiday and 85% of these holidaymakers are holidaying on British shores. With the average Staycation costing around £769.70 - collectively Britons will be splashing £31 billion on their Staycation this year.
Making the 2021 top Staycation destination ranking is Devon which is a firm favourite with British holidaymakers. Devon is set for a very busy summer season, which is great news for the local economy.
These findings have been revealed in the 2021 Travelodge Holiday Index. The annual holiday index surveyed 2,000 British adults to seek their holiday plans for 2021. Key findings revealed that the Staycation is going to be big in 2021 because 76% of Britons are too scared to travel abroad due to the international impact of Covid-19 and that new Government restrictions could be instantly enforced.
In addition 47% of Britons have not had a holiday since the first lockdown stared in March 2020 and they want certainty that their money will not be wasted and the UK is a more secure option.  Over a third (36%) of Britons reported that the lockdown gave them time to reflect and they now feel more inspired to get out and explore what the UK has to offer.    
Interestingly the report also revealed that eager British holidaymakers are repackaging their summer holiday this year as a safety net in case any new restrictions are enforced and to make the most of 2021 after a year of lockdowns. Just over a third (34%) of Britons is taking a week's long summer holiday whilst a fifth is taking a five day Summercation.  Interestingly 16% of Britons are opting for a long weekend Minication this summer and less than one in ten is taking a traditional two weeks summer holiday.        
Sun, Sea, Sand is what British holidaymakers are craving the most with 52% of Britons taking a jaunt to the seaside this summer. With so many doppelganger beach destinations in the UK that look like they are abroad like the French Rivera often being compared to the beaches in Cornwall. Cornwall has kept its crown as the nation's top coastal holiday destination. Brighton takes second place and Blackpool secures third place in the nation's 2021 top ten coastal holiday listing.     
Escaping to the great British countryside is the second most popular type of summer holiday with 26% of Britons opting to explore the jewel of our national heritage and enjoy an idyllic country retreat. The Lake District, North Wales and the Scottish Highlands are the top rural destinations for Britons this year.
Just under a quarter (24%) of the nation is taking a UK city summer break this year with Oxford, Aberdeen and Bath topping the list of city break holiday destinations.
Savvy Britons are also taking full advantage of the accessibility Great Britain offers to holidaymakers with 48% of adults mapping out their holiday to create a multi-centre holiday. This includes adding either a city break or a countryside retreat to a seaside holiday. Britons report creating a multi-centre holiday helps them to see more of the UK and it also maximises their holiday time.
The table below ranks the top 10 Staycation destinations where Britons are holidaying this summer
| | | | |
| --- | --- | --- | --- |
| Rank | Coastal | Rural | City |
| 1 | Cornwall | Lake District | Oxford |
| 2 | Brighton | North Wales | Aberdeen |
| 3 | Blackpool | Scottish Highlands | Bath |
| 4 | Devon | South Wales | Bristol |
| 5 | Bournemouth | Cotswolds | Edinburgh |
| 6 | Whitby | Chilterns | York |
| 7 | Isle of Wight | Derbyshire | Cardiff |
| 8 | Cromer | Norfolk Broads | Glasgow |
| 9 | Deal | Peak District | Cambridge |
| 10 | Scarborough | Somerset | Canterbury |
Shakila Ahmed, Travelodge Spokeswoman said: "The results from our 2021 Holiday Index report is certainly encouraging news for the UK hospitality sector, and with more Britons holidaying at home, it will be also be a great boost for the UK economy too. We are delighted that Britons have awarded Devon as a top Staycation destination. This is great news for the local economy and will give it a much needed boost." 
"Today we reopen all of our hotels across the UK, which includes our 10 properties across Devon and we are getting geared up for a busy summer season. Our Covid-19 safety programme called TravelodgeProtect+ is sitting in the heart of our business so customers and teams are well protected."   
"To help Britons make the most of 2021 and discover what makes Britain so Great, we have released over 2 million rooms for £29 across our UK hotels. For a family of four, a £29 Travelodge family room works out at just £7.25 per person which is cheaper than a portion of fish and chips. To book a great value £29 room visit: www.travelodge.co.uk."
The research also asked Britons what they are most looking forward to doing on their Summercation and topping the top ten list of holiday activities is eating fish & chips at the seaside, going for a walk on the beach at sunset, taking a good hike in the countryside, having a cream tea in a quaint tea shop and indulging in a traditional pub lunch in a pub garden. Detailed below is the top ten list of activities Britons are most looking forward to doing on their Summercation.
1.  Eating fish & chips at the seaside
2.  Going for a walk on the beach at sun set
3.  Taking a hike in the countryside
4.  Having a cream tea in a quaint tea shop
5.  Indulging in a traditional pub lunch in a pub garden
6.  Having a picnic in a picturesque rural location
7.  Swimming at the seaside
8.  Having a Mr Whippy ice cream with a 99 Flake
9.  Trying the local cuisine
10.  Having an after dinner aperitif
The report also revealed that over a fifth (21%) of Britons is taking a summer holiday combined with visiting their family and friends this year. 
The table below highlights the UK's top Staycation spenders in 2021
| | | | |
| --- | --- | --- | --- |
| Rank | Top  Staycationers | % Taking a Staycation | Average Staycation Spend |
| 1 | Aberdonians | 71% | £1420 |
| 2 | Wolverhamptoners | 80% | £1400 |
| 3 | Cardiffians | 87% | £1186 |
| 4 | Glaswegians | 83% | £1026 |
| 5 | Portsmouth | 84% | £1025 |
| 6 | Leeds | 88% | £954 |
| 7 | Yorkies | 93% | £894 |
| 8 | Gloucester | 50% | £876 |
| 9 | Londoners  | 78% | £810 |
| 10 | Brummies | 84% | £808 |