5 Staycations to Look Forward to in 2019
For a variety of reasons, more Brits than ever before are considering staycations in 2019. For some, it's the inevitability of more expensive overseas trips in the wake of Brexit. For others, it's the desire to explore the rich charms and treasures we have right there on our doorstep.
Considering how tiny the UK is, it's a nation bursting at the seams with incredible holiday destinations. Day trips, weekend breaks, extended stays, outdoor adventures – all a quick train ride or road trip away.
If anything, you're more likely to find yourself spoilt for choice than struggling to find an appropriate spot!

That's why we've shortlisted a handful of the most desirable destinations for UK staycations in 2019. Far from a compromise, all five of the following locations deliver the total package of entertainment, relaxation and the opportunity to take in the most breathtaking scenery imaginable:
Fowey
A quintessential seaside break with a difference, historic Fowey takes some beating. This gorgeous fishing village on the Cornish Coast has remained almost entirely unchanged for hundreds of years. Bursting with traditional charms and treasures, simply strolling the historic heart of Fowey is an experience you shall never forget.
Of course, there's also much to be said for the beautiful beaches in and around Fowey. Most of which escape the usual crowds and chaos you'd typically associate with a Cornish holiday hotspot. Throughout all four seasons, the landscape surrounding Fowey is no less than magnificent. What's more, there's a scattering of historic holiday cottages in Fowey that provide the most idyllic base for a family holiday.
Set yourself up in this gorgeous little village and you'll be just a stone's throw from the Polperro Heritage Coast, the Lost Gardens of Heligan and many other top-tier Cornish attractions.
Snowdonia
Wales as a whole is known worldwide for its unique and captivating landscape.  Nevertheless, there's no region in Wales quite as breathtaking as Snowdonia National Park. Home to the highest mountain in the country – Snowdon – Snowdonia feels less like a staycation and more like a trip to a far-off world beyond your most fantastical dreams.
Unsurprisingly, Snowdonia is a haven for those with a taste for outdoor pursuits. Climbers and hikers in particular gaining access to some of the most varied and challenging terrain anywhere in the UK. Nevertheless, Snowdonia isn't exclusively about testing your nerve, your strength and your fitness levels.  There's also a plethora of sandy beaches, idyllic camping spots and beautiful cosy cottages for a spot of relaxation.
If you don't fancy climbing Snowdon itself, be sure to check out some of the region's other main attractions including Harlech Castle and Sygun Copper Mine.
The Lake District
Over in England, the country's largest and most prestigious national park is the Lake District. Not to mention, arguably one of the most stunning national parks in the whole of Europe.
Despite having an air of exclusivity, the Lake District represents the perfect spring, summer and autumn staycation spot to suit any budget. It's also located just a short drive from Manchester and is therefore conveniently accessible from anywhere in the UK.
In terms of where to base yourself, you really can't go wrong. Popular attractions to check out during your stay include Beatrix Potter's house and the former home of William Wordsworth – both of which are guaranteed to inspire.  There's also a world of water-sports and outdoor pursuits to explore, covering everything from kayaking to windsurfing and even hang gliding.
Just be sure to book in advance, as the most sought-after spots in the Lake District are snapped-up well ahead of the season.
Manchester
Britain is hardly lacking candidates for an enjoyable city break. Nevertheless, recent years have seen a somewhat unexpected contender climb right to the top of the table. A historic powerhouse of the north, much of Manchester has been transformed almost beyond recognition. Now a vibrant and unique cultural hub, many consider Manchester to be the new second capital of the UK.
The city's unique industrial architecture and heritage are fascinating and warrant full exploration. Manchester has become renowned across the UK as home to some of the country's most incredible shopping opportunities. Not to mention, more than 1,100 restaurants and eateries to check out. Nightlife is taken to extremes by Manchester's youthful student population, while the city's handful of major concert halls and arenas attracts major artists and performers throughout the year.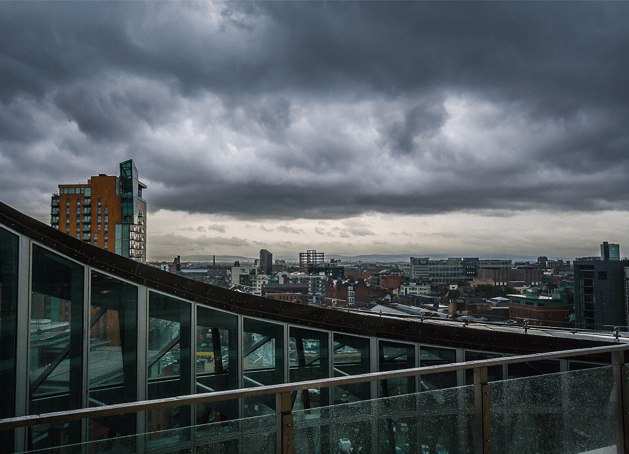 Best of all, Manchester isn't nearly as painful on the pocket as London. Despite being a firm contender by way of entertainment and amenities on offer. All the enjoyment of a vibrant and cosmopolitan city break, without having to break the bank in the process.
Edinburgh Mini-Break
Last but not least, an enjoyable trip to Edinburgh is just the ticket at any time of year. One of the most fascinating and captivating cities in Scotland, Edinburgh caters confidently to all tastes and preferences.
The city itself is divided into two very different areas - the Medieval Old Town and the elegant Georgian New Town. Cosmopolitan retail therapy and exquisite dining opportunities are positioned just a short walk from some of Britain's most important historic sites and structures. Along with being easily accessible from much of the UK, Edinburgh is also the perfect base from which to explore the rich culture and heritage of Scotland.
Speaking of culture, Edinburgh also attracts visitors from far and wide for its annual festivals and special events. The Edinburgh Fringe comedy festival being perhaps the best of its kind in Europe. As for the festive season, Edinburgh serves up the most incredible New Year's Eve party you'll ever experience! An evening that's not for the faint-hearted, but an experience you'll never forget!
So if a staycation is on the cards for 2019, be sure to add these five destinations to your shortlist. All of which demonstrate how you don't have to venture far afield to enjoy a genuinely unforgettable holiday!