5 French cities to float through for food heaven
To the gourmets, gastronomes, and gluttons out there, there is no other force in the world that can overpower their love for food. Aptly said by George Benard Shaw, "There is no sincerer love than the love of food". You might love your family and friends, your children or pets, but you're in a committed relationship with food. This trip to France can deepen that bond; a gastronomical experience, your taste buds will dance with delight and your cravings will be satisfied. That's a promise! 
Lille
Go all the way to the northern tip of France, you'll find a city along the DeûleRiver, at the border of Belgium. The capital of the Hauts-de-France region, this City of Art and History not only welcomes tourists to explore its remarkably rich culture and beautiful architecture but also serve foodies novelty cuisine, influenced by their Flemish roots and Belgian neighbors. 
With almost 900 restaurants, the rows of French bistros and brasseries serve up the typical French cuisine. But the traditional Flemish establishments, called estaminetsare the ones to look out for. Try the carbonnade de boeuf, the combination of flavors of the chunks of tender beef swimming in rich gravy infused with dark beer can make any food lover swoon. The classic French comfort food, Moules et Frites is a common dish in this French-Flemish city. Fresh from the sea, the mussels are marinated in beer and served with a side of fries. An absolute must-try.
Another unpronounceable French dish, pot'je vleeschliterally translates to a "pot of meat". Colloquially dubbed by Belgian as "Potch", this dish is a meat terrine served with fries. Chunks of chicken, rabbit, veal, pork are marinated in white wine or beer with a blend of spices. Cooked a night before and served cold, it might come as a surprise to tourists, but it is worth a try. This delectable dish might keep you coming back for seconds!
Bordeaux 
In the south-west of France, the Garonne River runs through the city of Bordeaux. This city makes for a picturesque sight with its streets lined with European-style townhouses and a towering gothic cathedral in the backdrop. Famous for their wines, Bordeaux Chateaux welcome high volumes of visitors all over the world each year. The secret to their highly acclaimed wine is the nature of the soil of the Garonne River. On the right bank, the limestone and clay soil produces better quality Merlot, while the harder gravelly soil left bank produces better Cabernet Sauvignon. With over 290,000 acres of vineyards and 7,000 Chateaux, it is the largest and fastest growing region of wine production in France. Wine connoisseurs should definitely put this on their bucket list.
Of course, you can't enjoy a good glass of wine without some mouth-watering authentic French Cuisine. Slurp down freshly-caught oysters from the Bassin d'Arcachon or enjoy the entrecote bordelaise, a hearty meat dish consisting of a rib-steak cooked in Bordeaux wine. Wash your food down with a glass of Bordeaux wine to finish it off. With so much wine, one thing we should all take note, be careful of the embarrassing wine stains on your teeth! 
Dijon 
The capital of the Duchy of Burgundy which controlled a vast area including eastern France, the Netherlands, Flanders and Luxembourg, this medieval city is a hidden gem of France. The city is a breathtaking sight with winding cobblestone streets and gated townhouses, cathedrals and gardens. The Palace of the Dukes makes a striking sight, as it extends into the expansive Liberation Square. 
World-renowned for mustard and wine, the city also draws international visitors from around the world during autumn, when they host their annual Dijon International Gastronomical Fair. For the past 87 years, the city celebrates the traditional food while welcoming the new fusions and flavors. This food fair is for both the gluttons and for the gourmets, quality and quantity of food will certainly not be lacking. From foie gras, to specialty vinegars, crepes to escargots, every type of French cuisine from different geographic regions would be available. Definitely stop by if you're here in October!
Reims 
One of the cities of "Villes d'Art et d'Histoire" (Cities of Art and History), Reims' rich heritage and beautiful architecture is bolstered by three UNESCO World Heritage Sites. Fun fact: The coronation of every king of France was held in the stunning gothic Reims Cathedral. 
Known as the unofficial capital city of the Champagne region, Reims offers abundant opportunities for tasting and tours in the vineyards. With the 40-minute TGV train connection to Paris it is easily accessible, and never easier to fill your brain to bubbly. 
Visit Ruinart, the longest-standing Champagne house established in 1768. Located on top of the hill of Rue des Crayères, Ruinart was the first to use chalk cellars to age their champagne. Their enormous chalk caverns, also known as Crayères, have been classified as a national monument. Veuve Clicquot is located in Reims. The second-largest Champagne house, they produce 18 million bottles a year. Embark on an amazing tour "In the footsteps of Madame Clicquot" for a guided cellar tour and wine tasting. You're absolutely spoilt for choice with a dizzying array of Champagne houses to visit, just be careful to not to let your head fill with too much fizz!
Lyon 
The capital of Auvergne-Rhône-Alpes, Lyon is the third-largest city in France. Claiming to be the second tourist destination in France, after Paris and ahead of popular cities such as Nice, Lyon appeal is its status as the gastronomical capital of France. The numerous restaurants, from Michelin star restaurants to traditional homey bistros serve top-notch quality food, Seek out "bouchons", these rustic restaurants serve traditional Lyonnaise specialties. Try out a fish-based dish, quenelles, which is a mixture of creamed fish, typically made from pike. If you're craving some red meat, how about the cured and smoked pork saucissons(sausages). Served with a dollop of mashed potatoes and creamy gravy, it makes for a decadent high-calorie treat which is definitely worth it. 
Don't miss out on the food havens of Lyon: the markets. The famous indoor market, Les Halles de Lyon was set up in 1971 selling the top produce and quality food. It can get a little expensive, but if you visit the market, you might get to see top French Chef Paul Bocuse chatting with the stall owners. A cheaper alternative would be the outdoor markets in Lyon, such as the Boulevard de la Croix-Rousse.or the Saint Antoine Farmers market. These markets are a great way to discover and explore the world of French cuisine, perfect for any gastronome.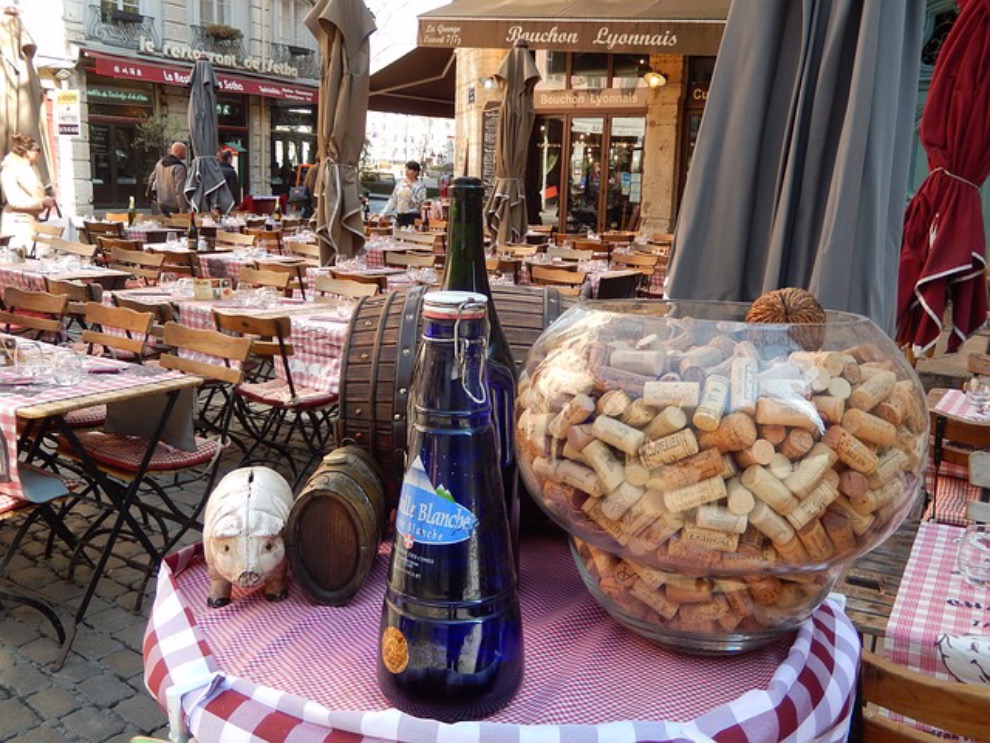 Have a feast in France and eat your fill, and develop an ever-lasting love for French cuisine. After all, food is truly the only long-term relationship that can really last. Bon appetit! Oh, if you're planning to stop by the beaches of the South, which you should definitely consider, this is a great unicorn raft for your pool.