British holidaymakers fired up over red-hot sun-cream fees abroad
A survey of 2,000 holidaymakers commissioned by online travel agent Holiday Hypermarket has revealed the true cost of Brits failing to take enough sun cream abroad. According to their findings, some families of four could end up spending in excess of £100.
25% of respondents to the poll admitted that they don't take any sun cream at all with them on holiday, while 44% said that they take just a single bottle per adult, well below the NHS recommendation of four.
In many popular package holiday destinations, the price of sun cream is extremely high. When British families run out on holiday, they end up paying a hefty premium to replenish their supply.
What's the right amount of sun lotion?
The NHS says that four 200ml bottles of sun cream per person are needed each week, if they are to use the recommend amount of two tablespoons five times a day. But in the survey, 90% of holidaymakers take just two or less. 
How much extra does it cost to buy abroad?
The Post Office Holiday Costs Barometer tells us that Britain is among the cheapest places in Europe to buy suntan lotion – with the average price of a 200ml bottle of branded factor 15 sun cream just £4.50.
By contrast, the cost of an equivalent bottle in Ibiza averages at a staggering £17.45. While The White Isle is the worst culprit, the situation is similar in other hotspots: tourists in Halkidiki, Greece, can expect to pay £13.15 per bottle; in Limassol, Cyprus, the average figure is £12.71.
These prices prove that UK holidaymakers can make significant savings by stocking up before they go away. Let's take a family of four (two adults and two children), who take four bottles for a one-week holiday to Ibiza. They would need to spend an extra £103 to meet the NHS recommendation of 16 bottles.
In Halkidiki and Limassol, the figures are £69 and £65 respectively. Incredibly, the families who bring zero suntan lotion with them to Ibiza can expect to pay around £207 extra to meet the target.
The table below shows the average cost of sun lotion in package holiday destinations across Europe, plus the extra cost of buying eight bottles in that destination compared to the UK.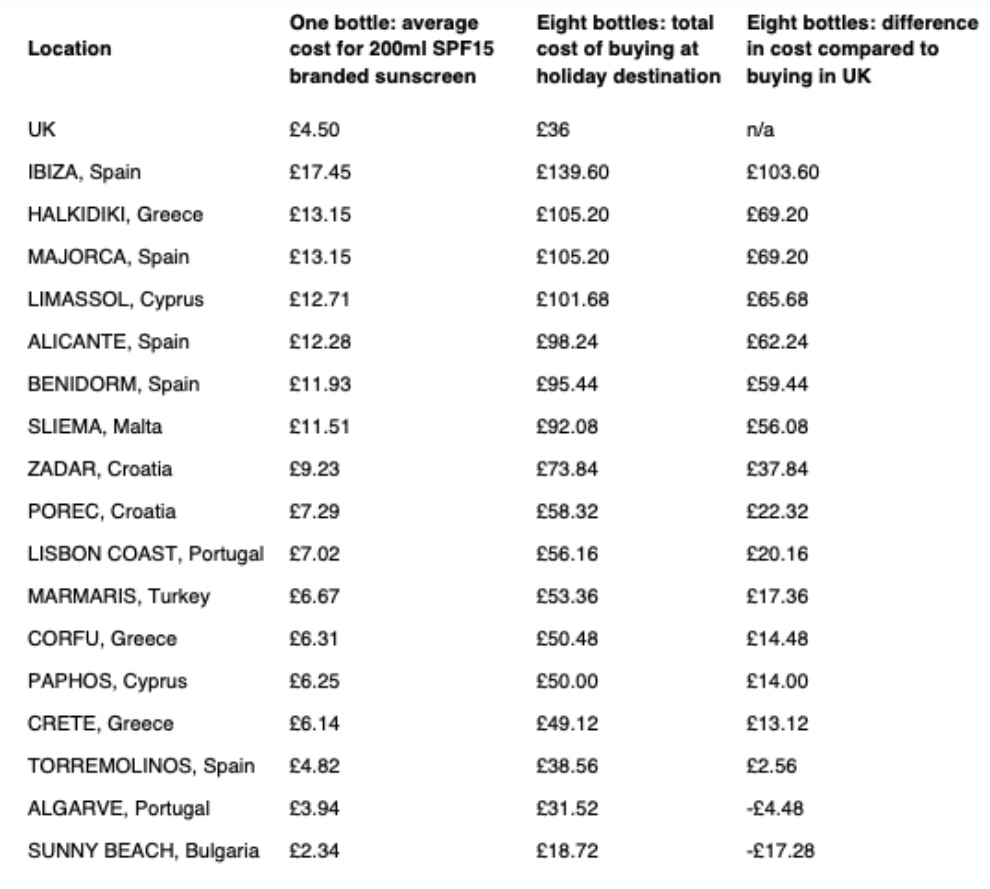 Craig Duncan of Holiday Hypermarket says: 'Cost is one of the most important considerations for any holiday, yet Brits are underestimating the amount of sun cream they need and then wasting hundreds by stocking up abroad.

'A British family can spend an eye-watering £200 to buy extra lotion for a two week holiday in Ibiza. That could easily cover a few delicious family meals, a room upgrade or new holiday clothes.

'Buying enough sun cream at a supermarket in the UK is one of the most effective money-saving holiday hacks there is!'
For more information and an infographic explaining the survey results, visit https://www.holidayhypermarket.co.uk/hype/sun-cream-shy-brits