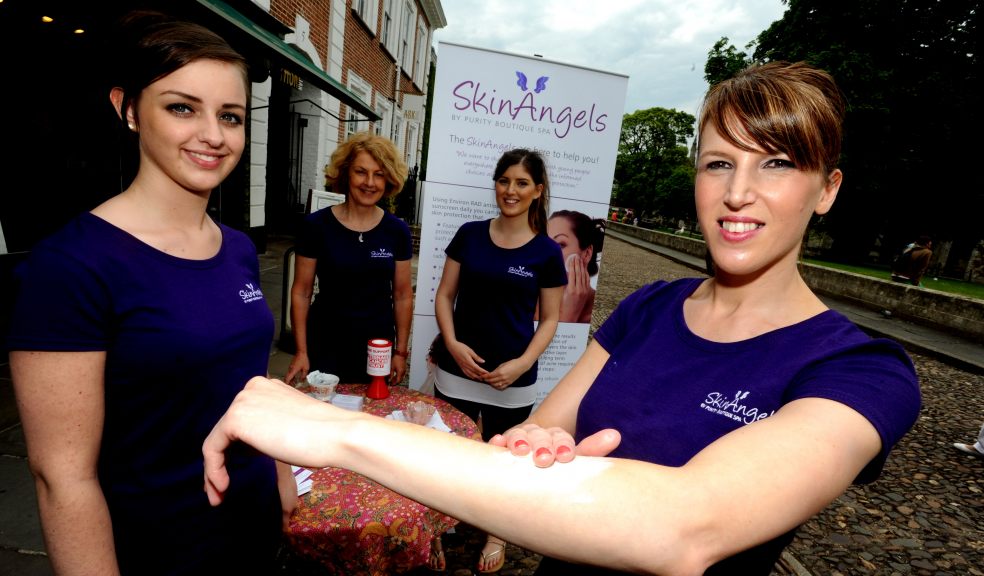 The Skin Angels go on tour
​If you missed our last Skin Angels event, here's your chance to catch up on the action and see what you've missed! The Skin Angels of Purity Boutique Spa of Exeter will make an encore appearance on Cathedral Green on 20 July from 1pm-4pm.  
 
​Carl Rimmer, Vice President of the Skin Angels and Exeter Chiefs star will be on the Green!
The angels will be handing out sunscreen top ups and general skincare advice — so feel free to ask about your latest skin concern or problem! Do you need help with choosing sunscreen that won't break you out? Are you looking for more natural but effective alternatives to chemical skincare? Look no further, the Skin Angels cater to every skin need — although we must warn that their services and pampering treatments can be very addictive!
 
​We will be keeping burns and wrinkles at bay on the sands of Exmouth and Dawlish Warren — so be on the lookout for our Skin Angels team at a beach near you! Get your questions ready for expert advice from our team when you need it most! Special thanks to Jullian from South West Camper Hire who will be personally escorting the Skin Angels to each venue to rescue locals and sun-worshippers from the sun's ageing rays!
 
​Did you know that Purity Boutique Spa's sunscreen products by Environ are low in chemicals and they can be used on children — even babies?
 
​The Skin Angels are excited to be visiting Kiddi Caru nursery in Exeter on 3 August. Teaching children the importance of sun protection while they are most impressionable is key to the little ones protecting their skin for the rest of their lives. For this reason, the Angels will teach the three to five year olds how to apply sunscreen while offering general advice and tips for the parents about the correct way to protect a child's skin from the sun.
 
​We are also proud to announce that our efforts are supported by Teenage Cancer Trust — a UK charity "dedicated to improving the quality of life and chances of survival for the six young people aged between 13 and 24 diagnosed with cancer every day."