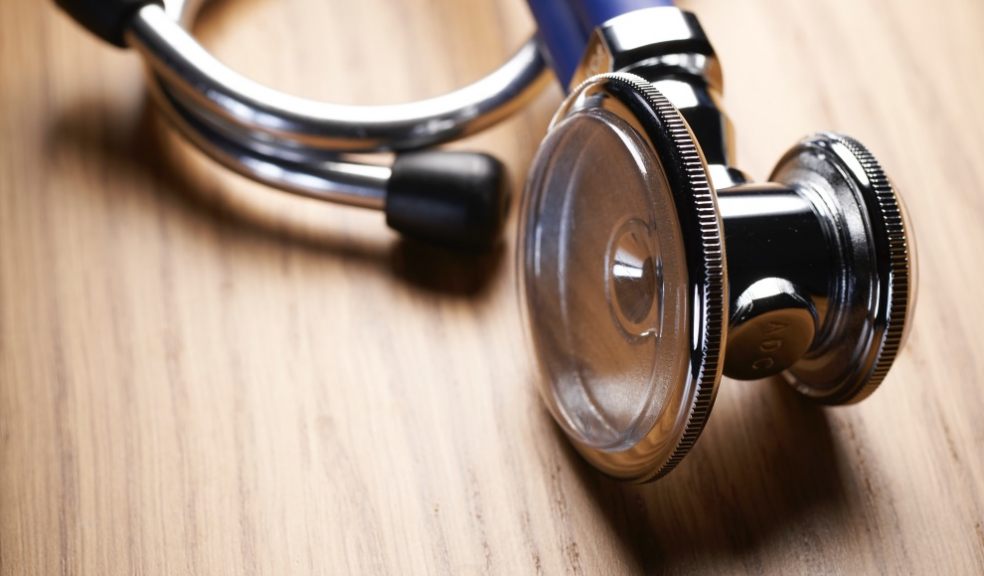 Gearing up for a New Year of combatting Covid: How private healthcare is bracing itself for more challenges in 2021
2020 may have become a year to forget for the vast majority of individuals across the world, but it appears that the UK may be heading for a difficult start to the new year if warnings over recent Covid spikes across the country are to be understood. 
With an unprecedented number of new daily cases potentially becoming a reality, the private healthcare sector is gearing up for a new year of fighting the pandemic. 
According to an Evening Standard report, the relaxing of Coronavirus restrictions over the Christmas period in the UK may lead to an "unrelenting tsunami" of cases. 
Dame Donna Kinnair, chief executive and general secretary of the Royal College of Nursing pleaded with the UK government to be "clearer about the risks - not just the rules" on seeing friends and family over the holidays, claiming that nurses wouldn't enjoy Christmas "knowing what awaits them in January."
The quotes come as the UK recorded its highest ever tally of new Covid cases at 35,383 on the 18th December 2020. In mid-December, it was revealed that Public Health England (PHE) was investigating a new strain of Covid that appeared to be more infectious as it swept across southern England and London.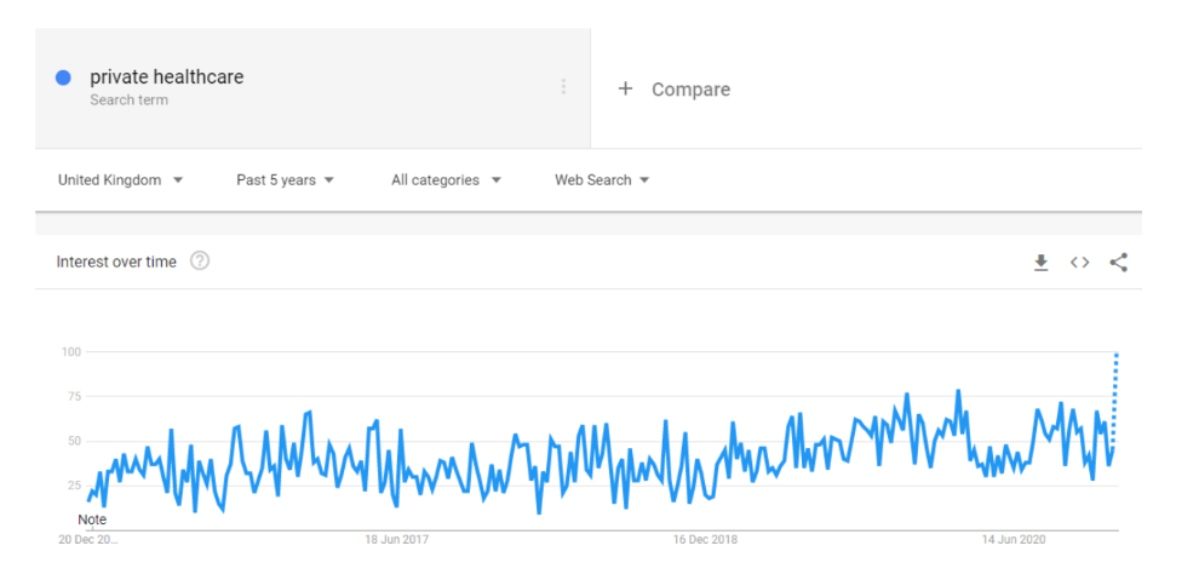 As Google Trends data shows, interest in private healthcare peaked nationally in the early stages of 2020 as the pandemic began to emerge. The subsequent arrival of the second spike in infections across the country led to renewed interest in autumn, while fears over mounting cases coupled with the hope of a vaccine have caused the search engine to anticipate a new peak in interest at the end of December. 
The Valuable Role Played by Private Healthcare During Covid
The appeal of private healthcare is not only being built on the discomfort of patients regarding Covid, but it's also evolved to become an efficient way for users to get other treatments that are currently unavailable due to the heavy use of NHS facilities to combat the virus. 
HCA Healthcare, for instance, claimed in October that it has "seen double the number of self-pay procedures in hip surgeries, ophthalmology (cataracts) and abdominal procedures on last year."
Speaking to The Guardian, one spokesman said: "People are also coming to our London hospitals from further afield than normal, particularly from the south and south-west of England where we have seen 25% to 35% more self-pay patients."
John Forrest, the chief operating officer for Spire Healthcare, also confirmed an upsurge in treatments, noting that "the biggest increase in inquiries has come from patients needing orthopaedic, obstetrics/gynaecology and ophthalmology care. These are people often suffering from debilitating conditions who might otherwise have to wait many months for treatment."
The news that private funded healthcare is experiencing significant boosts in favourability will no doubt be welcome within an industry that dedicated much of its resources in the springtime to help support the NHS. 
While the NHS certainly does an excellent job with the level of funding it receives, the financial security of private practices facilitates a much more effective way of treating patients in the era of social distancing. 
For example, leading private health service, Bupa, runs a successful 24/7 Anytime HealthLine that can help patients in speaking to nurses without having to leave their homes. With a visual link to nurses via smart devices, users can access accurate diagnoses and advice at any time. In turn, this helps to further relieve the pressure on the work being done by the NHS. 
Private Healthcare as a Universally Beneficial Service During The Pandemic
Covid-19 has shone a spotlight on healthcare infrastructures around the world, and in another nation that offers public healthcare, Canada, there are arguments forming that determine the development of a symbiotic relationship between universal healthcare and its private counterpart. 
Paz Gomez, a research associate with Frontier Centre for Public Policy, claims that 2019 alone saw over 1 million Canadians on public healthcare waiting lists and that the pandemic further exposed how unsustainable free universal healthcare can be when it doesn't receive sufficient funding or a paid alternative doesn't exist to divert patients willing to pay away from the service. 
Gomez notes that over 200,000 citizens went abroad to gain access to private healthcare elsewhere in 2017. Furthermore, a Fraser Institute study shows that 44,273 Canadian women died as a result of delays to healthcare between 1993 and 2009.
With as many as 4.4 million people on NHS waiting lists in the UK, private health insurance plays a significant role in not only offering patients viable alternatives among various service providers, but it also helps to divert patients who are happy to pay premiums away from an NHS waiting line that may be set to increase during the early months of 2021. 
Should I Get Private Health Insurance?
It's worth acknowledging here that the NHS does an excellent job, but in a nation that's primed for more hospital admissions and growing Covid cases, it may be worth looking at comparing prices for private health insurance rates - especially if you suffer from underlying conditions. 
This is an excellent way of jumping ahead of NHS waiting lists and bypassing levels of disruption caused by the uncertain healthcare landscape. However, it's important to understand the costs associated with private healthcare before taking the plunge. Your health may be priceless, but it's important to budget well in such an uncertain climate.