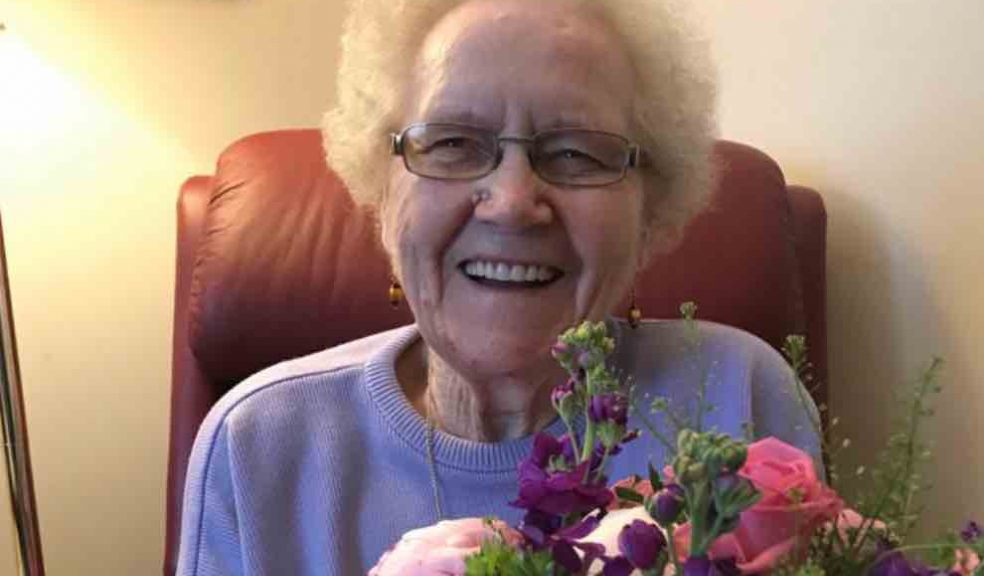 Exeter great-grandmother announced as final Nominate A Smile Winner!
A 92 year-old grandmother from Devon has been declared the fourth and final winner of Nominate A Smile 2019.
Pam Timson, a stroke-survivor and all-round star, has been putting smiles on the faces of those around her for the best part of a century and is showing no signs of stopping anytime soon!
Born in London Paddington in 1927, Pam initially worked for London Transport as an Accounts Clerk before joining Vispring to make aeroplane wings during World War II.
Pam, now living in Exeter, was nominated by her granddaughter Karen, who was full of praise for her lovely nan.
Karen said: "I decided to nominate Nanny Pam as she has always been an incredibly hardworking person and always wants to help others. Nothing was ever too much trouble for her and she is a real inspiration to me and my children.
"Sadly, Pam suffered a stroke about five years ago which left her unable to walk unaided. Despite this, she continues to make everyone laugh with her sense of humour and silly sayings.
"My nan lights up the room and is always making conversation with anyone she meets. She still has her London accent which, after all these years, is as strong as ever and will greet you with 'Allo darlin'."
After losing her husband Alfie in 1986, Pam moved to Australia, in spite of her fear of flying, to be nearer her son and his family. While 'Down Under' she showed that it's never too late to learn something new by learning to drive at the age of 66.
Pam's spell in Australia came to an end two years later, returning to her much-loved UK.
Pam joins a great set of Nominate A Smile winners in 2019, including Genny Jones a.k.a The Confident Queen, headteacher Garry Johnson and Jo Trevelyan, the champion of oral health champions.
Speaking on this year's winners, Dr Nigel Carter OBE, Chief Executive of the Oral Health Foundation, had to this to say: "During this year's Nominate A Smile competition we've heard so many stories of fantastic people up and down the country. People who, despite challenges and obstacles, repeatedly put smiles on the faces of those around them.
"It has been very hard picking just four winners this year, but I think Pam is a great one to end on. She is so full of life and has been putting smiles on people's faces for so long. Clearly her family thinks she is fantastic and we do too!
"I would like to take this opportunity to thank everyone, on behalf of the Oral Health Foundation, who nominated someone for this year's Nominate A Smile award. We really do appreciate so many of you getting involved and we hope that, even if your nominee didn't win, they know just how much they mean to those around them."
National Smile Month is the largest and longest-running campaign to promote good oral health. Between 13 May and 13 June 2019, National Smile Month will be sharing positive messages and engaging others to develop and maintain a healthy mouth.

If you would like to learn more about National Smile Month, and how to get involved, visit www.smilemonth.org